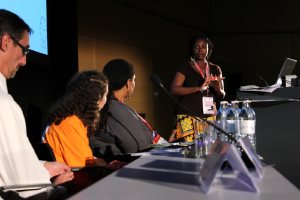 Mwaura presenting on GROOTS Kenya's extraordinary housing advocacy.
Women in Kenya were disappearing. That's what prompted the women of GROOTS Kenya to start taking names -- literally.
"In Kenya, it is the HIV-positive women who take care of other women with HIV who need home health care," explained GROOTS' Esther Mwaura shortly after she presented at "Housing & HIV/AIDS: Bridging the Gap," the International AIDS Conference satellite meeting on housing stability and AIDS in Vienna yesterday. "They would go to provide care, and suddenly the women wouldn't be in their homes! Their families were throwing them out to get the house."
At the satellite meeting, Mwaura wowed advocates and presenters from Asia, North and South America, Europe and Africa with GROOTS innovative campaign to fight discrimination against Kenyan women with HIV, who were all too often forced out of their own homes, sometimes because their husbands had died first, often of HIV.
GROOTS began ensuring that widows and orphans with HIV had the right documentation to legally inherit property. They encouraged communities to carefully document their members -- who was married to whom, and where they lived. They encouraged couples to include both husband and wife on property documents.
The strategy has been so successful that the Kenyan government has pledged to give GROOTS office space, so that HIV-positive women can better compile the sometimes hard-to-locate paperwork that protects their property rights. Marceline Likalaba, a GROOTS nurse and paralegal who attended the satellite meeting with Mwaura, was elected an assistant chief in her community. "It's amazing," Likalaba said. "In Kenya, women are not even supposed to stand up and speak in front of a crowd."
Finding "Common Cause"
Mwaura and Likalaba's stories illustrated the potential of a global AIDS housing movement that is just starting to be realized thanks to the efforts of groups like the International Housing Roundtable (IAHR) and the National AIDS Housing Coalition (NAHC), who organized the satellite meeting. Housing is so fundamental to people's lives that anyone interested in curing the many ills of poverty and disempowerment have a common interest in fighting for it.
Advertisement
"The budding alliances and coalitions, that was the most exciting part of the meeting," said NAHC's Lauren Nussbaum. "The women from Africa who presented had probably never thought about, say, the presenter who talked about drug users in St. Lucia, but it turned out there is a lot of common cause."
The meeting focused on the research that proves the link between housing stability and AIDS prevention and care; the relationship between gender, sexual minorities, AIDS and housing; and advocacy around housing for people with AIDS. Participants got a sneak preview of "More Than Just a Roof Over My Head," a publication that is a treasure trove of information about the relationship between housing and AIDS in 17 countries. NAHC and IAHR will co-release it at a press conference Thursday.
The meeting's other international presenters included Bernard Frederick of the Caribbean Harm Reduction Coalition; Christine Campbell of Housing Works; Nicasio de Rosas of the Phillipine Support Service Agency; Eunice Kyomugisha of Uganda's Shelter Settlements Alternatives; Peter Obi of Nigeria's Association of Positive Youth Living with HIV/AIDS; Oswaldo Rada of Colombia's La Red Latinoamericana de Personas con VIH; and Delaware's own Joe Scarborough.
Virgina Shubert of Shubert Botein Policy Associates, an expert on the link between housing instability and AIDS and a cofounder of Housing Works, was intrigued by the stories of the Kenyan presenters. "If HIV advocacy elevates the level of issues like property rights for women, it can have a far-reaching impact," she said.
Shubert wasn't surprised when Obi, the presenter from Nigeria, explained that housing rights had been stripped out of a bill to protect Nigerians with HIV from discrimination. (The bill passed the Nigerian Congress and is awaiting the president's approval.) "Things can get complicated when you start talking about property rights," she noted wryly.
Still, Obi said, "I'm very very optimistic. We are making good progress."
Shortly after the satellite meeting, Obi, Mwaura, Likalaba, Shubert, University of Pennsylvania researcher and presenter Toorjo Ghose, Campbell, Nussbaum and the rest of the satellite-meeting crew joined the raucous demonstration demanding that world leaders live up to their promises and fund HIV treatment, prevention -- and services like housing.