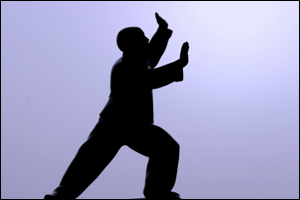 Every Wednesday at noon, for the past five years, a predominantly HIV-positive group of African Americans has convened in downtown Philadelphia for a free class in tai chi (pronounced tie-CHEE), a Chinese martial art that's been practiced throughout Asia for thousands of years. The class's instructor is a 67-year-old, White mental health therapist and martial arts expert who has counseled HIV-positive people for more than 20 years.
"I was looking to become more graceful, and I got a lot more than I bargained for," says licensed psychologist Alan Zakland, Ph.D., about the reasons that he, after becoming a black belt in martial arts, started studying tai chi in the 1980s. Several years ago Dr. Zakland, known in the community as Zak, started giving free tai chi classes to HIV-positive outpatients at COMHAR, a social service organization for people with developmental disabilities, mental health concerns, physical limitations and other challenges. "My passion is working with people -- and particularly people who are at the fringes of society," he says.
Unlike other martial arts, tai chi is slow and deliberate, and practitioners often appear as though they are moving in slow motion. Many experts believe that these methods help mend the body and change brain chemistry. Dr. Zakland says that class participants have experienced astonishing changes.
Advertisement
"I was doing real bad after the stroke, but not anymore," says Terrell Brown (the names of all people living with HIV/AIDS have been changed), who was left wheelchair bound after the stroke and not very hopeful about his future. In five years, though, Brown, 44, has not missed a class, a fact that he credits for his miraculous improvements.
Fellow class member Linda Smith agrees. "Taking tai chi with Zak for the past five years is directly responsible for my decreased anxiety, lowering my viral load and raising my T cell count," she says. She attributes the fact that she no longer needs HIV meds to practicing tai chi and meditating regularly.
So, what's the marvel behind tai chi?
"While the benefits of tai chi may seem magical, they are explainable," says Philadelphia neurologist and psychiatrist Jingduan Yang, M.D., of Thomas Jefferson University Hospital's Myrna Brind Center of Integrative Medicine. "Tai chi's very slow motion enables the participants to be present and mindful, rather than thinking and worrying. In this sense, it reduces anxiety and stress," he says.
Increasingly, Western scientists and medical experts are embracing the wisdom of the Eastern philosophies and integrative approaches to healing, such as tai chi, meditation, yoga and Qigong. And there is growing evidence that tai chi's benefits may improve strength, stamina, immune function and weight loss.
"Tai chi stimulates the parasympathetic nervous system, which reduces inflammation, slows the heart rate, decreases blood pressure, and enables the body to improve and restore itself," says Dr. Yang, who, in addition to his Western medical training, is a fourth-generation teacher and practitioner of traditional Chinese medicine.
"The American way wants to fix everything now," Dr Zakland adds. "We're very impatient, and the thought of doing something ongoing forever does not fit with our sensibilities. But tai chi changes your life and your mental attitude."
To learn more about tai chi, go here. Depending on where you live, classes may or may not be easy to find. Call a local martial arts school or yoga studio; check out the activities offered by your local recreational department or adult- or community-education program; call your local hospital or senior citizen center; and read the ads in a New Age newspaper or on the wall at a health food store to see who offers classes or knows who does.
Kimberly Garrison is a certified personal trainer and owner of One on One Ultimate Fitness in Philadelphia.