A "Negative" Outlook: Dr. Steve Natterstad Shares Secrets to a Successful Magnetic Relationship
August 10, 2010
At what point in your relationship did you find out that Bob was HIV positive? Did you know already since you had been working together or did that come out when you became involved in a relationship?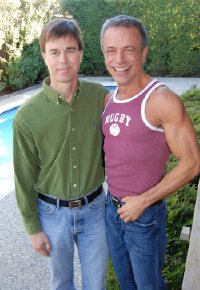 Drs. Steve and Bob.
I found out once we had become involved. It was pretty early in the relationship. As I suggested, things moved really quickly once we took our relationship in that direction. It wasn't too long after we had gotten involved that came up. My reaction at the time, of course, was one of devastation.
If we take ourselves back to that time during the epidemic, diagnosis of HIV disease, or disclosure of someone else's HIV disease -- although definitely not easy in this era -- was very different back then. You really did jump to that horrific conclusion that certainly folks like Bob and me, who were in the field of HIV medicine, had seen so many times. But even a lot of those in our community knew very well what the outcome of a diagnosis like that often was.
Here I was, having just made great progress in figuring out who I was and just found the love of my life, and I was suddenly looking at that potentially being a truncated relationship. So I think if I had to sum it up in a word, it would be devastation.
Did that feeling change around 1996 when effective treatment for HIV became available? What was the progression from being devastated to recognizing that your partner would likely live for some time?
It's been such a long-term relationship that it's hard to break it up into small chapters. You mentioned 1996 and that was certainly a big change, with the introduction of HAART [highly active antiretroviral therapy]. Of course, we were dealing with HIV a few years before that and there were treatments, but they weren't perfect by any stretch.
During those years, the treatment that Bob was taking wasn't as difficult in terms of side effects. It certainly wasn't as potent. It wasn't keeping things under control as much as we would have liked -- although we didn't know that, because we didn't have some of the same diagnostics or monitoring tests that we do now. But I think for those first few years, it was a bit more touch and go, not knowing when the other shoe might fall. We lived life a bit differently during those first few years, those pre-1996 years, because realistically we were looking at a shorter timeframe for our life together.
"There's always awareness that there's this elephant in the room. It's always going to be there, no matter how great things are going in terms of controlling HIV."
Then in 1996 and beyond, when things started looking up in terms of getting that viral load down and perhaps seeing that CD4 count rise, there were side effects. They were pretty miserable back then. We were dealing with d4T [Zerit, stavudine], the neuropathy that so many had from that medication, which was commonly used. The protease inhibitor that a lot of people were using back in the earlier days of HAART was Crixivan [indinavir], which was a real challenge to take. It had to be taken every eight hours on an empty stomach. In other words, you had to take a dose two hours after a meal or an hour before a meal, so there were nine hours when you couldn't eat anything. You had to remember to take it every eight hours. And then there were plenty of side effects in addition to that.
It's hard. I know you're asking about this whole trajectory of how life has changed over the last 17 years. Some things haven't changed. I think there's always awareness that there's this elephant in the room. It's always going to be there, no matter how great things are going in terms of controlling HIV. We read new reports every day about non-AIDS-defining malignancies that folks with HIV are developing.
Advertisement
It seems like there's always something that's out there to remind you that there are no guarantees. But certainly, after this many years, it becomes part of your relationship. There are times when you perhaps aren't aware of it as much as you should be, and something will suddenly remind you that it's still there and shake you back into reality.
Can you give an example of a moment like that, when you're shaken back into the reality of this unique situation that you're in?
There are certain side effects that Bob's dealt with, and some mysterious complications. He's dealt with some joint issues. He has a strange type of knee inflammation of which we've only been able to find six other cases that have been reported. None of the orthopedists here really know exactly what that is, so even though it doesn't seem to be progressing to anything life threatening, it's still there. You always wonder what, in fact, these medications are doing in the long term. We don't know.
I think every three months when he has his blood drawn and we're waiting for his results to come back, that's always a reminder that he's cohabitating with this virus.
More From This Resource Center
---

This article was provided by TheBody.
---
Add Your Comment:
(Please note: Your name and comment will be public, and may even show up in
Internet search results. Be careful when providing personal information! Before
adding your comment, please
read TheBody.com's Comment Policy
.)