A "Negative" Outlook: Dr. Steve Natterstad Shares Secrets to a Successful Magnetic Relationship
August 10, 2010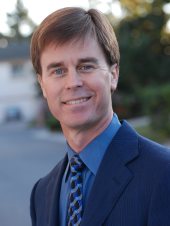 Steven M. Natterstad, M.D.
When "Dr. Steve" isn't responding to questions from our Spanish-speaking readers on TheBody.com's Tratamientos forum, he runs the Frascino Medical Group, which provides comprehensive care for people living with HIV/AIDS. With his partner of nearly 17 years, Dr. Bob Frascino, he cofounded the Robert James Frascino AIDS Foundation -- a philanthropic nonprofit organization dedicated to raising awareness and funds for HIV/AIDS services. Drs. Steve and Bob live with their dog, Presto Frascino-Natterstad, in northern California.
You could say that Dr. Steven Natterstad is one half of the most famous "magnetic couple" on TheBody.com. His partner of nearly 17 years, popular blogger Dr. Bob Frascino, is known among readers of his Safe Sex and HIV Prevention forum for his missives on the kind of "toe-curling, own-name-forgetting, wake-the-neighbors" sex life that he and Dr. Steve enjoy, despite their magnetic status. Dr. Steve is HIV negative, while Dr. Bob has been living with HIV since 1991. We all know Dr. Bob's thoughts on their relationship, but what's Dr. Steve got to say about his best friend and lawfully-wedded husband? It was my pleasure recently to find out.
Welcome once again to TheBody.com, Dr. Steve!
Thank you. Good to be here.
Tell us a little bit about yourself. We can just start from the beginning. Can you talk a little bit about the community where you grew up?
Sure. I was born in Sioux Falls, South Dakota. I guess you could call it the "flyover zone" of the U.S. Shortly after my birth, my family actually relocated to Fresno, California, in the Central Valley. I guess as you might think of Sioux Falls, South Dakota as a flyover zone, a lot of us Californians might think of Fresno as that "drive-through zone" of California. They're actually quite similar culturally, those two places, even though they're a couple thousand miles apart.
Essentially I grew up a straight child in a very straight, conservative, religious family. My father was a minister, my mother an elementary school teacher -- in addition to her role as first lady of the church, of course. So I've been in California ever since I was three months old, first in central California, and then fortunately we relocated to southern California, the Los Angeles area, when I was in junior high school. I expanded my horizons a bit in that region, in junior high school and high school.
Then, believe it or not, I went from the thriving metropolis of L.A. to Fargo, North Dakota, for college, to go to Concordia College, which is a family school on both sides of my family. Both my parents went there and met there, so there was a long tradition of going to that school. So I ended up going back to the Midwest for four years before I escaped once again to the West Coast and ended up at UCLA [University of California, Los Angeles] med school and continued on at UCLA to do my internal medicine residency and fellowship. And then I came to the Bay Area.
What year did you come to the Bay Area?
In the early '90s, actually. In 1991 I moved up the Bay Area and took a job at a large multi-specialty group on the Peninsula and actually met Dr. Bob before I had even taken the job. Kind of an interesting story. I was getting ready to accept the position. I was sitting outside a boardroom waiting to be offered the job, and Bob was waiting to meet with the board as well. (I'm going to call him "Bob" rather than Dr. Bob -- he only asks that I call him Dr. Bob under very unusual circumstances, so I'll just call him Bob for now) So I actually met Bob before I even moved up to the Bay Area.
Advertisement
I knew him for a couple of years, even after I started working at the group. We became good friends but didn't actually become involved with each other until 1993, largely due to my being unsure of who I was. I was closeted to everyone at that time, including myself. I was quite clueless and searching. As I searched and figured some things out then, suddenly, Bob took on a new aura; and the rest is history, as you might say.
I should back up a bit: The reason we got to know each other is that I had interest in HIV medicine even back then. As I said, I went to medical school in UCLA and did my training there, and of course, L.A. was one of the Ground Zeros of the epidemic in the '80s. When I joined the group up here in the Bay Area, Bob was already doing the lion's share of the HIV work at this clinic. But he was primarily interested in doing more of the outpatient work, so he welcomed an internist like me, who was more interested in doing some of the inpatient work, of which there was a fair amount back in the early '90s, of course. So we started working together, basically both working in HIV medicine, and got to know each other as colleagues quite well.
"I remember thinking to myself, 'If only Bob was a woman, he would just be the perfect life partner for me,' because that's where I was back then."
But I do remember having a conversation with him and discussing some of our interests, which include classical piano -- we're both classical pianists -- and just having a great conversation. I remember thinking to myself, "If only Bob was a woman, he would just be the perfect life partner for me," because that's where I was back then in those days. So things have changed considerably.
Can you talk a little bit about how you went from being colleagues and friends, with you wishing Bob were a woman so you two could date each other, to actually being involved in a relationship?
Well, as I mentioned, I was at that point in my life where I was starting to question things. I had gotten through medical training and basically had my first real job. I had bought a house up here in the Bay Area. I think I was starting to reflect on my life seriously, trying to figure out what was missing. Everything else seemed to be going along quite well professionally, but personally there was definitely a void.
I had experiences over the years having to do with figuring out my sexuality, but those had been earlier in life. I spent my 20s trying to convince myself and everyone else that I was straight. I think by that point in my life, my early 30s, I finally started entertaining seriously that that might not be the case.
They say timing is everything. I think at that point in my life, I was becoming more open to other possibilities for who I was as a sexual being, and Bob was there. As many of your readers know, he's pretty much Mr. Wonderful in many ways. So it didn't take much convincing for that to all happen. It all progressed pretty quickly.
More From This Resource Center
---

This article was provided by TheBody.
---
Add Your Comment:
(Please note: Your name and comment will be public, and may even show up in
Internet search results. Be careful when providing personal information! Before
adding your comment, please
read TheBody.com's Comment Policy
.)