Subconscious Death-Wish of a Gifted, Young Black Man
August 9, 2010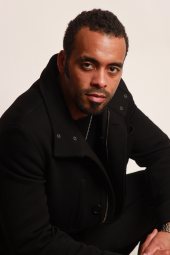 Terron J. Cook, 31, is a recently published author and a resident of San Francisco, Calif. In his writing he strives to reach out to the world through his experiences -- putting forth both positivity and brutal honesty -- despite his tumultuous past.
On my very first day in San Francisco I find myself in a well-known theater on Nob Hill. Downstairs there are video booths, most containing glory holes. The walls between the glory holes are truly by design, allowing for an empty, anonymous sexual act to occur, while blocking any opportunity for true intimacy.
I enter a booth next to a man I've made eye contact with. I pull my cock out, place it through the glory hole, and the well-built, handsome man on the other side sucks me for a while. There's a pause, and he whispers for me to come to his booth. I enter, he strips, and I slowly turn him around. I place the head of my cock at the entrance to his ass, simply to see if he'll stop me.
In the heat of the moment, he allows me to have my way. I slowly penetrate this hunk of a man. In the back of my mind, I know what I'm doing is wrong, and this one isolated, unprotected sexual encounter could lead to my ultimate demise. However, I proceed without hesitation.
Risky behavior has always been so appealing to me! The rush that it provides makes me feel so alive! A new city, multitudes of opportunities, and here I am willing to ruin it all, just to "bust a nut."
"What the fuck is wrong with you?" I ask myself, but it's too late to think "safety" at this point. I clear my mind, wrap my arms around this man, and shove myself inside him as hard as I can and shoot my load. I pull out of him, wipe off, and realize I've entered a new stage of my life making wrong decisions, again.
"When will this behavior cease?" I ask myself, while trying to avoid the eyes of the stranger I've just fucked raw. Will it take me becoming HIV positive to learn this lesson? I dress, clean up, and feel a sense of darkness, realizing just how many years have passed. Yet I'm still partaking in the same ignorant behavior . . .
A restlessness comes over me, as I realize the covenant that I have made with myself, as well as GOD, is now in place. If this is the case, then why the hell am I continuing to behave in such a dangerous manner, and refusing to wear condoms? I have dodged the "bullet" many times. With my refusal to adhere to safe sex, I continually wonder if my game of Russian Roulette will soon come to a very unhappy and unfortunate conclusion.
Honestly, what does such behavior stem from? Being beat down mentally, physically, and spiritually during our formative years greatly contributes to it. For me, I think it all began while growing up in Columbus, Ohio. I was molested by my middle-school history teacher, who happened to be an older Caucasian man. For a while, I thought dealing with my sexual trauma was my biggest worry -- until my father was murdered 11 years ago.
Advertisement
I wrote my first book, Premonitions ... of a Young Man, Unscathed, to attempt to come to terms with all this. Writing it, I realized that one reason I enjoy anonymous sex as much as I do is my distrust for men, especially gay men. Writing this book also helped me to realize that there is NOTHING wrong with me. I am not "flawed." I am not perverted. I am a man, made in the image of GOD, knowing all too well that I will fall at times, but I must make the decision to pick myself up, and GOD will continually be there by my side. This type of unconditional love is what I feel that many gay men seek. Yet, most do not choose to behave accordingly to welcome unconditional love into their lives.
My distrust stems from various behaviors that I have been exposed to throughout the years, involving gay men. When you consider it, many gay men learned at a very young age to be dishonest and deceitful, all to conceal their true identity, as it was deemed devilish, ungodly, or plain perverted. This behavior simply perpetuates itself throughout one's life. Before long, a person begins to believe that how they are living is "acceptable," therefore projecting their lies and bullshit onto others, who are unsuspecting and being hurt in the process. Do you see the vicious cycle?
I began my sex life by frequenting outdoor parks, where men would meet in the back woods to have anonymous sex with other men who were not necessarily interested in immersing themselves into the gay scene. Most of my encounters were with married men who were not the least bit concerned with protecting themselves, as desire turned into a need which could be life threatening.
---
This article was provided by Terron J. Cook.
---
Add Your Comment:
(Please note: Your name and comment will be public, and may even show up in
Internet search results. Be careful when providing personal information! Before
adding your comment, please
read TheBody.com's Comment Policy
.)