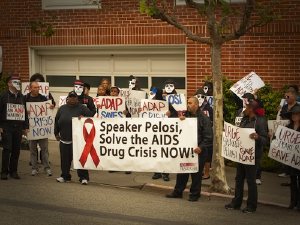 A funeral procession in San Francisco -- absolutely necessary.
The protest yesterday at the San Francisco home of House Speaker Nancy Pelosi involved a coffin, a woman wearing a Pelosi mask, and a procession of marchers dressed as skeletons.
Morbid? Yes. Necessary? Absolutely.
Yesterday, the AIDS Healthcare Foundation (AHF) staged a mock funeral that wound through the California city before ending on Pelosi's block. The goal was to shame the speaker into pushing $126 million through the House to resolve the nation's rapidly expanding AIDS drug access crisis. Since the protest ended, AIDS organizations have queued up, assailing the funeral as grossly distasteful and an affront to a woman who's been a health care champion.
"The fact of the matter is that we have been lobbying like hell to Nancy Pelosi to get her to do this," said Brandon Macsata, CEO at the ADAP Advocacy Association. "I don't know what is left but putting out tactics that scare the bejesus out of our political leaders."
Activists have pushed Pelosi and others for more than a year to find a way to provide desperately needed funds to the nation's AIDS Drug Assistance Program (ADAP). Macsata's association has briefed Congress on the issue at least four times. Members have launched call-in days to Pelosi and to the White House, and issued e-mail blasts, urging people to call their Congress members. And they're not the only ones beating the ADAP drum: In the past six months, the AHF has launched a phone-in campaign aimed at the speaker. And an e-mail campaign. And run ads in the Bay Area Reporter.
AHF President Michael Weinstein had requested a meeting with the speaker. It was a denied. He spoke with Wendell Primus, Pelosi's top health aide, who promised to call him back. Primus never phoned.
Meanwhile, the wait lists for HIV/AIDS medications have ballooned from fewer than 100 people to more than 2,300.
Earlier in the year, hundreds of AIDS organizations asked for $126 million to help solve the problem. In early July, President Obama responded by allotting $25 million.
How much longer can those who need medication wait?
"She Does Not Get a Free Pass"
The Update has already reported the facts: There are thousands of people sitting on wait lists to receive potentially lifesaving drugs through the nation's AIDS Drug Assistance Programs. Most who need help are in the South. States are changing eligibility requirements for their programs -- essentially cutting off access to medication -- while some states have changed their formularies, limiting which drugs they cover. Not surprisingly, the majority of the people served by ADAPs, and therefore the majority of those affected by the crisis, are black and Hispanic.
Those who criticize the AHF's protest have legitimate concerns about isolating a friendly politician. "A funeral is the kind of action you reserve for someone who closes their doors to you, who hates you, who doesn't see eye-to-eye with you," said Matthew Lesieur, director of public policy at the National Association of People with AIDS, which blasted the protest.
No one is denying, however, that Pelosi has a history as a fighter for people with HIV/AIDS. She led efforts to reverse the ban on federal funding for syringe exchange, as well as the HIV travel ban. The health care reform she championed stands to benefit thousands of people with the virus.
Advertisement
But as speaker, she has the power to make sure funds get to ADAP. And she hasn't.
"She does not get a free pass because she's been a lifelong leader on this," Macsata said. "People are mad as hell and they just want this problem to be addressed."
Weinstein at AHF is aware that the Pelosi protest had caused a rift in the AIDS community, an often divided group that has -- up until now -- been unified in calling for change on ADAP. But Weinstein said that he feels that he's played too nice for too long.
Pelosi's press office did not return calls for comment.
"With friends like Nancy Pelosi, who needs enemies?" Weinstein said. "What we need is a strong dose of 1980s AIDS activism. Right now."
Charles King, Housing Works' CEO, agreed. "A funeral being in poor taste? I remember when we who are living with HIV thought it wasn't in poor taste to carry a real dead body and ashes of loved ones to the White House. The reality is that the ADAP crisis is getting worse every day, and people are going to die because of it, if the haven't already."
Read other coverage:
AIDS activists stage mock funeral in front of Pelosi's house, The San Francisco Chronicle
AIDS groups to stage mock funeral at Speaker's home, The Hill