Table of Contents
HIV Diagnosis at 17
This is Olivia Ford, reporting for TheBody.com. I'm here today with Jose Ramirez, who's been living with HIV since 2000. Jose is an HIV prevention activist who lives in Washington, D.C. He was also recently featured in the film The Other City. Jose, welcome to This Positive Life.
Hello, hello, hello.
Welcome. Thank you so much for being here today.
Thank you for having me.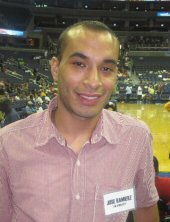 Jose Ramirez
About Jose
Home: Washington, D.C.
Diagnosed: 2000
"[HIV] was just something added on the plate that I had to learn how to deal with," says Jose Ramirez. Jose survived many childhood traumas before his HIV diagnosis at 17. Now, 10 years later, he teaches LGBT youths in similar situations how to keep their sex lives safer, healthier and, yes, sexier. "I talk to people, I help people and it helps me," he says. "That's like my therapy."
Can you start by describing how you found out you were HIV positive? What year was it, and where were you in your life?
I found out at the end of my junior year, going into my senior year, so it was in 2000. I found out that the guy that I was dating at that time, Joey, who I called my boyfriend-slash-sugar daddy, was actually HIV positive and was sick -- I found out through a friend of his. That made me want to go get tested for HIV. I was 17 years old, still in high school, still a crazy teenager, you know?
How did he come to be your sugar daddy? How old was this guy, and what was your relationship like?
He was in his late 30s. At that time I had started going to the gay clubs. I came out when I was 15, so I wanted to explore more, see what was going on. I started going to the gay clubs and met him there. When you're young, for some reason you look for an older man, especially men that you know might take care of you.
We just started talking and I was telling him my situation: coming from a broken home, living with my mom and also my stepfather, though my stepfather was a really big-time alcoholic. So there were a lot of times when he was bent on alcohol. Basically, we were always struggling. I guess he saw that, and we just started talking and eventually we ended up dating.
It's not like I asked him to become my sugar daddy. It just happened. He was like, "I'll pay for this, and I'll pay for this." I was still working, but since I was helping my family out, I needed more money for other things as well. He basically took care of me and a lot of my habits, or things that I needed.
How did you come to get tested for HIV? Where did you go for the test? Did you go with anybody, or did you just go by yourself?
I was out one night at a club that I would go to. His friend was a bartender there. Joey had left -- I hadn't seen him for a while. We'd had a conversation prior to that. I knew he was sick, but he always told me he had diabetes -- he was sick with that.
We had talked like everything was normal and then I didn't hear from him, so when I went out, I asked his friend what was up. He just looked at me with a white face, almost like, "Oh my gosh." I was like, "What's up with Joey?" He was like, "He's real sick." I was like, "Well how come he doesn't call me?" And then he just looked at me and was like, "Do you know what's going on with him?" I was like, "Yeah, I know, his diabetes is really bad." He was like, "No. Actually, he has full blown AIDS now." And I was like, "What?" It just hit me.
I decided to get tested at my school. They had a wellness center, basically like a clinic within the school. I got tested there and at first the test had come back negative. I told the person who had tested me what the situation was, and she told me to come back. It came back positive the second time.
Was it the school nurse who tested you? Who was doing the testing?
Yes, there was always a nurse there -- and a doctor, too, from Duke University. The nurse's name was Miss Sally. She was the one who did it. She tested me.
She was the one who told you that you were HIV positive?
Yes.
What did you think and how did you feel when you heard that?
It's funny because when she told me I felt shocked and confused. I remember she asked me, "Do you want to talk about it?" I was like, "No." I didn't really want to talk to her about it. I went to back to class because I remember it was during my culinary arts class when they called me up to go see the nurse. I just went back to class for another 30 minutes, and then I decided to leave because it was starting to hit me.
It was a whole bunch of feelings -- from mad to confused to "Why?" I remember going home and being really confused, like, "What the hell? This person was supposed to care about me and take care of me," and here I was with HIV.
"Other things that had happened to me in life were worse than being HIV positive -- like being raped, living on the streets. I had already gone through so much stuff that it was just something added on the plate."
I think I was in grief mode for about two weeks, and then I just snapped out of it. I was like, "I can either stay here and cry about it, or I can actually do something and make my life better and help other people and talk about it and not be afraid."
I think I've always been like that. I had my moment and then I was like, "Fuck it. I'm going to do me and I'm not going to let this stuff beat me." Plus I had gone through so much already in life that I was like, "This is just another thing that's helping me be stronger, helping me look at things different, look at the world different, be more appreciative."
You started to feel that within a few weeks of being diagnosed?
Yes, because I honestly feel like the other things that had happened to me in life were worse than being HIV positive -- like being raped, living on the streets. I had already gone through so much stuff that it was just something added on the plate that I had to learn how to deal with and become a better survivor.
From Childhood Trauma to Positive Action
Can you talk a little bit about the things that had happened to you in your life up until that moment?
Growing up, I was in and out of living with my mom and my dad. I was in a boarding school for a while when I was younger and that's where I was raped the first time.
How old were you?
I would say seven or eight.
Where was the boarding school?
It was in Kentucky.
How long were you at the school?
My brother and I were there for a while. My mom had to put us there just because she couldn't take care of us anymore. She found out about this place through a friend and we ended up being there, but my father found out and then he didn't like that fact so he came and got us.
Where was your dad living at the time?
Herndon, Virginia.
How old was your brother?
I was probably eight and Jimmy was five or six. We were really young. I remember being really young. I remember we were separated because the older boys were in one place and the younger people were in another place. Me and my little brother used to sneak away when we had little outings or we could go out, because we never got to see each other. So we would sneak to see each other and just to hang out a little bit and then go back, but we always got in trouble for doing that.
It was hard, living with all these people that you don't know. They used to hit us too, in the school. They used to hit us with a paddle. I remember I used to be a joker -- I still am a joker. I used to joke around a lot, play around a lot, so I used to get disciplined a lot. There would be nights where I couldn't fall asleep and I would just stay up and talk to people, and I would get in trouble. They used to make me stand in the corner for hours. So yes, that was kind of traumatizing too -- having to live with all these people and having all these grownups you don't know tell you what to do, hitting you.
Who was the person who abused you? Who was it that raped you?
It was one of the janitor people. He used to do it to me and other people, but I didn't really find out about the other people until later. There were three of us in one room, and I had mentioned it to one of my other friends, and he was like, "Yeah, he does the same thing to me." So I knew I wasn't alone.
Did the man ever get in trouble for what he did to you and the other children?
I don't know. I never said anything, and I never went back. At that point, that I was also being raped by one of my mom's boyfriends was more traumatizing.
How old were you at that time?
I think I was nine.
This was after you had come out of the boarding school and your father had come and gotten you?
No, it was during that time. Sometimes we would leave. Our mom was able to come pick us up, so we would have weekend trips. I remember going to places, and he was with my mom at the time.
Did you tell your mom?
No, I never told her. I still haven't told her. At this point, I'm over it. It was something that happened in my life, and luckily, I've been able to deal with it. I worked at the rape crisis center in Albuquerque, New Mexico, and I was an advocate for rape victims. Basically, when someone came in raped, I would talk to the family, help out with the reports and all that stuff. I'd talk to the victim, help out the victim. All that has helped me not to keep it all inside like I know a lot of people do.
I keep other things inside, but things like that, I feel like there are so many people who don't speak about it that, if one person can, that makes some kind of change. It helps someone out.
I know a lot of people are like, "You're crazy. How can you talk about that stuff?" But I'm like, "Why would I hide it?" It's stuff that happens to a lot of people, and a lot of people can't talk about it. Once you hear someone else talk about it, you're like, "OK, I'm not alone." So in some kind of form it helps.
Is your mother still with the boyfriend who raped you?
No, they're not together.
How long was she with him?
She was with him for about two or three years. I remember seeing them a lot when I was little, but they weren't together for a long time.
Do you think that you'll ever tell her what happened?
No. I don't want to. I think it's too much for my mom, and I don't think she can handle it. My mom has gone through a lot, so I don't want to add more onto her plate. I can deal with the situation. I've dealt with it so far. What he did to me, it was something he did and he'll pay back for it.
"I talk to people, I help people and it helps me. That's like my therapy."
My thing is, you have to forgive people. A lot of people don't know how to forgive. I forgive and move on because I feel like being stuck in one place, I'm not going to move on and it's not going to help me at all. So I prefer to just be like, "OK, it happened. Let me see what the positive things I can do out of it." And the positive things are that I talk to people, I help people and it helps me. That's like my therapy.
What did you know about HIV at the time you were diagnosed?
Like a lot of young people, I had the information. I knew what HIV/AIDS was. I knew how you could get it. But when you're a young person and you fall in love, and you are put in a situation where you're in survival mode, you don't really think about that stuff. You think, "OK, this person loves me. If anything's up, they'll tell me."
I knew every time we had unprotected sex that I was at risk. And I thought about it too. But I just thought, "No, there's no way that he's positive. He doesn't look sick. He would have told me."
Do you think there's anything that could have happened in your life at that time that would have put you in less of a position to be at risk for HIV?
Yes -- having a stronger family. My father was never really around my life and until just recently, I've always looked for that father figure. I feel like, if my father was there -- and my mom too, just being more like parents. ... But I understand.
What happens nowadays is that you have a lot of parents who are immigrants. They're always working, so there's really no time for the family. There's really no time to sit down and talk. So I had a lack of that. My mom would never sit with me to talk to me about sex or anything like that. So I think that would have helped out a little bit -- just having a really strong, supportive family, which unfortunately a lot of young immigrants don't It's really hard.
Was the man from whom you got HIV the first man you'd been with?
I had had other boyfriends before, but he was the first sugar daddy I had.
Did you ever talk to him after you found out you were HIV positive?
I saw him sometime afterwards, but I was just like, "Whatever." We never had another conversation. He's dead now. His friend told me when he died.
How long after your being diagnosed did you find out that he died?
It was maybe a year or so after.
How did you feel knowing that he died?
I just felt sad. I figured that, if he was really sick, he was in a better place, so he wasn't suffering anymore.