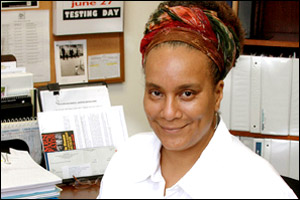 This is the last in a series of four articles exploring the etiquette associated with telling other people that you have HIV/AIDS.
"They'd rather get sick and possibly die than say they need help," says South Carolina resident Pat Kelly, a steering committee member for the U.S. Positive Women's Network, an advocacy group for women living with HIV/AIDS. Pat speaks as clearly as anyone I know about the consequences of remaining silent for people living with HIV/AIDS (PLWHA). If merely half of the 2,300 South Carolinians on the AIDS Drug Assistance Program (ADAP) had showed up at the May 2010 rally in the state capitol to register their displeasure about the state legislature's decision to eliminate ADAP funding, she observes, hundreds of PLWHA might not be facing removal from the program. Instead, fewer than 100 PLWHA made the trek.
The situation that Pat describes is all too common: too few of us are speaking up. The amount of dollars available to fight HIV/AIDS within both the nation and the states is directly proportioned to the number in PLWHA who disclose their HIV status. Since so many folks don't speak up, more people live with HIV/AIDS than there is money to adequately care for and treat them. Funding will only keep pace with the disease if we stand up for ourselves. If we don't funding for HIV/AIDS services will continue to be in jeopardy. Until now, in our absence our PLWHA advocates and allies have been masterful at ensuring continuous funding. But in these difficult economic times, they need our help to ensure that adequate dollars are allocated to address our needs and save lives.
Advertisement
I want to live. In order to do so, I am happy to be my own keeper as well as an advocate for my sisters and brothers living with HIV/AIDS. When I look back on my own path, I realize that my disclosure happened in stages: I disclosed to my family, then to my employer, then to my medical provider, and then within my network of male AIDS advocates and female support-group members, who provided me with valuable information on HIV care and treatment. It is through these experiences that I learned about the importance of speaking up for myself as well as for others who are similarly situated.
Finding the courage to disclose my HIV status allowed me to speak authentically about my needs as a person living with HIV/AIDS to my family members, friends, lovers, politicians -- or to whomever we need to petition for funding and services. I strongly encourage you to do so as well. After all, my future may depend on your willingness to tell the world that we matter, just as your future depends on mine.
Vanessa Johnson, J.D., who has volunteered and worked in the HIV/AIDS field for approximately 14 years, is executive vice president of the National Association of People With AIDS (NAPWA).