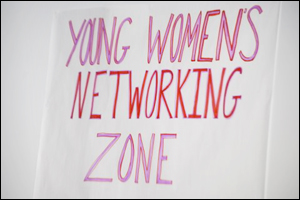 Vienna, Austria -- At a talk following a standing-ovation screening of The Other City, a documentary about HIV in Washington, D.C., executive producer Sheila Johnson made a bold statement: Standing just feet away from the Black AIDS Institute's Phill Wilson, who often identifies AIDS in America as a Black disease, she turned the tables and declared, "Women are the victims and face of this disease."
Johnson had every reason to say such a thing. Simply look at the numbers: 50 percent, or 15.7 million HIV infections worldwide, occur among women; 60 percent of the 5.4 million young people living globally with HIV are women; and 40 percent of all new infections occur among 15-24 year olds, with the majority being women. In the U.S. women represent a much smaller share of those infected -- 27 percent of those living with HIV/AIDS. But African American women are becoming infected in far greater numbers (see p. 10) than any other racial or ethic group except gay and bisexual Black and White men. HIV/AIDS was the third leading cause of death for Black American women ages 25-34 in 2006, the most recent year for which data are available.
Advertisement
With such sobering evidence almost 30 years into the epidemic, it seems almost nonsensical that women combating the disease still needed to insist that their issues be examined critically and centrally at the
18th Annual International AIDS Conference
(AIDS 2010).
Yet their persistence paid off, causing AIDS 2010 to be decidedly more woman-centered than the conference had been in years past. Some superficial changes likely went unnoticed by many in attendance, including, according to the organization Women ARISE (Access Rights Investment Security Equity), women comprising 50 percent of the speakers at the plenaries, daily opening sessions that set the tone and agenda of the day's panels and meetings, including one on gender violence as both a cause and a consequence of HIV. While the gender of a speaker might seem to offer merely a superficial solution in eradicating a disease, it reflected a major step forward in demonstrating that women are just as much the go-to experts about HIV/AIDS as men.
Alongside these plenary speakers, attendees also became used to the frequent spottings of "sheroes" such as the chair of the President's Advisory Commission on HIV/AIDS Helene Gayle, M.D., M.P.H., The Other City's executive producer Johnson and director Susan Koch, actress activist Sheryl Lee Ralph, singer Annie Lennox and California congresswoman Barbara Lee. These are some of the many outspoken female champions in a fight that often attacks the defenseless and silent.
Yet more happened at AIDS 2010 than singular examples of female empowerment. The group Women ARISE, a collection of representatives from different organizations, held talks, including daily ones in their sprawling location in the Global Village, the cultural gathering space of the conference, to press the conference to include a female (including young women's) perspective throughout. "Women need to be considered in the response to the epidemic," said Sophie Dilmitis. Of utmost necessity, stressed ARISE, is the need to empower young women to take on leadership roles. "We're still talking about rights…women's human rights. We need to continue to invest in the leadership of women, and especially young women."
More importantly, the defining historical moment of the conference was all about women, namely the announcement of a groundbreaking advancement in microbicides, called the first effective preventative step involving women protecting themselves. The South African husband-and-wife epidemiological team of color, Salim S. and Quarraisha Abdool Karim, shared news of their successful study involving an experimental gel made using the antiretroviral drug tenofovir (brand name Viread). The microbicide formulation cut new HIV infections by at least 39 percent and new genital herpes infections by 51 percent in the nearly 900 Black South African women participated in the trial.
Smaller scale (but no less successful) research involving women included a presentation by Dázon Dixon Diallo, the founder and president of the Atlanta organization SisterLove, on a study evaluating a community-based, single-session, HIV-prevention intervention for Black women. What kind of sessions were so effective? Diallo calls them Healthy Love Parties, where talk of condom-use is combined with positive talk on sex and sexuality. "Specially trained women come to your dorms, your living room, wherever you and your girlfriends can sit and talk about where you were and what you were doing the first time you heard that Marvin Gaye song. It's about more than just saying wear a condom. And when you bring it home like that, well, women remember -- because it's on their terms and speaks to their experience."
The Global Village dedicated serious space to women. For example, bras and panties were strung across a clotheslines in one corner, the intimate pieces underscoring that this was a woman-friendly space. Also the Young Women's Networking Zone led daily interactive sessions to address the needs of young female conference attendees. The Pink Scarves, women from the World YWCA, a global network leading change in 125 countries, set up a table in the Global Village but were easy-to-spot throughout the sprawling conference because of the fuchsia raw-silk scarves they wore around their necks and as headscarves. "Pink represents young women and we want them to know that they have a voice and a presence here," said a 25-year-old YWCA representative.
But beyond the Global Village or even newsworthy announcements, AIDS 2010 was instrumental in keeping one seemingly unrelated topic in the forefront of all discussions: the lack of national and international funding and private dollars for initiatives, prevention, access to care and housing. The President Obama's newly released National AIDS Strategy (PDF), with its insistence that it will focus prevention efforts in communities where HIV is most concentrated, should mean increased help for African American women. Still, many worry that funding will be inadequate given the economic climate. Fortunately women, and Black women in particular, have always been able to make a lot out of a little -- a skill that certainly seems necessary for our leadership and voices to be heard loudly in the continued fight to end the epidemic. Observes Raniyah Abdus-Samad of the Black AIDS Institute, who presented her study on the staggering rates of HIV/AIDS in the American South and mobilizing communities for better prevention: "Black women really responded to programs that included gender empowerment and spoke to the historical legacy of Black women overcoming obstacles."
Brooklyn-based Ayana Byrd is co-author of Naked: Black Women Bare All About Their Skin, Hair, Lips, and Other Parts and an articles editor for Glamour magazine.