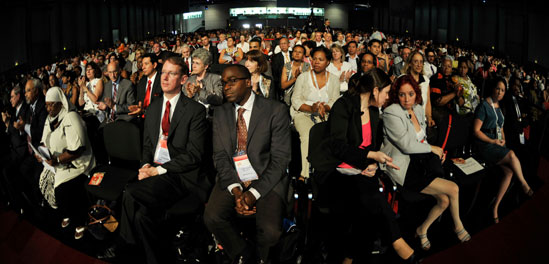 Closing Session, XVIII International AIDS Conference Vienna, Austria.
© IAS/Marcus Rose/Workers' Photos.

This article was cross-posted from the AIDS.gov blog. Miguel Gomez is AIDS.gov's director and Michelle Samplin-Salgado is AIDS.gov's new media strategist.
Today is the last day of the International AIDS Conference. Throughout the week we've had the pleasure of hearing key scientific outcomes along with policy and program updates from the meeting. We were encouraged by the expanded use of new media at the conference this year. For example, the IAC blog and tweets kept us up-to-date throughout the week. We ourselves used our blog, YouTube, Twitter, and Facebook pages to share updates with those who weren't able to attend the conference in-person. We also enjoyed meeting new media colleagues from around the world at tweet ups and other informal meetings.
The closing session concluded with Jack Whitescarver, Director for AIDS Research at the National Institutes of Health and Director of the Office of AIDS Research, receiving the first International AIDS Society's Presentation Award. President Obama and Secretary of State Hilary Clinton also shared a video message at the session, where they spoke about the U.S. commitment to HIV and welcomed the conference to Washington, DC in 2012.
We have additional posts and videos from the conference that we will be sharing over the coming weeks. In the meantime, we encourage you to visit our blog and the AIDS 2010: Expanded Edition of the Kaiser Family Foundation Health Policy Report.
Read more of Positive Policy, TheBody.com's multi-author blog on law, policy and activism.
Get e-mail notifications every time Positive Policy is updated.
(Please note: Your name and comment will be public, and may even show up in
Internet search results. Be careful when providing personal information! Before
adding your comment, please
read TheBody.com's Comment Policy
.)