At the XVIII International AIDS Conference, UNAIDS was pleased to meet up with Russian activist Evgeny Pisemsky who was featured in the UNAIDS Outlook 2010 report.
The interview was conducted in Russian -- the English transcript is below.
What did it mean for you to be featured in Outlook 2010?
I think it is very important that activists from Eastern Europe and Central Asia learn and read stories about other activists. When I started working in the field of HIV, it was extremely important for me to know how others work with people living with HIV, to understand what their priorities were.
I do not think that I'm a special person; I am just one of many activists who are tying to stop the epidemic. Unfortunately at the conference, I did not see enough emphasis on our region. Our voice is still very weak. That is why it's so important for me to be one of the people who speak about existing problems, to be a banner of the movement.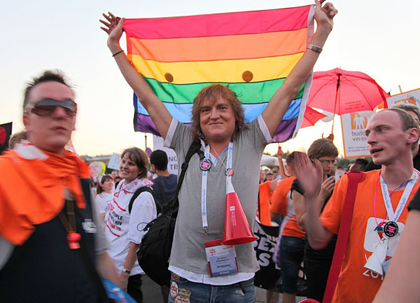 When I was at my first AIDS conference in Bangkok (2004) I felt confused. At the same time, this confusion has given me the strength and desire to work and help people. I saw a huge number of activists who work hard to end epidemic.
Then I was at Mexico (2008) where I felt pride on behalf of my organization for what we could do in our region. What I feel at this conference? It is anger and confusion because I think that we are doing too little. There are too many problems to which we have not even come close to solving. We're always late, trying to catch up, but in the meantime we're losing out against the epidemic.
What do you think we need to do to change this?
I think it is important to create conditions for more people to become activists. In 2008, my organization won the Red Ribbon Award for what we have managed to do in the Central Federal district in Russia.
We created four new organizations and supported new activists who provide services for people living with HIV. We also direct our advocacy efforts towards the state so they can better understand the need for HIV treatment, care, support and prevention.
My strategy has not changed since then. We need to have more activists in order to strengthen our voice, and I hope that our voice will be more powerful at the next conference.