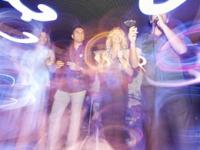 Y-PEER event at AIDS 2010, 23 July 2010. Credit: UNAIDS/Heimo Aga
Harnessing the power of the mass media and new technologies to reach young people with information about HIV and reproductive health was high on the agenda at the XVIII International AIDS conference yesterday during a series of events sponsored by Y-PEER, a youth initiative pioneered by the United Nations Population Fund (UNFPA).
According to UNFPA a youth-centred approach, such as Y-PEER, is critical to genuine engagement for change.
"If we want to engage young people on health and lifestyle issues that affect them, we need to be where they are, sharing information through platforms they are connecting to every day," said Purnima Mane, UNFPA Deputy Executive Director (Programmes).
"Run by youth for youth, Y-Peer continues to grab hold of the latest trends in entertainment and social media through innovative partnerships to promote health and prevent HIV infection."
In an innovative session, Using Edutainment for Social and Behaviour Change, one of Hollywood's top writers and producers, Zoanne Clack of the award-winning US series Grey's Anatomy, joined experts, such as Colin Dixon of Dance4Life, AIDS activists and Y-PEER ambassadors to discuss how HIV is dealt with in the entertainment media.
Y-PEER phone app launched at AIDS2010, 23 July 2010. Credit: UNAIDS/Heimo Aga
Y-PEER is partnering with the Hollywood Health Society (HHS), which was represented by its director, Sandra de Castro Buffington, during the event. HHS, based at the University of Southern California, aims to provide writers and producers with accurate information for health storylines. Y-PEER works with HHS to try to identify similar models that can be easily replicated in other regions with the aim of sensitising the film industry and to encourage featuring HIV in popular programmes.
The session explored how education-entertainment, or 'edutainment', can bring issues around sexual and reproductive health, sexuality and HIV alive for a young audience, and how this can contribute to them making informed decisions in this critical area, helping them better protect themselves against the virus and reducing their vulnerability. Empowering young people to protect themselves from HIV is one of the ten priority areas in the UNAIDS Outcome Framework (2009-11).
Recognising the role that celebrities can play in using their influence to highlight issues and change attitudes, beliefs and behaviour, a number of stars who are also Y-PEER ambassadors attended the session as guest speakers. These included Hollywood resident actor and activist Sammy Sheikh (who appeared in the series '24', United States of Tara and LOST) and singers Daniela Dimitrovska (Macedonia), Lotfi (Tunisia) and Ana Stanic (Serbia).
Last night also saw the launch of Y-PEER knowledge applications for smart phones. Building on the Y-PEER programme, this new 'app' is intended to test young people's skills and knowledge surrounding adolescent sexual and reproductive health. It contains more than 500 questions with four different types of quiz play focussing on eight topics, such as HIV, gender and sexuality and drug use. As well as testing their knowledge, users can learn more about Y-PEER activities and compare their scores with other players.
Y-PEER has thousands of members in 48 countries around the globe in a movement which builds capacity and mobilises young people to participate in the national and global response. Members work to highlight issues around sexual and reproductive health and rights, seeking to empower young people, especially the most vulnerable, to make informed choices.