Each day during AIDS 2010, we'll be following tweets, blog entries, and news stories coming out of the conference and posting a daily roundup of some of the most interesting news to hit the Web.
No other medical meeting I've covered, easily more than 400 in my career, incorporates as much theater and performance as the International AIDS Conferences, which began in 1985 and have been held every other year since 1996. The AIDS Conferences are where conventional meeting science and discussion collides with demonstrations, passions, and flamboyant displays.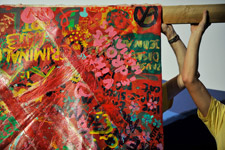 AIDS 2010 Official Painting, created by delagates.
©IAS/Marcus Rose/Workers' Photos
I don't know if there's a better way to describe AIDS 2010 than that. AIDS 2010 had lots of everything -- especially condoms -- ranging from puppets to research breakthroughs; and it had everyone from Annie Lennox to sex worker advocates. It's been huge and inspiring, not to mention touching.
As the conference closes, the AIDS 2010 official blog provides some numbers. AIDS 2010 featured 19,300 participants, with 16,012 delegates, 1,218 participants from Eastern Europe and Central Asia and 848 scholarship recipients. The Global Village saw 279 activities. There were 197 countries represented, over 6,000 abstracts, 19 plenary speeches and 18 special sessions, and 10 scientific prizes and awards given.
Is it too early to wonder what AIDS 2012 will bring?
Becky Allen is TheBody.com's site manager.
Copyright © 2010 Body Health Resources Corporation. All rights reserved.
(Please note: Your name and comment will be public, and may even show up in
Internet search results. Be careful when providing personal information! Before
adding your comment, please
read TheBody.com's Comment Policy
.)