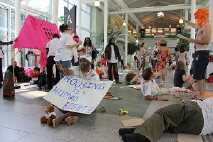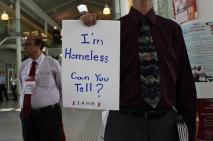 AIDS activists set up a homeless encampment at the International AIDS Conference.
AIDS activists blocked the hallways here at the International AIDS Conference in Vienna this morning, setting up a temporary slum to mark the release of a
landmark report
about the link between housing instability and the prevalence of HIV/AIDS around the world.
Sponsored by the Ford Foundation, compiled by the National AIDS Housing Coalition (NAHC) and supported by 47 organizations that make up the International AIDS Housing Roundtable, More than a Just a Roof Over My Head details the unstable housing situations -- such as slum-dwelling and homelessness -- in 17 cities and countries, explaining the way precarious living spaces contribute to the spread of HIV.
"Overcrowding, lack of services, lack of access to water, lack of basic sanitation," said Lauren Nussbaum, NAHC program associate and part of the team that wrote the report. "The conditions of slums exacerbate HIV risks. It doesn't matter where you are, this is a global issue."
Approximately 3.5 billion people, or 50 percent of the world's population, live in urban areas, according to the report, and that number is rising. About one quarter of those people live in slums, areas that have some of the highest concentrations of HIV-infected individuals in the world.
"This Is Me"
In Vienna, conference delegates from Housing Works constructed a shantytown in the conference complex's gleaming hallway, a move designed to visually connect conference-goers -- journalists, scientists, social workers, doctors and AIDS advocates from nearly 200 nations -- to the report's findings.
"This is me," said Wayne Starks, pointing to the village dwellers behind him. The 50-year-old Brooklyn-based artist spent five years living on the street after sickness related to HIV medication caused him to lose his job with New York City Transit. "Looking at all this took me right back."
Housing Works staff and other activists donned stained t-shirts, rattled coins and gathered around a house made of flimsy wooden poles. Attendees stopped to view the spectacle, and then paused to listen to findings from the report.
The report was compiled using written testimony from staffers at dozens of AIDS services organizations. Among the regions profiled are La Paz, Bolivia; Santiago de Cali, Colombia; India; Nigeria; Kampala, Uganda; Sydney, Australia; and the United States.
Stable Housing Is Prevention
Advertisement
While many of the sessions at the week-long conference have focused on scientific discoveries that may help curb the spread of HIV, the report's finding suggest that attending to worldwide deficiencies in housing infrastructure could provide a much simpler way to prevent the spread of the virus.
Uninfected people with stable housing are more likely to have access to safe sex education and methods of protection. They're also less likely to trade sex for basic needs. At the same time, HIV-positive people with stable living situations are more likely to be able to attend to needs associated with care -- such as keeping medication refrigerated -- and less likely to be exposed to diseases that could wreak havoc on their immunodeficiency systems. Keeping HIV-positive people healthy then greatly reduces the risk that they could spread the virus.
"Housing isn't a luxury, but rather a prevention method," said Charles King, president and CEO at Housing Works. "If we want to end the AIDS epidemic we must get everyone stable housing."
Comment by: cliffwms44
(Philadelphia, Pa.) Tue., Aug. 31, 2010 at 5:48 pm UTC
Their are many way in which people diagnosed with the virus have suffered.
Lets start with allowing HIV/AIDS to go from epidemic to pandemic then stigma and misinformation on an on until we have people who don't understand now that the virus is more than just a disease it is a life changing. We as activist should not have too fight for something that should be done because people have and are dying still. People with HIV never even have too progress to have and AIDS diagnosis it only the fear and misinformation and stigma wich formulate a barrier too care for people in need.
There is something very wrong when everytime I see a young girl is pregnant it tell me that they are not using safer sex tools.
Now let attack funding issues that do not match the pandemic need of attention at present.
In Africa they can not get anti-viral meds because clinics are being closed and are being asked not to accept people newly diagnosed because their budgets have been cutt.
These people will die.