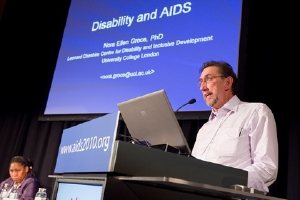 Dr. Paul De Lay, Deputy Executive Director of UNAIDS was one of the keynote speakers at the event. Credit: UNAIDS/Anne Rauchenberger.
While there is a growing recognition of the interrelationships between disability and HIV, people with disabilities still lack access to HIV prevention information, treatment, care and support services.
In order to raise awareness on these gaps, as well as provide a platform for exchange of good practice and innovative advocacy ideas, there is a disability and HIV networking zone at this year's International AIDS Conference and a range of events on the conference calendar.
On 21 July a satellite session was convened by Health Canada in collaboration with the Global Partnership for Disability and Development (GPDD), to look more specifically at the integration of HIV and disability issues into HIV programmes at the country level.
Dr. Paul De Lay, Deputy Executive Director of UNAIDS was one of the keynote speakers at the event.
He described UNAIDS' work with WHO and the Office of the UN High Commissioner for Human Rights to develop a Policy Brief on HIV and Disability. This was achieved with valuable inputs from organizations representing people with a disability, networks of people living with HIV, UNAIDS Reference Group on HIV and Human Rights, and a number of others.
The policy brief gives recommendations for governments, civil society and the UN, for a range of challenges currently in the response to AIDS and disabilities.
These challenges include:
Persons with disabilities are not included in most HIV policies/processes; people living with HIV not included in most disability policies/processes.
Some policies exist on HIV and disability and there is mention in national strategies, but implementation is weak and often does not go beyond project level.
Strategies and programmes fail to adequately address how disability affects men and women differently.
Training for health and other professionals is insufficient.
Data are weak or totally absent (prevalence, incidence, programme needs/coverage) and research is insufficient. Existing research is not being translated into programmes/action.
Dr. De Lay noted that a key challenge is to ensure that organizations representing people with a disability are part of the development of National Strategic Plans on HIV and, where it exists, the national partnership forum.
Dr. De Lay emphasized that "a normal part of "doing business" in today's HIV response should be ensuring the full accessibility of mainstream services and information. Standalone programmes should be used where the community says that this is the best way to address our needs. This agenda needs to be planned for, fully funded, and evaluated," he continued.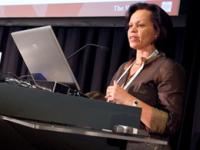 Elizabeth Lule addresses the Disability and AIDS event. Credit: UNAIDS/Anne Rauchenberger.
Professor Nora Groce of University College London moderated the event. Mr. Stephen Lewis of AIDS Free World also was a keynote speaker. Other participants included Elizabeth Lule; Specioza Mwankina, chairperson and founder of the Network of Disabled People Living with HIV; Steven Estey, Disabled Peoples International; and Rosangela Berman Bieler, of Inter-American Institute on Disability and Inclusive Development (IIDI).
Hendrietta Bogopane-Zulu, Deputy Minister of Public Works, South Africa underlined that the Treatment 2.0 approach is important agenda as simplified treatment regimens and services closer to where people are would make a huge difference to the lives of people with disabilities who are living with HIV.
There was a consensus in the discussions on the need for enhanced collaboration between development actors, donors, national partners, and civil society to foster the scale-up, integration and development of inclusive HIV programmes for persons with disabilities.
People With a Disability
Around 650 million people, or 10% of the world's population, have a disability. Although people with disabilities are found within the populations at higher risk of exposure to HIV, not much attention has been paid in the past to the relationship between HIV and disability.
Persons with disabilities experience all of the risk factors associated with HIV, and are often at increased risk because of poverty, severely limited access to education and health care, lack of information and resources, lack of legal protection, increased risk of violence and rape, vulnerability to substance abuse, and stigma.