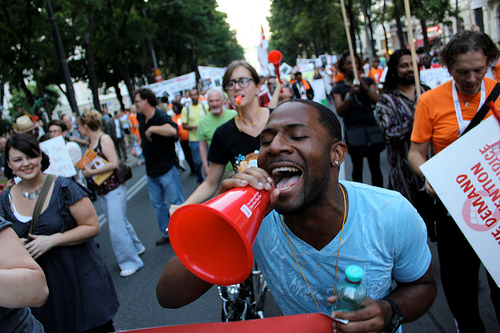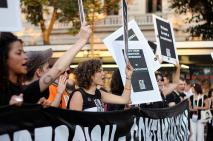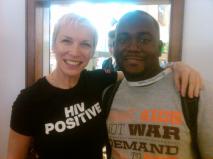 Top three images: Scenes from the rally. Bottom image: Housing Works Haiti Country Director Edner Boucicaut with Annie Lennox.
This was the scene at yesterday's human rights rally at the International AIDS Conference in Vienna: Marchers danced through the city's wide, historic streets, flinging condoms, banging drums and kissing openly amid cheers.
Thousands of AIDS activists marched through the Austrian capital yesterday in a rally designed to draw international attention to the links between protecting human rights and curbing the global AIDS epidemic. Singer and activist Annie Lennox headlined a closing concert. A contingent of 19 Housing Works activists shouted their way through the march, carrying a giant pink house that symbolized the fundamental right to housing and its critical importance to AIDS treatment and prevention. [See pictures]
The beer flowed. A Lennox staffer requested that someone send the rockstar a Housing Works T-shirt. It seemed like a party.
Except that it wasn't. Even the celebratory events here in Vienna have been affected by growing international frustration over decreased and slowed contributions for AIDS funding. Protestors have repeatedly interrupted the week's meetings, directing their anger at President Obama and leaders of the G-8.
An International Scolding
As the march entered Vienna's Heldenplatz Square, Julio Montaner, director of the International AIDS Society, took the stage. "Now," he said, pausing, "is the time for the money to pay for the fight." The Austrian health minister later stood before the microphone, only to scuttle off after the crowd began to yell, "No more yackety yack!" The conference's host country is one of several European nations that has been repeatedly scolded by activists for its history of paltry contributions to the Global Fund. Austria last contributed to the fund in 2002.
"We're here to remind people that this conference should not be about 'AIDS incorporated,' it should not be just a giant money-making party," said Ken Robinson, Housing Works' vice president of housing and a participant in the conference. "People, are dying, yes, and funding is urgent."