Myles is the editorial director of TheBody.com and TheBodyPRO.com.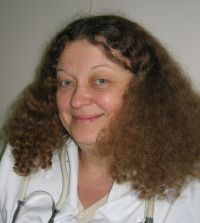 Dr. Svetlana Antoniak; photo by Ben Young, M.D.
One of the 30,000 people here in Vienna for AIDS 2010 is Svetlana Antoniak. She is a short, round woman with curly, shoulder-length hair. At first glance she seems jovial but motherly, a person who loves life but knows her responsibilities. At closer inspection, though, it's clear that the vivid gleam in her eyes is offset by a face that has become drawn from exhaustion and worry. Antoniak looks soulworn.
And no wonder: Antoniak is the head of one of Eastern Europe's most successful HIV/AIDS clinics. And it may be about to die.
The Lavra HIV/AIDS Clinic lives at the entrance to Kiev Pecherska Lavra, a picturesque monastery in Ukraine, where HIV rates are among the highest on the planet outside of sub-Saharan Africa. At the clinic, Antoniak and her team provide care to more than 4,000 HIV-positive people in the region, about a quarter of whom are on HIV medications. At least, they are at the moment.
On June 14, the clinic was given notice: It was being shut down in a month. And despite government assurances that it would be moved and all clinic patients relocated, Antoniak was unaware of any arrangements that had been made for her staff or her patients. She left for Vienna as the clock ran out on the clinic's July 16 eviction date, and is hoping that when she returns there won't be a chain across the door.)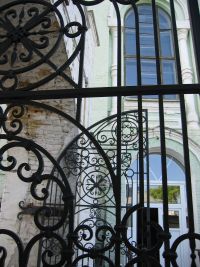 The gates to Lavra clinic and monastery; photo by Ben Young, M.D.
As I spoke with Antoniak through an interpreter, her eyes grew moist and her expression grew more pained. (I didn't record our conversation, but did arrange for her to be interviewed by Fred Schaich of IFARA. We'll post the video and transcript of that interview as soon as we can, as well as another interview Schaich conducted with Ukranian activists about the clinic.) This is a woman who clearly cares passionately about her HIV-positive patients, and who has grown so fearful that they are about to lose their only source of care that she's speaking out publicly about the situation -- not always the safest choice in a country such as Ukraine, where voices of dissent have in the past found themselves suddenly silenced.
Antoniak, of course, would never criticize her government. But there are others who would. "There is clearly some sense that the current government may be less interested in HIV care and is looking for a way to squeeze [it] out," says Ben Young, M.D., a U.S. HIV physician who has been involved in doctor training and patient care in Eastern Europe for several years. (Young interviewed two of the Lavra clinic's health workers for TheBodyPRO.com in 2006.) Young also suggested that the Eastern Orthodox Church, which is centered at the Lavra site, was interested in converting the Lavra clinic into condominiums to house church dignitaries. "There have been a lot of alleged reasons," Young says. "But none of it has to do with the clinic not being productive or saving lives."
The clinic, according to Young, is not merely one option for HIV-positive people in the region -- for many of them, it is the only realistic option. "It is way above and beyond anything else you can get in the country," Young explains. "It's the place for referral for difficult and dying patients from all over the country. It's probably the only place in the country where you have a chance to get well-thought-out second-line therapy. And Svetlana has been the guiding principal behind that, and has created an entire team of doctors who are now the best in the country, a team of nurses who would cut their arms off to work for her, to work with these patients."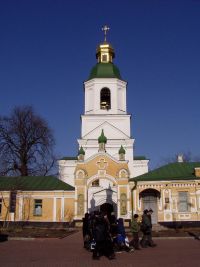 Photo by Ben Young, M.D.
The Ukrainian government has publicly downplayed the urgency of the situation at the Lavra clinic, but clearly neither Antoniak or Young are convinced. Neither were the 200 HIV-positive people, physicians and advocates who staged a protest on July 7 outside Ukraine's Cabinet building to demand the clinic not be closed.
"There could be deaths because of even a delay in access to therapy or to care," says Young. "The closing of that clinic in silence is a bigger crime to the notion of health as a human right than anything else we've talked about at this conference."
We'll have more on this unfolding crisis soon. Hopefully, others will as well -- but Young isn't holding is breath. "I think it's a travesty and an indictment of media coverage of people who shout over people who are actually on the ground doing care," he says. "The doctors and nurses who are actually taking care of people, the social workers who are taking care of the people, get less attention than NGO [non-governmental organization] workers who have another agenda: to make more money and get a little bit of media attention for their bullet points."
Maybe there are just too many gross injustices in the world for the media (myself included) to have time to cover them. Maybe the people whose lives are threatened by those travesties just don't scream loudly enough, or don't have powerful enough friends, to ensure their stories get heard. Or maybe there are just so many people in the world who are calling out for help that we can't make out all of the voices. Whatever the reason, it doesn't justify the deafening silence that's greeted this potential human disaster (when a press conference was held on it held here in Vienna, the room was almost completely empty). And it doesn't reduce the urgency of intercepting the tragedy unfolding, as I write this, at the heart of Christianity in Eastern Europe.
Read more of The Viral Truth: Making Sense of HIV/AIDS News, TheBody.com's blog.
Get e-mail notifications every time TheBody.com's blog is updated.