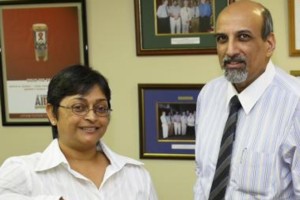 An experimental vaginal gel is showing great promise in the fight against HIV. The groundbreaking new microbicide -- which contains the antiretroviral drug tenofovir (prescribed orally under the name Viread) -- has been shown to significantly cut the HIV-transmission rate.
South African husband-and-wife epidemiological research team Salim and Quarraisha Abdool Karim followed nearly 900 HIV-negative Black women in rural and urban South Africa during their two-and-a-half year study. The women, ages 18 to 40, were either given a gel or a placebo to be used before and after intercourse.
The results were astounding -- the gel proved up to 54 percent effective in preventing HIV over one year. It also slashed the transmission of herpes in half.
The Black AIDS Institute conducted an exclusive interview with the scientists at the International AIDS Conference to discuss their exciting new findings and to find out what the results mean for Black women worldwide.
Advertisement
Why is this new gel so significant?
Salim: Once confirmed and implemented, tenofovir gel has the potential to alter the course of the HIV epidemic. By our estimates, we could prevent 1.3 million new HIV infections and more than 800,000 deaths over the next 20 years in South Africa alone.
How long did it take for you to create it?
Salim: It took eight trials. [When we finally saw our results,] there was a bit of disbelief because we'd been battered by repeated studies that had just not shown anything. It's been a hard road. You have to have a certain level of doggedness to stay in a field where you take knocks every time you do a study and it doesn't work. You begin to question the wisdom of why you're even doing this.
How effective is the gel?
Salim: Our study shows a 39 percent protection against HIV overall and 50 percent protection from HIV after one year of tenofovir gel use. In women with a high adherence, it shows 54 percent effectiveness. And it also shows a 51 percent reduction in HSV-2, otherwise known as genital herpes.
Quarraisha: One in five sexually active people globally have HSV-2, and if you have HSV-2 you have double the risk of getting HIV.
BAI: What do your findings mean for Black women throughout Africa and the United States?
Quarraisha: We used a slide [in our presentation] that shows the distribution of HIV infection in the U.S. in 1985, and then in 2006. It shows how heterosexual transmission has increased from 3 percent to 31 percent [of infections among Black American women]. So we've seen a big change in the face of the epidemic [in the U.S.], where women feature much more than they did about a decade ago.
Salim: We all recognize and understand the importance of women -- in particular, young women -- bearing the brunt of the HIV epidemic in Africa. Tenofovir gel potentially adds a new approach to HIV prevention, as the first that can be used and controlled by women. It can help empower women and help them take control of their bodies to help protect against their risks of HIV infection.
Who participated in the study?
Salim: All the women are Black. We recruited from two clinics in predominantly Zulu-speaking communities in rural and urban areas near Durban.
Quarraisha: The age range we were screening was 18 to 40 years. The mean age was 23.2 years old. The majority of the women over 25 were already infected by HIV.
BAI: Is it safe to use?
Salim: Our findings show no substantial safety concerns, although there have been some reports of minor diarrhea. There is [virtually] no tenofovir resistance and we found it is safe for Hepatitis-B infected women. The 51 babies born during the study had no congenital abnormalities.
BAI: What's next in this process, and how long do you think it will take for the gel to come to market?
Salim: Additional studies are urgently needed to confirm and indeed to extend the findings of this study for safety and effectiveness, so this study is the first step. But I would be disappointed if it were not available to women three years from now.
Tomika Anderson is a freelance writer based in Brooklyn, New York. Her work has appeared in Essence, POZ, Real Health and Ebony magazines, among others.