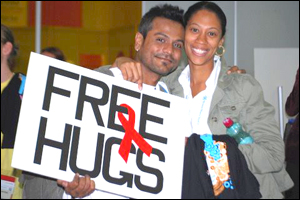 Photo Credit Ann Ragland.
As the smell of popcorn permeates the air, dozens of languages and dialects soundtrack the wide-open space of the Global Village, the literal heart of the International AIDS Conference.
Free and open to the public, more than 100 booths set the Global Village's stage, each one touching on HIV and AIDS from an educational, social, ethnic, political or economic point of view. The women's undergarments in one corner highlight the Women's Forum where attendees from South Africa and the Ukraine talk about women's rights. Activists like Sheryl Lee Ralph stand in another, selling glittery "Diva" t-shirts. There are networking zones, booths representing non-government HIV/AIDS organizations, cultural exhibitions and vending spaces overflowing with African garments; young people give speeches about their work on HIV and AIDS in the Philippines, and "happy hour" takes place at the multi-faith networking zone.
Advertisement
"The Global Village started at the Bangkok conference in 2004, and it was a community-led response to the scientific program of the conference," explains Kwaku Adomako, 34, of Toronto, Canada, the project manager of the
African and Black Diaspora Global Network on HIV and AIDS
(PDF) at the Global Village. "There wasn't an established place for the global community to gather, so they created the Global Village."
Dudley, 36, from Curacao, posted up in the Caribbean Liming Zone, says that the conference proper is overwhelming, but he likes the Village's intellectual and creative energy.
"I like to mingle with the people and see what they do," says Dudley. "I go to the sessions too but I find that in the Global Village, there is more interaction with the people and that's what I like."
Delegates from the conference and the public of the city the conference is held in (in this case, Vienna) can interact with one another annd experience for what, for some, might be an otherwise cost-prohibitive event.
Adomako says that this year's global village is not as diverse as conferences in years past.
"Across from our networking zone was supposed to be the sub-Saharan African zone, and we found out yesterday morning that some of them didn't get their visas because of costs associated with it," he says.
"I think it's sad, because this conference hasn't done a lot to support African and Black participation and it's evident when you look at the program and you walk around the Global Village."
Others complain that the the Village marginalizes some participants. Nicole Spence of the Vancouver Area Network of Drug Users (VANDU), an organization run by current and former IV-drug users, has a booth that depicts the proper way to shoot drugs. But Spence observes that drug users even face stigma within the AIDS community.
"If you look in the Global Village, injection-drug use is not well represented and that definitely has to do with stigma," shrugs Spence. "There's a lot [of information] on MSM, there's lots on women, which is fantastic, and there's even a huge section on sex work, but I think we're the only drug-user group that's here. IV drug users are really, really marginalized people."
She continues, "There is a whole drug-policy section [of the conference] but a lot of them are policy makers and they're advocating for stuff we'd advocate for, but you really need to hear from drug users."
Angela Bronner Helm is a Harlem based editor with AOL BlackVoices and board member of the Black AIDS Institute.