Olivia is TheBody.com's community manager.
HIV/AIDS activists from around the world collaborated on a demonstration set to coincide with the opening ceremonies of AIDS 2010. In addition to a banner drop, which, sadly, I missed (though I did procure a photo, courtesy of Kaytee Riek from Health GAP), a diverse contingent marched through the conference exhibit hall shouting. At the entrance of the opening ceremonies, the contingent staged a "die-in" to illustrate the avoidable deaths that inevitably result from a lack of funding for HIV treatment. Health GAP's official press release provides more details about the issues behind the demonstration.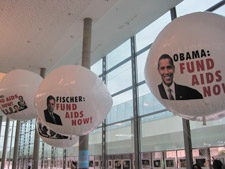 World leaders on helium balloons.
Between the banner drop and the die-in, while the march snaked its way through the conference center, activists held onto giant helium balloons festooned with the faces of world leaders who've pulled the strings of funding shortfalls for HIV treatment. Among those pictured were the G8 leaders (including Barack Obama, who got his own balloon), as well as the presidents of four African nations.
"Museveni's up there," murmured several different groups of passers-by, with a familiarity that led me to believe they must be from Uganda. Others stopped to have their pictures taken with the enormous balloons.
Action organizers passed out signs reading "Broken Promises Kill -- No Retreat -- Fund AIDS" for conferees inside the main hall to hold up at the beginning of the ceremonies while the demonstration was taking place. One of these activists was Karen Kaplan from the Thai AIDS Treatment Action Group.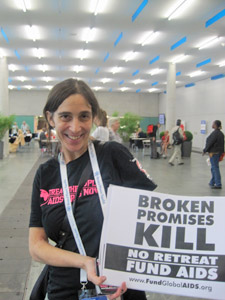 Karen Kaplan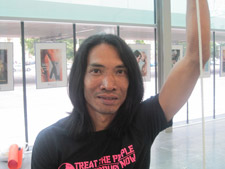 Paisan Suwannawong
"It would be impossible for the government of Thailand to provide treatment without support from the Global Fund, and that is why they have ... universal access to treatment," Kaplan explained. "Every country needs to be able to scale up treatment the way Thailand did. ... We're talking about health, not DVDs. People need to have access to treatment."
Kaplan's partner, Paisan Suwannawong, was on balloon-holding duty across the hallway. He believes activism is the only way to make change around HIV/AIDS. "Many of us know that our governments are not paying attention to people who die, and it's a crisis around the world," Suwannawong said.
"You had a global commitment from the Global Fund, as well as governments that give into the Global Fund -- including our own president, Obama -- promising $50 billion dollars to global AIDS, and that promise has not been met," said Dázon Dixon Diallo of SisterLove, Inc., in Atlanta, Ga., as she, too, passed out signs. "Not only do we have people on waiting lists in the United States, but there are people all over the world waiting in line for their drug treatment, and possibly dying while they wait."
"This is where the most concerned citizens around the world are gathering," said Diallo of the International AIDS Conference. "We can have a much louder collective voice when we [speak out to governments from] our global spaces."
Later in the evening, Paula Akugizibwe of the AIDS and Rights Alliance for Southern Africa (ARASA) began her opening plenary speech by acknowledging "Broken Promises Kill" as "possibly the most important message" to be asserted at the conference.
Read more of The Viral Truth: Making Sense of HIV/AIDS News, a TheBody.com blog.
Get e-mail notifications every time The Viral Truth is updated.
Copyright © 2010 Body Health Resources Corporation. All rights reserved.