Each day during AIDS 2010, we'll be following tweets, blog entries, and news stories coming out of the conference and posting a daily roundup of some of the most interesting news to hit the Web.
Though the conference's opening session wasn't until 7pm, there was plenty going on at AIDS2010 all day long.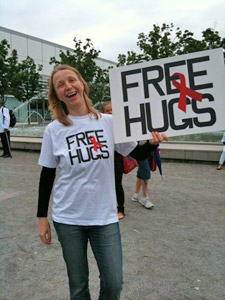 "Who wouldn't want a free hug!"
Conference photo by Alissa Sadler
Research, research, research. Today saw sessions on HIV transmission, prevention and vaccines. The Journal of the American Medical Association was there for it all, tweeting highlights and speaker quotes throughout the day.
Marches, protests and people making their voices heard. It was epic. Sex workers marched under red umbrellas demanding human rights (@PLRI) and HIV/AIDS funding (@AramBarra). Before the conference's opening ceremony, 1,500 activists staged a die-in (@TAGat2010AIDS).

Notable, Quotable ... In 140 Characters or Less

I love the way the Int'l AIDS Conference puts the world's focus on HIV, at least for a week. Can we sustain the focus this time? -@robynsussel
Overheard : «--What african country are you coming from? --Washington D.C.» -@leroncier

Photo Round Up

Today, it seemed like everyone on Twitter was snapping pics of Annie Lennox. Check out these pics by Leandro Cahn, Tearfund HIV Team, Alissa Sadler, and from Annie Lennox's FaceBook.

We also found these images from last night's rainy LifeBall and this cool bird's eye view of the Global Village.

If you're tweeting about AIDS 2010 and want TheBody.com to follow you, send us an @reply. And of course, don't forget to follow TheBody.com on Twitter as we update with conference coverage!
(Please note: Your name and comment will be public, and may even show up in
Internet search results. Be careful when providing personal information! Before
adding your comment, please
read TheBody.com's Comment Policy
.)