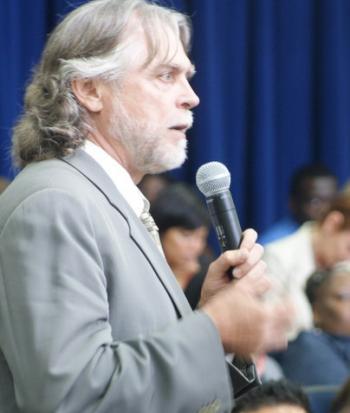 King asks tough questions during the conference.
Earlier today Housing Works
criticized
President Obama's new AIDS strategy, which sets insufficiently ambitious goals, provides no new funding (in the midst of an
ADAP crisis)
, and fails to incorporate housing as a structural tool to prevent the spread of AIDS and improve access to care for people living with the disease.
Download the president's AIDS strategy.
The plan's modest HIV prevention goals are perhaps its most glaring flaw.
Said Housing Works' CEO Charles King, "I am astonished that, after 15 months of intensive study by his administration, the president believes that the United States is only capable of reducing annual HIV infections by 25 percent. Would President Obama suggest that we only clean up 25 percent of the Gulf oil spill? Never. We have the prevention tools to dramatically reduce the spread of HIV if only we would dedicate the resources to doing so. This report does a disservice to America's young people and people of color, who are most at risk."
At a press conference unveiling the new plan today, King asked the president's top adviser on AIDS, White House Office of National AIDS Policy Director Jeffrey Crowley, why the prevention goal was so low. "Not to be too cynical but how did we decide that going from one new infection every nine minutes to one new infection every 12 minutes made new infections 'exceedingly rare'?" said King, referring to the plan's stated goal. Crowley responded that a 25 percent reduction was "aggressive" and that "just to hold steady is going to be difficult."
Obama's strategy does not provide new funding to reach its stated prevention goals. Nor does it provide additional money to reach its treatment goal of increasing the proportion of newly diagnosed patients connected to care within three months from 65 percent to 85 percent. The U.S. cannot afford to treat the existing population of Americans living with HIV. The worsening AIDS Drugs Assistance Program crisis has left 2,291 people without access to AIDS medication across 12 states. The Obama administration recently approved a paltry $25 million to stem the ADAP crisis, when at least $126 million is needed.
Advertisement
Ignoring Housing
AIDS advocates focused on housing didn't have much to celebrate. The plan calls for 21,800 additional units of housing for Ryan White recipients but falls far short of the estimated unmet need of 142,000 people. The plan minimally acknowledges the importance of housing in HIV prevention and treatment.
At the press conference, King asked Crowley, "Despite all of the evidence we provided, why was housing left completely out of the prevention portion of the plan, for example, directing HUD to prioritize housing people most at-risk of HIV, which is in opposite of many of HUD's current policies?" Crowley's response was vague. He said that the plan reflected the "important role" of housing, but added, "We need more and better community interventions." (His response may have been meant to suggest that he regarded housing or HUD policies as individual interventions.)
Virginia Shubert of the consultancy Shubert Botein Associates said, "The most disappointing thing here is the failure to acknowledge housing as an evidence-based prevention intervention. There is only one small reference to housing in the prevention section of the strategy, despite discussion of the unique vulnerability of black women, persons of transgender experience, and formerly incarcerated persons. There is ample research showing that housing status is a predictor of risk in each of these groups."
Homeless and unstably housed people are not identified as a vulnerable group in the plan. That omission prompted Shubert to call homelessness and housing "the elephant in the room."
Housing advocates had expected more: During the 14 community meetings held before the release of the strategy, Crowley had acknowledged that housing was a critical and unmet need for people with HIV.
The president's domestic AIDS plan is particularly frustrating because his global AIDS policies have been similarly anemic. Not only has Obama violated his campaign promises and flat-funded the nation's overseas AIDS efforts, he has proposed cutting $50 million from the federal contribution to the Global Fund to Fight AIDS, Tuberculosis and Malaria.