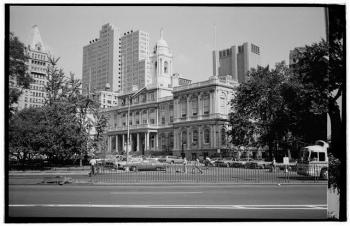 Budget details are in at City Hall.
After much wrangling in the New York City Council, budget details for fiscal year 2010-2011 are finally in. Here's a quick look at the not-good news for New Yorkers with AIDS. More analysis to come.
Cuts to HASA's Supportive Housing Contracts
The worst news: While the city promised last week not to cut any of the case managers hired by city's HIV/AIDS Services Administration, it will instead cut funding that goes to case managers hired by outside organizations that provide supportive housing.
The problem is that the two types of case managers serve different purposes. While HASA managers link people to government benefits -- like Medicaid and rental assistance -- those hired by community-based agencies provides clients with psychosocial support. New York needs both.
"This is a devastating blow to housing providers," said Kristin Goodwin, director of NYC policy and organizing. "HASA clients in supportive housing depend on case managers to help them stay physically and emotionally healthy."
Supportive housing organizations assist people who need extra help -- say easy access to medical care and psychosocial services -- but who want to live as independently as possible. The fear among advocates is that the cut will remove the "support" from supportive housing, relegating housing providers to simple landlords.
HASA's Food and Nutrition Program Restored
One shining light in the discretionary funding restoration list is HASA's contract for food and nutrition, which is currently administered by Momentum Project. Slated for a cut of $491,000, the contract was restored at $477,000, a reduction of just $14,000. Momentum serves hot meals and hands out pantry bags to people living with HIV/AIDS at seven sites around the city. Food program sites also serve as access points for connecting people to medical care and other services. This restoration is an important preservation of services.
Funds Reduced for HIV/AIDS Initiatives
In addition to the cuts to HASA contracts, the City Council initiatives that fund programming for HIV/AIDS prevention and education were also reduced. This money goes largely to community-based organizations:
Advertisement
NYC Communities of Color HIV/AIDS funding (NYCCOCHAC) -- Prevention & Education
From $1,664,000 to $1,500,000. Cut of $164,000
This funding is for prevention, education, outreach, advocacy and support services to communities of color and women.
Injection Drug Users Health Alliance (IDUHA)
From $1,500,000 to $1,200,000. Cut of $300,000
This initiative provides access to care, overdose prevention education, resuscitation training, and community-based needle exchange programs.
AIDS Prevention and Health Literacy for Seniors
From $640,000 to $500,000. Cut of $140,000
This initiative funds the development and implementation of tailored HIV prevention and education messages that target the older adult population, aging service providers and health care providers. Funded through AIDS Community Research Initiative of America (ACRIA).
HIV/AIDS Faith-Based Initiative
From $2,000,000 to $1,500,000. Cut of $500,000
This funding is directed to local churches and community-based organizations which demonstrate an ability to engage vulnerable populations, raise awareness of the disease, and thereby help lower the rate of HIV/AIDS.
Rapid HIV Testing
Fully restored. Funded at $2,000,000.
Provided to the Health and Hospitals Corporation (HHC) to expand rapid HIV testing and counseling on a routine basis at inpatient units and selected outpatient settings at public hospitals and clinics.