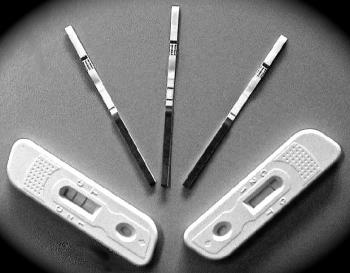 Under the new law, oral consent, rather than written permission, would be acceptable for use in rapid HIV testing.
A bill designed to expand HIV testing passed through the state Assembly on Wednesday by a vote of 91-0. It's already passed in the Senate, and now awaits Gov. David Paterson's approval.
The legislation revamps Article 27-f, the New York State law that ensures privacy in HIV testing.
The biggest change: The bill mandates that all doctors offer patients ages 13 to 64 an HIV test. Current law requires this only of certain physicians, and those physicians only have to offer a test to patients ages 18 to 64.
Other highlights:
Oral consent, rather than written permission, will be acceptable for use in rapid HIV testing.
Written consent will still be required for a doctor to run a blood test for HIV-positivity.
Written consent will be required for any HIV test -- rapid or otherwise -- given in a prison or jail.
In accordance with current law, doctors will still be required to give pre- and post-HIV test counseling.
Nationwide, the Centers for Disease Control and Prevention reports that one in five HIV-positive individuals is unaware of his or her infection. Annually, in New York City alone, more than 1,000 people discover their HIV status when they are already seriously ill, according to the city's department of health.
Advertisement
There are roughly 120,000 New Yorkers who report to be living with HIV/AIDS, but thousands more don't know their status.
"If people don't know they're HIV positive, they don't access HIV care and treatment early enough and they risk unintended transmission of the virus to others," said terri smith-caronia, Housing Works' vice president for New York advocacy and public policy. "However, note that Housing Works believes that a person should actively opt-in to consent for an HIV test and that the default opt-out option in this bill could lead to folks being tested unknowingly."
As the bill is supported by the state Department of Health, Paterson is expected to sign the bill before the legislative session closes.
Expanded Testing Unites Advocates
The Gay Men's Health Crisis, National Black Leadership on AIDS, Latino Commission on AIDS and Harlem United are all supporting the bill, as it increases the likelihood that those who need care will seek it. As the legislation wound its way through the legislature, however, AIDS advocacy organizations had been split in their support of the bill's overhaul of article 27-f. Many worried that it would not go far enough in ensuring that those who take HIV tests do so with informed consent.
The bill is sponsored by Sen. Tom Duane and Assembly Members Richard Gottfried Darryl Towns, Nettie Mayersohn and Annette Robinson. If signed by the governor, it will go into effect Sept. 1.