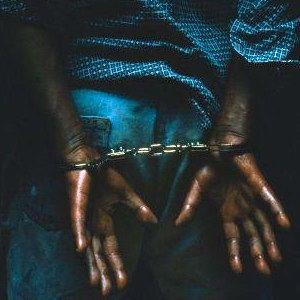 Positive and incarcerated: How long can the state keep someone?
Attorney General Andrew Cuomo's decision to use a state sex-offender law to keep Nushawn Williams in prison -- despite Williams' having served his full 12-year-term -- has set off alarm bells for AIDS advocates and civil rights experts.
In 1997, health authorities accused then-19-year-old Williams of infecting more than a dozen women without notifying them that he had HIV. A year later, he pled guilty to two counts of statutory rape and reckless endangerment.
Now, Cuomo's bid to keep Williams incarcerated could set a dangerous precedent for New Yorkers who infect someone with HIV: Not only could HIV positive individuals face criminal charges for infecting a partner, but they could be held in confinement -- indefinitely -- even after they've served their time.
"This completely flies in the face of due process of law," said Robert Bacigalupi, Housing Works' staff attorney. "That we're even having a debate about whether you can indeterminately confine someone for infecting another with HIV -- it's alarming."
The Crime of Transmission
In 1997, Brooklyn-born Williams was a ready-made media villain: He was a HIV-positive and black, a wanderer with a history of low-level drug dealing. While TV cameramen and newspaper reporters cast him as a promiscuous predator, all of the women with whom he had sex -- some younger than him, some older -- said it was consensual.
"If he had done exactly the same thing but had not had HIV and had not been black and sleeping with white girls, I don't think he would have been held for 12 years," said Catherine Hanssens, executive director of the Center for HIV Law and Policy, "much less be up for indefinite confinement."
When Williams pled guilty to reckless endangerment, he joined the estimated 350 individuals nationwide who have been prosecuted for HIV-related offenses. Thirty-two states have laws that criminalize HIV transmission but others, like New York, depend on other charges (such as reckless endangerment) to penalize non-disclosure. That ambiguity, said Scott Greenfield, a criminal defense lawyer based in New York, makes it nearly impossible to estimate the number of people who have been jailed for HIV non-disclosure.
Civil Confinement and HIV
What puts Williams (and the estimated 120,000 New Yorkers with HIV/AIDS) at risk for indefinite civil confinement is the Sex Offender Management Treatment Act of 2007, legislation designed by the state to keep the most dangerous sex offenders off the street after they've served out their sentences.
The ostensible aim of the statute, according to a 2010 review of its efficacy, is to provide sex offenders with the therapy they need to lead an "offense free life."
Under the law, sex offenders are evaluated before release. Those who meet certain criteria -- most notably a mental abnormality that makes them likely to commit another sex offense -- are committed to a civil confinement facility or released under strict supervision. Because "sex offender" is a catch-all phrase that refers to any crime that relates to sex, the law applies to those serving time for HIV non-disclosure.
Advertisement
"The danger with that policy is that it puts everybody who infects another with HIV subject to criminal liability," said Bacigalupi. "And as you know in New York City, people are infecting each other every day. There would be no end to criminal prosecutions while we worry about 'Did he know he had HIV?' 'Did he intend to infect them?' Anybody could be locked up, not once, but twice."
New York is not the only state that confines sex offenders after they've served their sentences. At least 19 other states have similar confinement laws. But while these tough-on-sex-offender laws are often potent vote-getters, an extensive 2007 New York Times investigation found that such laws have been broadly and erratically applied. The most violent sex offenders are not always those chosen for confinement (sometimes rapists go free while exhibitionists are locked up). Many of those put away never receive therapy. Facilities designed for civil confinement received little regulation, and few states have figured out what to do with the few who actually "graduate" from treatment programs.
"Sex offenders are inherently unpopular people," Bacigalupi said. "But unpopular people are the very ones whose rights need to be protected. Just because someone's unpopular doesn't mean he loses all his human rights."
What's Next
If Cuomo -- who happens to be running for Governor of New York -- succeeds, Williams will join about 3,000 people who have been locked away under civil confinement laws since 1990. In New York alone, the attorney general has filed at least 377 petitions since 2007 to continue to supervise or confine inmates after they completed their criminal sentences.
Williams has filed a motion to dismiss the state's attempt to confine him. That hearing opened yesterday, June 22. If the judge dismisses the attorney general's request, Williams goes free (or more specifically, goes home to his wife Nina). If the judge doesn't, Williams will go before a jury, which will determine if he indeed does have the "mental abnormality" that might, hypothetically, cause him to commit another sex crime.
Williams' wife reports that the judge will make a decision July 19.
"What's really happening here is that it's not the sex offense -- the fact that a teen had sex with teens -- that got him in trouble," said Bacigalupi. "What's really going on is he gave people HIV -- and for that, the state said he should be thrown in jail forever."
Read what others have said:
What We've Become, The Nation
The Miseducation of Nushawn Williams, POZ Magazine
Nushawn Williams, "Poster Child" of Newly Proposed HIV-Specific Law, Faces a Lifetime of Civil Confinement, HIV Transmission Blog