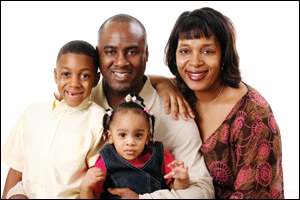 A few weeks ago the Obama administration convened the first White House consultation on African American men and AIDS. Scores of Black men gathered from all over the country: the usual suspects (like me), clergy, civil rights leaders, doctors, researchers, national figures, local activists, you name it. Straight, gay and bisexual men came together to collaborate on ending the epidemic. While the meeting probably skewed gay and over 30, given the breadth of our backgrounds, we pretty much looked liked Black men in America. The takeaway message was Black men matter, not just in the fight against HIV/AIDS, but to the wellbeing of our community. Here's why:
1) Black Men Are at Risk
Two-thirds of AIDS cases in Black communities are among men; so as go Black men, so goes our community. The data are compelling. Regardless of sexual orientation or mode of transmission, nationwide Black men comprise roughly 35 percent of new HIV infections among gay men and 40 percent of new cases among men in general. One in 16 Black men will be diagnosed with HIV/AIDS during their lifetime compared to 1 in 104 white men. Some studies show the HIV rates for Black gay men in many urban centers is as high as 46 percent. In places like New York City and Washington, D.C., the picture is much worse.
Advertisement
In New York City 1 in 12 Black men age 40-49 has HIV/AIDS. And in Manhattan 1 in 6 (17 percent) Black men ages 40-54 is HIV-infected -- a level that approaches the national HIV prevalence in South Africa (18 percent). In Washington, the capital of the world's most powerful nation, the overall prevalence of HIV -- 5.2 percent -- exceeds that of Port au Prince, Haiti, the capital of the poorest country in the Western Hemisphere and approaches the rate in Uganda (5.4 percent). Among Black males in Washington the rate is much worse: 7 percent of Black male Washingtonians have already been diagnosed HIV-positive. However actual infection rates are probably several percentage points higher; research indicates that between one-third and one-half of HIV-positive D.C. residents do not know that they are infected. Among Black men in the District who have already tested positive, 40 percent of cases occurred among gay and bisexual men, 20 percent exist among heterosexual men and 20 percent are among intravenous drug users. While most Black male D.C. residents get diagnosed during their 30's and 40's, Black youth ages 13 to 24 comprise 81 percent of youth living with AIDS, with young Black males slightly outnumbering young Black females.
2) Black Men Partner With Black Women
Despite increases in interracial relationships, America's bedrooms continue to be segregated zones. Most Black women partner with Black men and most Black men partner with Black women. We cannot have a conversation about Black women and AIDS and exclude Black men and expect to be successful. During her lifetime 1 in 30 Black women will get diagnosed with HIV. Today, Black women represent 61 percent of new HIV infections among women, most through heterosexual contact. For far too long (and on far too many issues), the burden of saving Black America has been hoisted solely upon the backs of Black women. This is neither fair nor effective. To end the AIDS epidemic in Black communities, Black men must be a part of the solution.
In Black America as well as sub-Saharan Africa, a common factor drives high HIV-rates: what public-health officials call concurrent partnerships and everyone else labels as cheating, man-sharing or having friends with "benefits." While in sub-Saharan Africa male migration for work drives concurrent relationships, in the United States the principle cause is high incarceration rates which remove Black men from relationships, families and communities. For instance, in Washington, D.C., where an estimated three-fourths of Black males will be imprisoned at some point during their lives, in some neighborhoods there are only 60 males for every 100 females. Even in the rural South, research shows that Black male imprisonment fuels the rapid spread of HIV within Black social networks.
3) Black Men Are Fathers
Although they comprise only 15 percent of teens, Black adolescents account for about 70 percent of new HIV cases among youth. Black dads must play a role in protecting them; for example, by instilling in them the self-esteem needed to prevent both HIV and becoming snared by the criminal justice system (the HIV rate among inmates is 8 times higher than in the general population). Many of the young men becoming infected are gay. Shockingly, research shows that in major cities 15 percent of gay Black males between 15 and 22 and one-third between 23 and 29 have HIV. By age 32 about half of Black gay and bisexual males have HIV. About two-thirds don't know they're infected.
Black fathers have a responsibility to care for their sons, gay or straight, HIV positive or not. But while Black men are at the epicenter of this epidemic, in many ways they have been absent from this fight. Even Black gay and bisexual men, who are the single most at-risk population in the United States -- and perhaps the highest-risk populations in the world -- are not at the table to the degree they were in the past.
Over the coming weeks, I will examine the reasons that I believe Black men aren't more involved, explore what needs to happen to engage them, and propose ways that Black men can make a difference to bring an end to AIDS in Black America.
Black men matter.
Yours in the struggle,
Phill