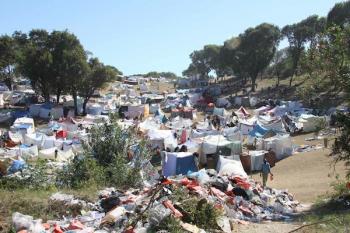 Club Pétionville, where activists distributed condoms and demanded AIDS funding last weekend.
A group of 30 AIDS activists descended on the muddy encampment at Pétionville Club in Port-au-Prince on Saturday, handing out safe sex information and nearly 38,000 condoms. The group's goal: Call international attention to a pressing need for a comprehensive HIV prevention and treatment plan in the earthquake-ravaged nation.
"HIV is a critical concern here in the encampment," said Edner Boucicaut, Housing Works Haiti country director. "The people were very happy, very grateful to receive these condoms." According to Boucicaut, U.N. soldiers on hand to keep the peace during the demonstration also requested condoms.
The safe sex outreach represented a joint effort between Housing Works and the Plateforme Haitienne Des Associations de PVVIH (PHAP+). Both are asking that Haiti create a clear post-disaster HIV/AIDS plan, and that U.S. Congress devote $100 million in reconstruction funds to Haitian HIV/AIDS services.
"Haiti will never recover from the earthquake unless we make AIDS treatment and prevention a priority in reconstruction," said PHAP+ President Esther Boucicault. "We can stop tens of thousands of Haitians dying unnecessarily of AIDS, but only if we invest in clinics, supportive services like housing, and, of course, HIV prevention education as part of the reconstruction plan."
Progress in Jeopardy
The January 12 quake knocked out an overwhelming percentage of the nation's already shaky HIV/AIDS prevention and treatment infrastructure, a major issue in a nation where 2.2 percent of the population -- about 120,000 people -- is HIV positive, according to a February UNAIDS report.
Advertisement
In 2006, national authorities had set targets toward providing universal access to HIV prevention and care. Those goals now look doomed for failure: Without funding and an expansive post-disaster HIV/AIDS plan, the nation could see a disastrous wave of new infections. Fifty-five percent of Haiti's antiretroviral therapy sites were located in the region hardest hit by the quake, and nearly 60 percent of HIV-positive Haitians live in the three heaviest-hit departments, according to the report.
What's more, the dislocation caused by the earthquake leaves the nation ripe for a new surge of infections. Displacement exposes individuals to a multitude of vulnerabilities, including rape, says UNAIDS. Poverty induced by the disaster also encourages transactional sex. The encampment visited by Boicicaut and other activists is nestled on a hill with a view of the Caribbean -- it also sits close to a neighborhood known for prostitution.
"The powerful positive response to the condom distribution effort at Pétionville shows us that the Haitian government is not meeting people's prevention needs," said Housing Works CEO Charles King. "The local government and the international community must address this. Otherwise Haiti will have yet another crisis on its hands."