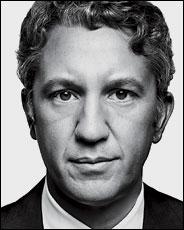 Will Lazio be good for poor New Yorkers with AIDS?
New York's Republican party announced Wednesday that it will support Rick A. Lazio for governor. So far, though, the former U.S. representative has not revealed how he would address HIV/AIDS as New York's top politician.
While New York City continues to have the highest number of HIV-infected people in the country, the Republican's 24-page policy agenda, released today, makes no mention of the disease.
Lazio's policy agenda does, however, include an aggressive plan to slash the state's Medicaid costs.
"Any proposal to cut Medicaid is alarming," said Lara Kassel, coordinator at Medicaid Matters, which advocates for those served by New York's Medicaid program. "The vulnerable communities that we're talking about, whether it's people with AIDS or people with other disabilities, those are the people who are typically most impacted by widespread cuts."
Also of concern is Lazio's call to challenge the constitutionality of the recently passed federal health care legislation, a bill that "goes a long way to shoring up the support system for people living with HIV/AIDS," according to Christine Campbell, Housing Works' vice president for national advocacy and organizing.
In 2000, while running against Hillary Clinton for U.S. Senate, Housing Works criticized Lazio for remaining silent on HIV/AIDS during his campaign. "We don't expect Lazio to make fighting AIDS in New York a focus of his gubernatorial campaign, but we will be sure that Lazio, as well as all other candidates make their positions on issues that affect people with HIV/AIDS known this fall," said Terri Smith-Caronia, Housing Works vice president for New York Public Policy and Advocacy.
A Spotty Record
The eight years Lazio spent in Congress show that his stand on a range of AIDS issues is unpredictable.
Lazio spent six of those years as the chairman of the Subcommittee on Housing and Community Opportunity, generating applause from AIDS advocates in the process. He oversaw an overhaul of public housing laws and expanded housing opportunities for seniors and the disabled. He also supported an increase in the number of Section 8 vouchers and an in increase in low-income housing tax credits.
In a major political victory, he sponsored and passed the Ticket to Work and Work Incentives Improvement Act, which allowed people with disabilities -- including thousands of HIV-positive New Yorkers -- to enter the work force and earn up to $45,000 without losing healthcare and disability benefits covered through Medicaid.
Advertisement
At the time, Housing Works President and CEO Charles King said, "The Work Incentives Improvement Act is Rick Lazio's biggest legislative achievement. Governor Pataki is hurting New Yorkers with disabilities by failing to act on this issue, and he's also hurting his friend's Senate campaign."
Lazio has been a supporter of the Ryan White Care Act, the largest federal grant program for HIV/AIDS services, and voted to increase funding while in office.
Other parts of his AIDS record are likely to haunt Lazio as the gubernatorial race heats up. While serving in the House, he voted several times against lifting a federal funding ban on proven-effective needle exchange programs.
Lazio also shocked voters and politicians by writing a letter to the chair of the House Appropriations Subcommittee, asking for $2.5 million for the Group for the Scientific Reappraisal of the HIV Hypothesis of AIDS, an association of scientists that has denied the connection between HIV and AIDS. The politician later distanced himself from the group, and his allies wrote off the letter as a political goof.
Clinton's camp pointed out that the letter demonstrated ignorance toward the nation's HIV/AIDS epidemic.
Lazio's candidacy is not certain -- he's likely to face a primary and Carl Paladino of Buffalo has challenged him, saying he will petition to get on the Republican ballot. If Lazio does make it to the general election, he'll run against Andrew Cuomo, whose AIDS and Housing record the Update reviewed on April 7.