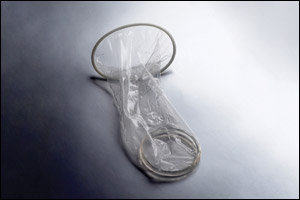 "Miss Thing." "Girl." "My ass." "Have you ever?" They're all typical starters to midweek discussion groups made up of the mostly African American and Latino gay and bisexual men served by New York City's Ali Forney Center, which provides services for homeless LGBT youth, and Steven Gordon, the agency's supportive-services director. The participants are perhaps not new to sex; however, many are inexperienced in articulating their feelings about it. Gordon encourages them to speak candidly about their practices, which for many include anal sex.
Recently Gordon decided to conduct an informal experiment. Actually, more of an "I wonder what would happen if I placed a bin of female condoms next to the popular male-condom-bucket" experiment. He was surprised. "No one took them," he says.
View Full Article
Comment by: David
(New York) Mon., Jul. 19, 2010 at 4:15 pm UTC
I would like to try the female condom. I think you would have to use a small dildo to get it inside? And take out the inner ring...
(Please note: Your name and comment will be public, and may even show up in
Internet search results. Be careful when providing personal information! Before
adding your comment, please
read TheBody.com's Comment Policy
.)