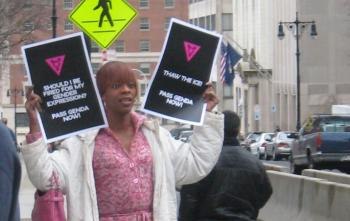 Transgender advocates outside the state capitol in Albany.
The chances of the Gender Expression Nondiscrimination Act (GENDA) becoming state law got a boost this week when one more New York State Senator publicly committed to voting in favor of the legislation. The total number of committed senators (see list below) is now 32 -- enough to pass the bill in the 62-member body.
GENDA would add the category of "gender identity and expression" to existing New York State human rights laws that protect residents against discrimination in the areas of employment, housing, public accommodations, education and credit. It would make New York the 14th U.S. state to afford such protections.
Senator William Stachowski is the newest senator to commit to voting "yes" on GENDA. The Democrat's district includes Buffalo, a city that added gender identity to its non-discrimination laws in 2002.
Advertisement
GENDA has already passed in the Assembly, and the Senate could put the issue to a vote as early as June, according to Carmelita Cruz, Housing Works director for New York State public policy and organizing.
If the bill goes through the Senate, it will head to Governor Paterson, who has pledged to sign it into law.
Years in the Making
For years, transgender individuals have visited undecided senators to ask politicians to support GENDA. "The hard work of our transgender clients has really paid off," said Cruz. "Many of these senators committed to voting yes on GENDA when they met face-to-face with transgender New Yorkers and understood the discrimination that they're up against."
New York City already includes gender identity in its non-discrimination law, as do four other cities and two counties in the state.
The proposed bill would take this protection statewide. In doing so, New York would join the 13 states (and the District of Columbia) that have already created transgender non-discrimination laws. It could help set a precedent for similar laws in other states -- and help create a pathway for federal transgender non-discrimination legislation.
Read more in the Village Voice.
Come to Albany to Fight for GENDA!
Join Housing Works clients as they lobby senators to garner additional "yes" votes for GENDA.
Vans leaving from New York City, Syracuse and Utica.
Contact Carmelita Cruz
C.cruz@housingworks.org
347-949-1979
The following senators have committed to voting "yes" on GENDA
Eric Adams
Joseph Addabbo
James Alesi
Neil Breslin
Martin Dilan
Tom Duane
Pedro Espada
John Flanagan
Brian Foley
Ruth Hassel-Thompson
Shirley Huntley
Craig Johnson
Jeffrey Klein
Liz Krueger
Roy McDonald
Velmanette Montgomery
George Onorato
Suzi Oppenheimer
Kevin Parker
Jose Peralta
Bill Perkins
John Sampson
Diane Savino
Eric Schneiderman
Jose Serrano
Malcolm Smith
Daniel Squadron
William Stachowski
Toby Ann Stavisky
Andrea Stewart-Cousins
Antoine Thompson
David Valesky