Table of Contents
Over the past several years, we've seen great strides in HIV therapy with the development of drugs from two new classes, as well as those with fewer side effects, less stringent dosing requirements, and greater efficacy.
At the 17th Conference on Retroviruses and Opportunistic Infections (CROI), held in San Francisco this past February, we learned that while there aren't as many new blockbuster drugs on the immediate horizon, there are newer targets and novel treatment strategies still being explored.
Additional information on integrase inhibitors in development, along with the new pharmacokinetic enhancer, or booster drug, cobicistat (formerly GS-9350), as well as complications, co-infection, HIV and H1N1, and treatment as prevention are covered within this special conference section and elsewhere in this issue (see HIV Wellness Series: HIV, Your HAART, and You, and The Buzz).
For webcasts and podcasts of conference sessions, interviews, and panel discussions, visit www.retroconference.org and www.ifarablog.org.
New Targets
While many people are responding quite well to the medications we currently have in the HIV armamentarium, there continues to be a need for additional drugs and newer classes for those who may have no options available due to toxicities or the development of drug resistance.
Several proof-of-concept studies looked at newer targets in the virus life cycle process. Data was presented on LEDGINs, a novel class of antivirals which target LEDGF/p75 (an essential HIV integration co-factor), and show potential as second-generation integrase inhibitors, which may prove to be effective against virus that is resistant to Isentress (raltegravir) and elvitegravir.
The capsid (CA) protein is another potential target for new drug development. CA is essential for HIV virions made within the CD4 cell to then go on and infect other CD4 cells. Capsid inhibitors would interrupt that process. Study data presented by Stephen Mason of Boehringer-Ingelheim provided proof-of-concept for these compounds. A complex resistance profile was observed, and the study author concluded that further research in this area is warranted. -- Jeff Berry
CCR5 Antagonists: TBR-652 and Vicriviroc
TBR-652 is an oral CCR5 antagonist (entry inhibitor) being developed by Tobira that is taken once daily without the need for boosting. Data were presented from a Phase 2a dose-finding study (25-150 mg) of TBR-652. Study participants had a reduction of at least 1 log in viral load within the first 10 days, with a continued decline up to day 14 with some doses after stopping the drug on day 10. Few adverse events (AEs) were seen; they were generally mild (GI toxicities, headache, fatigue, and cough), and did not lead to discontinuation of the drug, although more AEs were seen at the 150 mg dose. There was a median nadir (lowest point) response of up to 1.8 log. The drug has a long half-life of 34-40 hours, which might account for the continued drop in viral load observed after stopping the drug.
Advertisement
Selzentry (maraviroc) is currently the only oral entry inhibitor approved for use. CCR5 antagonists are only useful in those with R5-tropic virus, and an expensive assay (Trofile) is needed to determine tropism. However, genotypic assays are currently in development and will soon be available (hopefully sometime later this year) that should prove to be just as accurate as the current Trofile test, but at only around a quarter of the cost.
TBR-652 also has dual activity against CCR2, another chemokine receptor found on the cell surface of monocytes, dendritic (immature) cells, and memory T-cells. Other CCR2 antagonists are currently in development and being studied in relation to inflammation-associated diseases such as atherosclerosis, metabolic syndrome/insulin resistance, and others.
While this added activity is intriguing, it is still too early to tell whether it will lead to the drug potentially having added benefits aside from its anti-HIV activity. There are potential risks to blocking CCR2, including an increased risk of bacterial infections such as listeriosis, tuberculosis, toxoplasmosis, and cryptococcosis, but to date, no significant safety signals have been identified with CCR2 antagonists. Plans for a Phase 2b study are currently underway and should begin sometime next year. Stay tuned for further developments.
48-week data were presented on two Phase 3 studies of the latest CCR5 antagonist in development, vicriviroc. A total of 721 treatment-experienced individuals with R5 virus were randomized to receive either an optimized background regimen (OBR) or OBR plus vicriviroc. The study did not meet the primary efficacy endpoint of non-inferiority in the treatment-experienced population that was studied. The percentage of patients who reached a viral load of less than 50 copies was 64% for the vicriviroc group vs. 61% for the placebo group (p=0.6), which was not statistically significant. Vicriviroc was well tolerated in both studies, and there were no significant differences in AIDS-defining events, malignancies, or other adverse events between the two groups. Subsequent planned post-hoc analyses showed that the use of Isentress (raltegravir) and/or Prezista (darunavir) in the background regimen strongly influenced the outcome, making it difficult for vicriviroc to show an additional benefit.
The presenter, Dr. Joseph Gathe, noted that the optimized background regimen in these studies included more potent antiretroviral drugs than in the vicriviroc Phase 2 study, or Phase 3 studies of recently approved HIV drugs. A majority of patients (64%) had three or more fully active drugs in their OBR. For those with two or fewer available active drugs, vicriviroc showed efficacy (70% vs. 55%; p=0.02). Dr. Gathe concluded by stating that with the success of recently available therapies for treatment-experienced subjects, new drugs will require novel study designs to demonstrate efficacy. -- Jeff Berry
New Drugs Will Need New Designs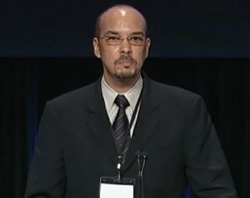 Looking ahead: Dr. Joseph Gathe
Following the above noted vicriviroc presentation, this reporter approached the microphone and asked Dr. Joseph Gathe about his closing statement and whether he would like to comment on what those novel study designs might look like. Dr. Gathe replied, "I think we've had such success with our newer agents in triple-class failing people, that I would not anticipate a clinician adding a drug on top of three active drugs to show benefit. So I think the design will have to be some other kind of novel way to look at a group of patients that would not necessarily take those drugs. You need to add it in where there's only two active drugs, adding to where it benefits, instead of three active agents. And the question is, can that study be ethically done, now, when you have three active drugs? And that's going to be a challenge to the pharmaceutical companies as well as the FDA -- whether or not we're going to be able to get any of these drugs pushed forward at this point in time, in that group of patients. I think it's going to be ethically difficult to do that."
-- Jeff Berry
Mix and Match: Finding the Best of All Options
Study ACTG 5202 is important because it compares best-selling HIV drugs to each other. Reyataz was compared to Sustiva, and Epzicom was compared to Truvada.
Dr. Eric Daar from UCLA presented final, two-year results from 5202. The large study from the AIDS Clinical Trials Group (ACTG) enrolled more than 1,800 participants. They were divided into four groups, depending on the drug combination they received: Norvir-boosted Reyataz/Epzicom; Sustiva/Epzicom; boosted Reyataz/Truvada; or Sustiva/Truvada. Participants were treatment-naïve, meaning that this was their first time taking HIV therapy.
Reyataz vs. Sustiva
Reyataz (atazanavir) is the first protease inhibitor drug not to get its ass kicked by Sustiva (efavirenz), a non-nuke drug.
The study stopped just short of showing that Reyataz was equivalent to Sustiva, a drug that's been around longer and has beat out every competitor.
The lack of equivalence -- close, but no cigar -- was essentially a problem of statistics.
Dr. Daar said "the efficacy was very similar," but that equivalence could not be declared under what he called the "very strict" standards of the study's design. Dr. Daar explained that under usual study standards, Reyataz would have been found both equivalent and non-inferior to Sustiva.
Ironically, what threw off the statistics was the fact that participants had much greater treatment success than expected. Instead of a 32% predicted failure rate, there was a 15% failure rate.
"Basically, this study reinforces current DHHS [U.S. Department of Health and Human Services] HIV treatment guidelines: efavirenz and boosted atazanavir are both good choices," said Dr. Joel Gallant, an HIV specialist, researcher, and writer at Johns Hopkins University, who was kind enough to review this article. He added, "Truvada is the nucleoside backbone of choice, but Epzicom is a good alternative, especially for patients with kidney issues and low baseline viral loads."
The most common reason for going off Reyataz was jaundice and non-compliance with study medications or study visits. (Jaundice, yellowing of the skin and eyes, is a potential side effect of Reyataz, but is a cosmetic concern and not a result of any damage to the liver or other organs.)
The most common reasons for going off Sustiva were virologic failure, central nervous system symptoms, rash, and allergic reactions.
Across the board, no matter what people were taking, the rate was the same (a low 4%) for kidney problems, bone fractures, cardiovascular events, and malignant tumors not related to AIDS.
Epzicom vs. Truvada
Two years ago, the ACTG reported that of the study participants beginning with a viral load of more than 100,000 copies/ml, the ones taking Epzicom had a significantly greater risk of virologic failure (lack of complete suppression). At that point, the participants in this group who were undetectable on Epzicom were given the choice of staying on it or switching to Truvada.
At that time, there was a small failure rate for both drugs: 26 participants in the Truvada group and 56 in the Epzicom group, out of more than 900 participants in each arm. Still, that means the failures on Epzicom were more than double the ones on Truvada, and it was a statistically significant difference.
In this report, for the people who started 5202 with less than 100,000 viral load, Epzicom and Truvada were equally effective at suppressing virus. This confirms earlier findings for this group. But that's not to say that there weren't differences.
Those participants taking Epzicom with Sustiva had a shorter time to a grade 3 or 4 (serious) safety event (clinical symptoms or problematic changes in their labwork), but not the ones taking Epzicom with Reyataz.
Epzicom users also had a shorter time to treatment modification than Truvada users, whether they were taking Reyataz or Sustiva.
With Truvada, there was no difference in time to a grade 3 or 4 safety event or treatment modification, whether taken with Reyataz or Sustiva.
ACTG 5202 pointed to an important consideration regarding Epzicom. Epzicom consists of the medications Ziagen and Epivir. Ziagen is associated with a hypersensitivity, or allergic-like, reaction. Today, there is a simple and inexpensive blood test that helps determine if people are hypersensitive to the drug before they take it. At the time 5202 was designed, however, the use of that test was not standard of care. In essence, Epzicom was studied with one hand tied behind its back.
There was other bad news for the drug. People taking Epzicom had a greater increase in their lipid levels whether they were taking Reyataz or Sustiva. "The combination of Epzicom and efavirenz may cause more lipid elevation, but this is of unclear importance because the total/HDL cholesterol ratios are the same," said Dr. Gallant. Outside of 5202, researchers are looking to see if Ziagen is associated with an increased risk of heart attacks. The evidence is mixed, with some studies showing an increased risk, and others showing no difference.
Truvada's bad news came from its tendency to negatively affect the kidneys; specifically, decreased creatinine clearance, a measure of kidney function. There was a statistically significant drop in creatinine clearance only when Truvada was combined with Reyataz. Still, many observers were quick to point out that the drop in creatinine clearance was modest and that less than 5% of participants in all of the arms had a decrease of greater than 25% from the start of the study.
For more information, visit the conference website at www.retroconference.org, or go to www.clinicalcareoptions.com. -- Enid Vázquez
Evidence Shows That Treatment Helps Prevent Transmission of HIV
More evidence was presented that HIV treatment prevents transmission. A variety of "test and treat" strategies are being examined. It's known that antiretroviral therapy that is successful in suppressing a person's viral load (the amount of HIV in their blood) can also make that person less likely to transmit the virus.
The San Francisco Department of Health presented a study relating "community viral load" (CVL) with transmission of HIV. The city's HIV/AIDS surveillance system collects information on the viral loads of people with HIV. Looking at the years 2002 to 2008, there was a decrease in community viral load (which they defined as the average of the most recent viral loads of all reported HIV-positive individuals in a specific population, divided by the number of reported positive individuals in the population). Along with the decrease was a drop in both the number of HIV diagnoses and the number of new HIV infections. The department's report stated that, "Findings support the hypothesis that wide-scale early ART can have a preventive effect at a population level." It should be noted that data from the department showed a decline in transmission before the decline in CVL, and that advocates had discussed serosorting (HIV-positive people choosing HIV-positive sex partners) as one explanation for that. The conference report recommended that other public health departments consider adding community viral load to their surveillance system to help measure the effectiveness of HIV prevention and treatment efforts.
Moving on to Canada, Dr. Julio Montaner of the British Columbia Center for Excellence in HIV/AIDS in Vancouver updated its CVL data. His research team had previously reported on an association between expanded use of HAART (highly active antiretroviral therapy), a decrease in CVL, and decreased HIV transmission in two research studies of injection drug users (IDU). In their new report, they continued to find declines in HIV infection as more people were treated with antiretroviral therapy.
The team's abstract reported that, "As previously described, the initial HAART roll out [1996-1999] was associated with an approximately 50% decrease in new HIV diagnoses. The HAART expansion in 2004 to 2009 was associated with a second decrease in new HIV diagnoses. Of note, an approximately 50% decrease in new HIV diagnoses among IDU was evident after 2007."
Moreover, there was a drop from about 50% to about 20% of injection drug users with a viral load above 1,500. The team considered that level of viral load to be a sign of high community viral load. The Canadian medical team made special efforts to reach the drug-using community. Interestingly, there was no decrease in other sexually transmitted infections, which supports the idea of using treatment as prevention and possibly serosorting as well. Of note, their HAART and medical services are free.
Back to the States -- Washington, D.C. has one of the highest rates of HIV in the country: 3% compared to less than one percent nationally. In 2006, the city began a program to increase routine HIV testing. This effort not only helped identify new HIV/AIDS cases, reported researchers from George Washington University and the District of Columbia Department of Health, but was also associated with a faster entrance into medical care and a decrease in the number of "late testers." Late testers are people who've been HIV-positive for a long time but undiagnosed, as shown by the fact that they are found to have low T-cell levels or have AIDS at the time of their HIV test results, or are diagnosed with AIDS soon after. The U.S. Centers for Disease Control and Prevention (CDC) estimate that 25% of people with HIV don't know that they have it, and it is presumed that they are a significant source of new infections. The researchers from the nation's capital said further surveillance will help determine if the positive results reported here will lead to better health and to reduced HIV transmission. -- Enid Vázquez
Once-Daily Prezista
Prezista is a great drug from recent years, but it has to be taken twice a day by people who've already been on HIV therapy. Might Prezista be just as good for these folks when taken only once a day?
The ODIN study (Once-daily Darunavir in Treatment-Experienced Patients) took on this challenge. At one year, the answer was yes. Once-daily Prezista was non-inferior to its twice-daily dose for treatment-experienced people.
Moreover, lipid elevations were half of those seen with twice-a-day therapy. Prezista has to be taken with Norvir, which often raises lipid levels. The once-daily dose cuts the amount of Norvir in half compared to the twice-daily dose.
None of these participants had drug resistance to Prezista before entering the study. That's an important consideration for treatment. Moreover, participants had little if any drug resistance to the HIV protease inhibitor (PI) class of medications, which includes Prezista.
Both the once-daily and the twice-daily groups had a 70% success rate (achieving less than 50 copies in viral load) and a CD4 increase of 100 T-cells.
Once-daily Prezista had earlier been studied in treatment-experienced people and performed well, but that was a smaller dose-ranging trial. ODIN looked at 300 individuals in each group. And again, the fact that there was practically no PI drug resistance in the participants obviously helps to make the once-daily dose work. -- Enid Vázquez
Special thanks to Joel Gallant, M.D., of Johns Hopkins University, for his review of the preceding articles.
For a non-technical summary of CROI, visit http://i-base.info/htb/9428