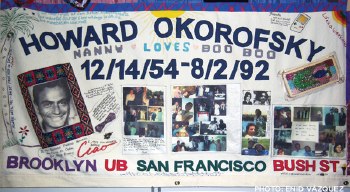 Memorialized: Quilt dedicated to the memory of Howard Okorofsky.
Stuart Okorofsky was there in the late 1980s when his brother Howard learned that he had contracted HIV. "My brother was the least promiscuous gay man I knew," said Stuart, noting that many of Howard's friends had unsafe sex with multiple partners, yet somehow remained HIV-negative. "It only takes once," was a lesson that both Stuart and his brother learned in the hardest way.
At that point in the epidemic, treatment options were as limited as life expectancy and medications came with the danger of unknown toxicities. Stuart was there again in 1992 when, after being hospitalized, comatose, and then rallying briefly, Howard passed away.
For the last 15 years, Stuart has continued to honor his brother by riding in various AIDS rides around the country, including rides in California, Alaska, Canada, Vermont, Maine, New Hampshire, New York, Massachusetts, Connecticut, Washington, D.C., New Jersey, Maryland, and Virginia. He has personally raised around $100,000, and this year, he and his nephew are riding in New York in August. (To support their effort, go to www.empirestateaidsride.org, hit Donate and enter Stuart's name.)
Advertisement
Stuart was also responsible for starting an AIDS quilt panel for Howard, to which many family members and friends contributed. It's obvious from looking at the panel that Howard was much loved and is greatly missed.
Small World
But there's more to the story. At the 2009 ICAAC (Interscience Conference on Antimicrobial Agents and Chemotherapy) in San Francisco, Positively Aware's Enid Vázquez took a picture of Howard's quilt when she saw it on display. That photo made it onto the pages of the November/December issue, which covered the conference.
A friend of Stuart's who lives in Florida and works with HIV-positive people was given a copy of the magazine by a client and when he saw the photo, he recognized the quilt and sent the magazine to Stuart. Curious as to how his brother's quilt ended up being displayed at the conference, Stuart contacted PA Editor Jeff Berry to see if he knew anything about it. Unfortunately, the answer to his question wasn't immediately available.
However, after PA got in touch with Brian Holman, Manager of Quilt Displays for The Names Project, it was learned that the panel rests at the national office of The Names Project in Atlanta, Georgia, and was chosen based on the customary criteria used when selecting panels to make up a display. According to Holman, "The Quilt is chosen based on many different factors, such as location, the primary audience, and by specific request. I take into consideration who will be viewing the display. I would choose a Quilt for a college display much differently than a display at a church." At present, Howard's panel isn't scheduled for any displays.
Quilt Facts
The panel -- and thousands like it -- can be seen online at www.aidsquilt.org. The site gives you the ability to search for any panels connected to the person whose name you enter in the search box.
Conceived in 1987 by San Francisco activist Cleve Jones, the first time the entire quilt was displayed in Washington, D.C. that year, there were 1,920 panels and it covered more than a football field. As of November 2008, the AIDS quilt was comprised of 46,312 panels -- it's mind-boggling to think how much space it would cover now. Anyone who has seen such a display, or even photos of it, can testify as to the impact, not only of the size, but of the depth of feeling that went into every panel. Such tangible memorials to those we've lost serve as reminders that HIV/AIDS has woven a tapestry through our lives, the threads of which connect us all.