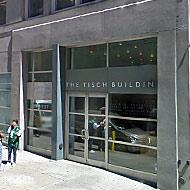 GMHC's current Chelsea location.
On Wednesday, some 25 Gay Men's Health Crisis clients attended a rally outside the organization's headquarters on W. 24th Street. The clients were protesting GMHC's all-but-certain move from Chelsea after 14 years to 450 W. 33rd Street.
The GMHC Client Advisory Board (CAB) has joined one of the organization's founders, Larry Kramer, in demanding that the organization reconsider the move. GMHC has one of the more politically active CABs in New York. Kramer cofounded GMHC in 1980 and left the organization in 1983.
Advertisement
The clients on the CAB were instrumental in getting a
GMHC client on the GMHC board of directors
, and
passing a resolution
at the New York City Ryan White Planning Council requiring all AIDS service organizations receiving Ryan White dollars to do the same.
GMHC's new move will certainly bring changes. Both GMHC's medical program and research arms will be discontinued, and testing will be moved off-site. GMHC is not discontinuing hot meals, as had been previously reported.
Clarity about continuing the meals program is expected to help cool tensions between clients and the organization, but some clients, like vocal CAB member Joseph Sellman, are most upset because they feel they weren't consulted about the move. "GMHC was not being forthcoming to get to this point. There's a whole series of clients and stakeholders who have been ignored," Sellman said.
GMHC issued a fact sheet providing information about the changes. In the sheet, it said that clients and CAB were briefed on the potential move "as early as 3/12/08 and have included meetings with [President and CEO] Dr. Hill.The Real Estate Chair presented to the CAB on 12/10/2009 and received a positive response."
GMHC was meeting with clients at press time.
The Bad Old Days
Another client concern was the possibility that at the new location, GMHC clients and staff would be forced to use a special building entrance.
"It's reminiscent of the days of Jim Crow," Sellman said.
The GMHC fact sheet says, "Segregation or Discrimination of any kind will not be tolerated. One highly desirable feature throughout this search has been a private GMHC entrance. Only a few of the potential locations could offer this option. A private entrance will be helpful in our transition from being the only tenant in our current location to one of many. This will also create a street level brand identity as we have at 119 West 24th Street. As anyone knows about our current elevator situation, this will reduce client wait time. This entrance will be staffed by GMHC employees -- just as we do now. The dedicated entry and reception area are a clear benefit for our clients, volunteers, donors and staff."
Bailey House President and CEO Gina Quattrochi disagreed, saying the separate entrance reminded her of the bad-old-days.
"In 1991 Bailey House took on AIDS-phobia in the commercial real estate world, when over 50 office buildings refused to rent to us. Those who would rent offered separate entrances fearing that HIV infection was contagious. It took an army to kick down the doors," Quattrochi said, adding, "If GMHC signs a lease that put its clients through the back door, it will send a message that HIV/AIDS phobia is acceptable. I sympathize with Dr. Hill and her staff but NIMBY in any form is unacceptable and we, as a community, must be fight it. If not us, who?"