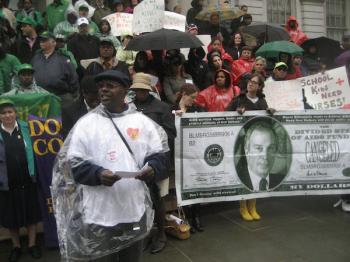 HASA recipient Leroy Rose (above) speaking at the raucous rally, and Council member Jumaane Williams standing in solidarity with protestors.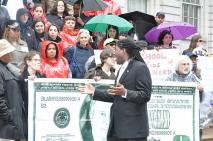 Donning ponchos and umbrellas, some 200 public health advocates, union members, New Yorkers living with HIV/AIDS and City Council members braved a chilly rain to protest Mayor Michael Bloomberg's budget cuts to the health and social services sectors. The press conference and rally was organized by the People's Budget Coalition for Public Health.
The cuts being protested included one-third of HASA case management staff, and millions of dollars in cuts to infant mortality prevention programs, health care clinics for children, mental health services for children under age 5, and reductions in programs for children and families affected by mental health and disability. Members of the City Council, which will have to choose which programs to restore out of its limited discretionary spending, also spoke at the rally.
"Bloomberg's failed. He basically dismissed democracy and ran for a third term on the grounds that he was uniquely qualified to lead the City moving forward. The fact that he's cutting core human services is totally unacceptable," said City Council member Letitia James. James and fellow members of the newly formed Progressive Caucus, Jumanne Williams, Daniel Dromm and Ydanis Rodriguez also spoke at the press conference and urged the Mayor to reconsider cuts to the social safety net.
Cuts to HASA Illegal, Impractical; Housing Works May Sue
Advertisement
One of the most substantial proposals being protested was a cut of 248 case managers from the HIV/AIDS Services Administration. These cuts are illegal, and a violation of the city's obligation to provide poor people with HIV/AIDS a "ramp" to their benefits. The city must provide "intensive case management," with initial ratios of approximately 30 clients to one HASA case manager. To cut the case managers beyond this level is a violation of both the Americans with Disabilities Act (ADA) and Local Law 49, among other laws.
Housing Works Senior Staff Attorney Armen H. Merjian told City Limits that Housing Works will sue if Bloomberg's HASA cuts are enacted. "We will absolutely go to court and we will sue for contempt of court," he said. "But we are hopeful the mayor will withdraw this unconscionable proposal. It is illegal and contemptuous, in every sense of the word."
Leroy Rose, a Housing Works and HASA client, spoke passionately at the rally.
"I don't know how I'll ever be able to reach my case manager," he said, referring to the proposed cuts. "It's hard enough as it is now to get ahold of them."
Other speakers in the diverse coalition included Judith Arroyo, of DC 37 Local 436, who spoke for the school health nurses; Judy Wessler, Commission on the Public's Health System who spoke for Child Health Clinics and about the terrible cuts happening at Health and Hospitals Corp; Fitz Reid, DC 37 Local 768, who spoke for the union members that face lay-offs (DOHMH staff), especially the Pest Control Division; Deacon Kenneth Radcliff who spoke about the need and demand for a moral, social and economic responsibility to ensure low-income, immigrant, and communities of color are not hurt by the cuts; Andrea Bennett Goetz, Director of Early Childhood Mental Health Program at University Settlement, who spoke for Mental Health Services for Children; Ngozi Moses, Director of Brooklyn Perinatal Network, who spoke for Infant Mortality Reduction Initiative and Carol Pittman of the New York State Nurses Association, who spoke about communities already losing services, and Barry Liebowitz, President of Doctor's Council, who spoke about last year's lost of school-based dental clinics and the need for us to fight hard and together.
In addition to fighting the cuts, the advocates called on Bloomberg to use FMAP money and funding from a tobacco settlement to be used to support the public health sector, as the funding was intended to.
How You Can Help
We're not done yet! The People's Budget Coalition for Public Health is organizing people to call council members and mobilize for the City budget Health Committee public hearing on June 2. For more information contact Anthony Feliciano at commission@cphsnyc.org.
In addition, there will be another press conference to fight the cuts to HASA next Tuesday, May 18. To participate in that, contact Kristin Goodwin at k.goodwin@housingworks.org.