Positive Policy:
Rumor Control: Is It True That People With HIV/AIDS Can't Get a Mortgage?
By Tamara E. Holmes

May 9, 2010
This article originally appeared in Black AIDS Weekly, the newsletter of the Black AIDS Institute, on May 9.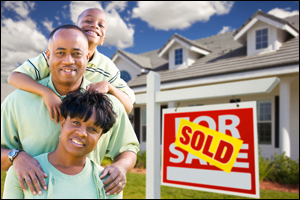 Absolutely not, says Margo Kaplan, director of planning and research for The Center for HIV Law and Policy in New York City. "It is illegal under federal law to discriminate against someone based upon their HIV status in granting a mortgage."
The 1968 Fair Housing Act prohibits discrimination based on race, color, religion or national origin. In 1974 it also became illegal to discriminate against someone because of his or her gender.
Of course that didn't stop anyone from turning down mortgage applicants because of their HIV status. But in 1988, people with disabilities were added to the list of those protected by the Fair Housing Act, and the U.S. Department of Housing and Urban Development (HUD) deemed that HIV be considered a disability.
One for the Courts
Advertisement
Despite the victory for people with HIV/AIDS, there have been instances of housing discrimination. The courts, however, have stepped in at times. For example, in the 1999 case Neithamer v. Brenneman Property Services, a court agreed that a plaintiff's mention to a prospective landlord that his partner was HIV-positive provided reason to question whether the partner's HIV status caused the landlord to deny the plaintiff housing.
The right to privacy also protects mortgage applicants with HIV/AIDS. But since a mortgage application does not ask about health, lenders are unlikely to discover an applicant's HIV status. Still, some HIV-positive people worry about reporting public assistance as income for fear that it may raise questions. Fortunately, the Equal Credit Opportunity Act makes it a crime for a creditor to discriminate because all or part of a person's earnings are derived from any public assistance program.
While Kaplan has no idea where the rumor about people with HIV/AIDS being ineligible for mortgages came from, there could be some basis to it. During the subprime-mortgage frenzy, some lenders offered loans that required applicants to buy credit insurance, a type of life insurance intended to pay off the mortgage if the home owner dies. To qualify, applicants had to reveal their medical history. A serious medical condition -- including HIV -- could disqualify a person for the credit insurance, which would then disqualify them for the mortgage.
Challenges Remain
Although lenders cannot refuse to finance your home because you have HIV/AIDS, obtaining a mortgage can still be difficult. Blacks have been hit harder by the foreclosure crisis than other groups have. We also tend to hold costlier mortgages than Whites, according to a November report (PDF) released by the William C. Velasquez Institute, a research organization focusing on Latinos and other underrepresented communities.
The down economy caused financial institutions to tighten their credit requirements, says Atlanta-based real estate broker Tony Bryant. If your credit score isn't at least 620, you may have difficulty getting approved for a loan.
To improve your chances of qualifying for a mortgage:
Get a free copy of your credit report from annualcreditreport.com. You will need to pay to obtain your FICO credit score.
If the score is below 620, take some time to raise it by making on-time payments and reducing debt.
Make sure all of the information on your credit report is accurate, and if it's not, contact the credit bureaus to make any changes.
If you already have a mortgage, resources exist to help you keep your home. HUD's Office of HIV/AIDS Housing runs the Housing Opportunities for People With AIDS (HOPWA) program, which funds short-term mortgage assistance for home owners who need it, Kaplan says. Go here to locate an organization offering assistance near you.
The most important thing to remember: "You have no obligation to disclose your HIV status to a bank to get a mortgage," says Kaplan. If a lender even asks, that's reason to be concerned. You can and should file a complaint with HUD if you think you've been discriminated against.
Tamara E. Holmes is a Washington, D.C.-based journalist who writes about health, wealth and personal growth.
---
| | |
| --- | --- |
| No comments have been made. | |
Add Your Comment:
(Please note: Your name and comment will be public, and may even show up in
Internet search results. Be careful when providing personal information! Before
adding your comment, please
read TheBody.com's Comment Policy
.)