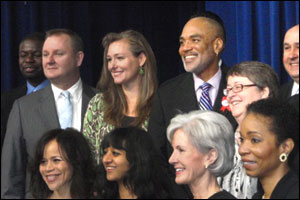 As AIDS advocates from across the country convened in Washington, D.C., for the annual advocacy and education event AIDSWatch, the Presidential Advisory Council on HIV/AIDS (PACHA) met for the second time last week under the Obama administration. With new members and a new chair--Dr. Helene D. Gayle, president and CEO of the poverty-fighting organization CARE--the council renewed the call for a National HIV/AIDS Strategy that specifically addresses those at the center of the U.S. epidemic: Black Americans.
"The AIDS epidemic in Black America is unique," says PACHA member Phill Wilson, president and chief executive officer of the Black AIDS Institute. "Black people in America are impacted by HIV and AIDS in a way that nobody else comes anywhere close."
That point was highlighted when Michelle Batchelor, senior manager of racial and ethnic health disparities for the National Alliance of State & Territorial AIDS Directors (NASTAD) in Washington, D.C., moderated a panel on Black women living with HIV/AIDS. Batchelor pointed out that one in 30 Black women would be diagnosed with HIV in their lifetime.
Advertisement
Linda Scruggs, program director for the Washington, D.C.-based AIDS
Alliance for Children, Youth & Families
, was diagnosed with HIV almost 20 years ago. She spoke of meeting HIV-positive Black women of every age and social class.
Barbara Joseph, executive director of Positive Efforts, a Houston-based AIDS service organization, told of her struggles to obtain health insurance. "My insurance premium would be $1,676 a month, and I can't afford that. So guess what? I don't take HIV drugs at this point," she said.
Much of the meeting was spent discussing how PACHA could best help the White House Office of National AIDS Policy (ONAP) develop the National HIV/AIDS Strategy. Here are President Obama's goals:
To prevent new HIV infections
To increase access to care and optimize health outcomes
To reduce HIV-related health disparities
No national strategy can encompass every HIV-related concern, said ONAP director Jeffrey Crowley. He urged PACHA to focus on a few key concerns and suggestions, a recommendation that sparked additional recommendations that Black America be a focal point of any strategy.
"The Center of the AIDS epidemic is the African American community. If we don't address where the epidemic is, we're sure it will keep going on," said council member the Rev. Calvin O. Butts III, chairman of the National Black Leadership Commission on AIDS, Inc., and pastor of New York City's Abyssinian Baptist Church.
With the meeting open to the public, audience members voiced their concerns and suggestions:
Ronald Johnson, deputy executive director of the Washington, D.C.-based AIDS Action and a PACHA member under President Bill Clinton, urged PACHA "to really focus on the issue of accountability and how it can be achieved through the HIV/AIDS Strategy."
Andrea Johnson, founder of the Philadelphia youth-empowerment organization Girl U Can Do It, Inc., spoke of being infected by her husband. "I didn't have any risk factor except sex with my husband," she said. "The message in my community was not given in regards to women who were married getting HIV. And we are starting to represent a large number of women that are being infected with a disease that we cannot get rid of."
Although the meeting ended with as many questions as it began with, it launched future PACHA deliberations and showed how monumental those discussions would be for Blacks in particular. The next assembly takes place on May 14.
"There has to be something in the national strategy that explicitly says, 'What are we going to do to end the AIDS epidemic in Black America?' " Wilson said.
Tamara E. Holmes is a Washington, D.C.-based journalist who writes about health, wealth and personal growth.