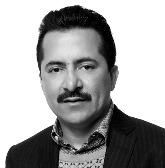 Latino Commission on AIDS President Guillermo Chacon.
Guillermo Chacon, longtime community organizer, was promoted to president of the Latino Commission on AIDS (LCOA) last October. Chacon has worked at LCOA since 1995 and is no stranger to AIDS advocacy. He replaced former President Dennis deLeon, who died of AIDS in December.
Whatever Chacon does will be compared to deLeon, who was the president and public face of LCOA. Whe deLeon became president of the Latino Commission on AIDS in 1994, the organization had a staff of two. It now has a staff of 45 and a budget of $5 million.
DeLeon's death hit Chacon hard. "I lost not only my boss, but I lost someone I've seen as a family member, like my oldest brother," he said. Chacon said he has big shoes to fill.
"It's easy to destroy an organization. It's much harder to keep the organization going," Chacon said. "And I'm following someone as powerful as Dennis was, with a strong profile and record of accomplishment."
Advertisement
AIDS advocates have high praise for Chacon and expect him to take Latino Commission on AIDS in a fresh direction and further expand the organization's grassroots efforts.
"In the 10 years that I've known 'Guillo' and worked with him in the fight against the HIV/AIDS epidemic, I've never met anyone with more energy, dedication and commitment to the cause," Executive Director of Bronx AIDS Services Jose M. Davila said. "His integrity, passion and inclusiveness make him a formidable warrior, and you definitely want to be on his side. His appointment as President of the Latino Commission on AIDS guarantees that the important work they do on behalf of Latinos and all people affected by HIV/AIDS will continue, as well as expand to provide stronger advocacy and leadership in addressing the many social ills that contribute to the spread of this disease."
"I Wanted to Be on the Right Side of Justice"
Chacon is a community organizer by trade and feels the organizing spirit in his bones. He began community organizing in his parish in El Salvador at age 14. He left El Salvador in 1983 because of the civil war that ravaged the country. However, he went back and forth until he emigrated to the United States permanently in 1995. But he said experiencing the civil war "left an imprint on my soul."
"I wanted to be on the right side of justice," Chacon said.
"Guillermo has the soul for collaboration," said Housing Works President and CEO Charles King. "His own experience as a political refugee and immigrant to the United States has made him acutely sensitive to the needs and yearnings of all types of marginalized people as well as the critical importance of collaboration."
It was in the capacity of working against human rights violations in El Salvador that Chacon met deLeon, then the New York City Human Rights Commissioner. In 1995, when he planned to move back to the United States permanently, deLeon offered Chacon a job as a community organizer in 1995, even though at the time Chacon had little HIV/AIDS experience.
"Dennis had strong sense of community organizing and the best proof of that is that I'm here talking to you," Chacon said. "Otherwise, maybe he would have hired an expert."
Chacon did have a little experience with HIV/AIDS from working at a San Francisco food pantry in the 1980s. A young Salvadorian gay man who was a regular told him he was going to stop coming because he had AIDS.
"I said, 'Why would you do that? We'll educate everybody in the agency,'" Chacon said. "All the phobias, all the stigmas, we create those."
Chacon rose through the rank and file at LCOA over the last 15 years. He views his largest contributions to the organization as launching the National AIDS Awareness Day in 2003, and creating the National Hispanic AIDS Leadership Summit, which brings together organizers from across the country.
Chacon said he is excited to build partnerships with new organizations and renew old alliances. He said he is looking forward to working with Housing Works on efforts organizing people living with HIV/AIDS.
"Latino Commission on AIDS values Housing Works and its commitment to organizing in Puerto Rico and Haiti," Chacon said.
He said that in Puerto Rico, which is dealing with an AIDS crisis, there's a need to support organizations on the ground. "Our role is to be a strong source of support and be in any area that advocates and improves mobilizing communities. We need to make sure we interact in a very respectful way."
Chacon looks forward to further expanding outreach efforts, and viewing the HIV/AIDS epidemic in a broader context.
"We've got to begin to look at HIV/AIDS as a continent-wide concern," Chacon said. "With Census 2010, probably health care reform, and later immigration reform, it's a moment for all of us to think outside the box. We're at the turning point. It's a challenging time, and we need to renew commitment to promote unity and collaboration."