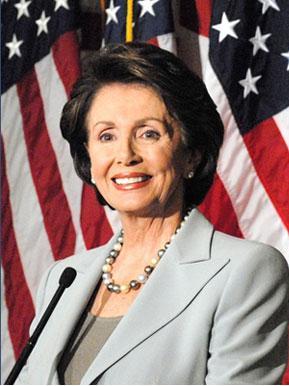 We agree with Pelosi -- let's pass health care reform!
It's do-or-die time for health care reform, and AIDS advocates are out in full-force demanding Congress pass the bill, which would expand coverage to millions of Americans. Unfortunately, one of AIDS advocates' top priorities -- the Early Treatment for HIV Act (ETHA) -- was not included in the legislation. But despite that setback, the lack of a public option, the increase in funding for abstinence-only education, and the curtailing of abortion rights, AIDS advocates are still supporting the bill.
"The House needs to do its job and pass health care reform," said Christine Campbell, Housing Works Vice President of National Advocacy and Organizing. "The bill is far from perfect, but it goes a long way to shoring up the support system for people living with HIV/AIDS."
The loss of ETHA, for the time being, is a blow: It would have allowed states to expand Medicaid to people with HIV before they get sick, taking pressure off of the AIDS Drug Assistance Program. ADAP is a discretionary funding source and at the whim of the latest budget crisis.. Unfortunately, although ETHA is a cost-saving measure when looked at holistically, it bumps up the price tag on the bill, making it unpalatable for lawmakers.
Advertisement
"We know we have a growing ADAP crisis. [If something isn't done soon], we'll start to see people dying on waiting lists. What we were trying to offer is something that would help the administration and Congress address this crisis. We know we're going to keep coming back to address this issue," said Robert Greenwald, executive director of the Treatment Access Expansion Project and a member of the Presidential Advisory Council on HIV/AIDS.
But Greenwald said even ETHA would have only been a temporary placeholder until the health care reform changes are implemented in 2014.
"The current bill is a significant, significant step forward, and beyond what we would have accomplished through ETHA," Greenwald said. "There's no question in my mind there are some things that did not get addressed, and not going through the public option, we didn't do nearly what we should to bring down health care costs. The big lost opportunity was not considering a completely reformed system."
So why are we supporting health care reform, again?
Let's take a look, shall we?
Some of the good parts of the health care reform legislation for people living with HIV/AIDS, as outlined by AIDS Action:
Public health care
Creates Medicaid eligibility for those with incomes below 133 percent of the federal poverty line. For example, right now Alabama residents don't qualify for Medicaid unless they are at 11 percent of the federal poverty line, and other states aren't much better. The bill will help reduce the AIDS Drug Assistance Program crisis by giving many more people access to Medicaid.
Eliminates the Medicare Part D donut hole and allows ADAP to be used to pay as true-out-of-pocket expenses. People on Medicare Part D prescription drug benefits reach the dreaded "donut hole" when the cost of their meds exceeds $2,510. They can't receive Medicare Part D benefits until they pay a $4,050 out of pocket, referred to as "true out of pocket costs" or TrOOP. ADAP as TrOOP would allow the joint state-federal AIDS Drugs Assistance Programs to pay the $4,050. This common sense fix would eliminate this problem.
Private health insurance
Increases access to private health insurance by eliminating discrimination based on health status. This would prevent nightmares, such as insurers purposely dropping people living with HIV.
Increases coverage for a new mandated benefits package that includes prescription drugs, substance abuse and mental health treatment, preventative care, chronic disease management.
Increases affordability, including subsidies and caps that dramatically reduce costs to consumers.
Other key improvements
Invests $15 billion in prevention and wellness initiatives over 10 years, including addressing health disparities, clinical workforce serving vulnerable populations, public health infrastructure
Mandates integration of Ryan White providers, by requiring health insurance exchanges are required to include "essential community providers" that serve low-income, medically underserved individuals.
Yes, you can still call your representative!
The House is expected to vote on health care reform as early as this Saturday. Tell your representative you support health care reform now! Call 202-555-1212 for the Congressional switchboard. See who represents you!