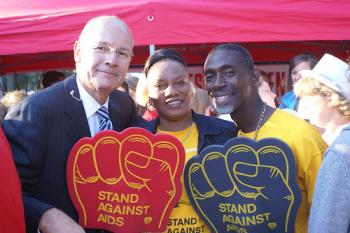 C2EA members Shirlene Cooper and Eric Bartley pose in Oxford, Mississippi at Stand Against AIDS rally with CBS anchor Harry Smith.
It's been five years since Campaign to End AIDS kicked off and helped change the face of AIDS advocacy in the United States. An anniversary celebrating five years of activism will be held in Washington, D.C. April 19 to 21.
"I think once C2EA formed, it put the voices of people who represent the epidemic everywhere back on the forefront," said Larry Bryant, Housing Works' Director of National Organizing and C2EA member since 2005.
And while C2EA seeks to end AIDS through a 5-point plan, as much as any specific policy accomplishment, that's what C2EA is about: Giving voice to people with HIV/AIDS who feel voiceless.
Here are five of Campaign to End AIDS (C2EA)'s greatest accomplishments.
1. Caravans to Washington, D.C. at Campaign to End AIDS Kickoff
Housing Works President and CEO Charles King originally envisioned thousands of people with HIV/AIDS taking over the Capitol, a vision modeled after Martin Luther King Jr.'s Poor People's March. But like the Poor People's March, world events got in the way. In the case of the caravans, Hurricane Katrina and its aftermath shifted the dates from October until November.
Advertisement
But despite the scaled back event, hundreds of people still flew, caravanned and in some cases even walked to Washington, D.C. The event -- and the journey -- was heralded as a rebirth AIDS activism.
"Before C2EA, a lot of people saw the advocacy around HIV/AIDS as very sporadic," Bryant said. "The advocacy being done was completely invisible to the average person out there. It became very public and participatory."
At the event, there were workshops, actions, and protests. One of the caravans was followed by a film crew, which immortalized the journey in the documentary film Closer to God.
2. Saving South Carolina's ADAP
When four people died on the waiting list for South Carolina's AIDS Drug Assistance Program (ADAP) in 2006 and 2007, Campaign to End AIDS-South Carolina was outraged.
"The ironic thing is that no one wanted us to rally for ADAP in 2006 and 2007," said then-C2EA co-chair Karen Bates. "The 'powers that be' in HIV in South Carolina thought we would just piss the legislators off and do more harm than good."
But Bates and C2EA co-chair Stephanie Williams kept on trucking. With the help of Michael Kink at Housing Works, they contacted a New York Times reporter, Shaila Dewan. Bates worked with Dewan for over a month to flesh out the story. The activists protested at the State Capitol in Columbia. And C2EA's campaign brought victory: The State Legislature committed $4 million dollars to eliminating the waiting lists. By June 2007 the waitlist was over.
Unfortunately, because the funding is discretionary, the battle is ongoing. As of March 15, there is a new ADAP waitlist in South Carolina. But this time, the South Carolina HIV/AIDS Care Crisis Task Force (of which South Carolina Campaign to End AIDS is a member) decided to hold its own rally at the state house to draw media and legislative attention to the ADAP problem.
"I was happy to be a part of this rally," Bates said. "My friend and fellow activist, Stephanie Williams [who died in 2008], would be proud to know that we are still trying to educate others on these issues."
3. Swim-in Against Stigma in Alabama
In May 2007, when 2-year-old Caleb Glover was kicked out of a swimming pool for being HIV-positive, people across the United States were outraged at this blatant act of discrimination. But C2EA members channeled that outrage into action by hosting a Labor Day "swim-in" at Wales West RV Resort, where Glover was discriminated against.
The plight of the adorable toddler took on symbolic importance to many C2EA members, who were HIV-positive and have experienced AIDS-related stigma and discrimination themselves.
Quintara Lane, then 20, led a caravan of other HIV-positive youth from Miami, Florida to the demo. Like Caleb, she was prenatally infected with HIV and saw herself in Caleb's shoes.
"I remember swimming in pools when I was a kid, and I couldn't believe someone was telling little Caleb that he couldn't," Lane said. At the swim-in Lane gave an impassioned speech about Caleb.
C2EA's action helped draw further attention to Caleb's plight. In January 2010 the U.S. Department of Justice settled an Americans With Disabilities Act (ADA) lawsuit requiring Wales West RV Resort owner Ken Zadnichek to pay $10,000 to the United States and $36,000 in damages to the family of Caleb Glover.
4. Rethinking Ryan White
After the disaster of Ryan White's 2004 reauthorization, the late Sen. Ted Kennedy's staff told advocates they wanted to hear from "real people." So C2EA and other groups talked to real-life people living with HIV/AIDS to find out what they needed from a social safety net. From housing to transportation to dependable healthcare, their results were at once predictable and shocking.
Although Congress opted to renew Ryan White this year until 2012 without any major changes, the system is clearly in need of a major shift. Now, with health care reform changing the game, and Ryan White hopefully going back to its intended purpose as a social safety net, these notes will be incredibly useful
5. Stand Against AIDS
Campaign to End AIDS worked -- successfully -- to insert HIV/AIDS into the conversation of the 2008 presidential election. Through AIDSVote.org, all the Democratic candidates agreed to a platform to fully fund PEPFAR, create a National HIV/AIDS Strategy and to lift the ban on syringe exchange. Now that President Obama has been in office for more than a year, he's working towards fulfilling these promises, though not at the speed C2EA would like.
The calls reached a crescendo at the Stand Against AIDS Walk and Rally, where dozens of people walked from Jackson to Oxford, Mississippi for the first presidential debate between Obama and Republican rival John McCain. The walk was inspired by the walk taken by James Meredith 40 years earlier. Hundreds of others joined for three days of protests in Oxford.
The purpose of the event was multifold. The immediate reason was to demand the candidates create a plan to address AIDS within the first 50 days of taking office. The other was to bring national attention to HIV/AIDS in Mississippi and beyond.
"Walking through Mississippi, James Bender said that he felt energized by the support locals gave. "Everywhere we went people thanked us for educating about HIV and AIDS."