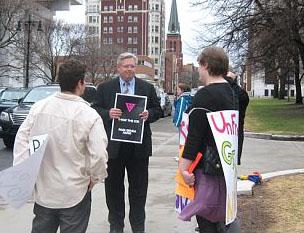 Duane and advocates rally for GENDA.
Anti-discrimination advocates are seeing progress in securing State Senate support for the Gender Expression Nondiscrimination Act, which protects transgender and gender-nonconforming people from discrimination.
Housing Works' latest vote count brings the number of secured "yes" votes to 29, up from the 26 counted earlier this month. One of the newly confirmed "yes" votes is Sen. Joseph Addabbo, who came under fire for his vote opposing marriage equality this year. Addabbo also agreed to cosponsor the GENDA legislation.
According to Housing Works' count, there are 29 confirmed "yes" votes, 14 "maybe" votes and 19 "no" votes. GENDA has passed in the State Assembly three years in a row and is supported by Gov. David Paterson.
Advertisement
Addabbo's vote turn is significant because it shows that voting against marriage equality, which failed in the Senate in December, doesn't necessarily meant a vote against GENDA. Although both bills have been championed by the LGBT community and sponsored by Sen. Tom Duane, GENDA is considered a less politically risky vote for on-the-fence State senators in conservative districts.
Despite Albany's perpetual chaos, GENDA advocates have been plugging along, with Housing Works bringing a van-load of transgender advocates up to lobby the Senate every Tuesday. Queer Rising, a grassroots group of LGBT activists committed to direct action is organizing weekly lobby days and protests every Tuesday to pressure the Senate to get it passed.
See a snippet from one of their protests:
Kiara St. James, a transgender activist with Housing Works, went up to Albany on Tuesday and explained to Senators' staffers why the bill is so important to her.
"I read about Jim Crow but I definitely experience it as a transgender person," St. James said. "The government is not protecting the rights on gender conforming."
She said she received a good reception from the Senate staffers she spoke with. "I explained that it's not a religious issue or a moral issue," she said. "Everyone should be protected under the law. The law's not just for transgender and gender-variant people. It's protecting a vast number of people who don't fit into society's expectations of them."