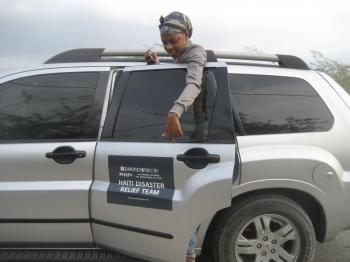 Auguste arriving at the Haitian border.
A group of AIDS advocates from Haiti are visiting New York and D.C. to secure a disaster relief plan for Haitians living with HIV/AIDS, including visits to the United Nations and Capital Hill.
As we prepare to welcome these courageous Haitian activists, we wanted to share the experiences of a Housing Works staffer named Chanel Auguste. Auguste, 23, is of Haitian descent and grew up in a Haitian enclave in Brooklyn. In early March, she visited the land of her ancestors for the first time. Here, she recounts what it was like to reconnect with her roots in the wake of the tragic earthquake that hit Haiti on January 12.
Advertisement
I was supposed to go on my first trip to Haiti over a decade ago, when I was in middle school. My grandfather was the one who wanted to take me there -- he and many other family members referred to Haiti as "home." Despite ongoing political tensions, my grandfather assured me that it would be a wonderful experience. Thanks to my grandfather's colorful reminiscences about "home," I fantasized about the trip: I would bathe in the sun and swim in the beautiful clear waters. I would climb trees bigger and more beautiful than the ones we had at home. I would visit my extended family in their brightly painted houses and learn about my heritage. I knew that people in Haiti were poor but that they were also rich with spirit.
Unfortunately, not long after my grandfather and I began to talk about visiting Haiti together for real, he passed away. With his passing, my motivation for visiting Haiti dwindled. He had always been the one who realized how important it was for me. Fate intervened, however, in 2008, when Housing Works began collaborating with the Fondation Esther Boucicault Stanislas, a groundbreaking AIDS organization in St.-Marc, about an hour and a half drive north of Port-au-Prince. In the Fall of 2009, Housing Works CEO Charles King asked me to go to St. Marc to help FEBS set up a thrift shop, an experiment modeled on Housing Works own successful retail chain.
I was thrilled at the possibility of reviving my dream to visit "home," but before we could line up my visit, the January 12, 2010, earthquake hit. Suddenly, the idea of visiting Haiti looked very different than how I had imagined it. At first, I wanted to hop on any plane I could find to go help -- Housing Works had sprung into action less than a week after the earthquake, ferrying supplies to the Haitian AIDS coalition PHAP+. I wasn't quite sure what I would do, but I knew that I wanted to be there. However, as time went on, the reality of what happened to the island and my family began to sink in. My feelings were all over the place. I questioned whether I really wanted to go. I knew that Haiti was no longer what my family stories depicted it to be, that and, what's more, what did I know about visiting the aftermath of a natural disaster?
In the end, I had to go. People have said many negative things over the years about Haiti, but Haitians are one of the strongest people in the world. Since winning their freedom from France, they have survived centuries of struggle. They have remained steadfast in their faith in their country. I was determined to honor that strength.
On March 4, I crossed the border from the Dominican Republic into Haiti in the company of three colleagues. I was scared, excited, terrified and nauseous all at once. On the way to Port-au-Prince, we passed through beautiful mountain scenery and small towns and villages. Port-au-Prince was another story. At first, it was hard to believe that less than 2 months prior, an earthquake has devastated the city. The streets were alive with vendors and shoppers, cars and mopeds.
Then we saw see the first destroyed building, then soon after the next one, and before we knew it what appeared to once be a neighborhood was no more. The streets were clear, and we saw no dead bodies, which had haunted me in the media coverage of the quake. But grief loomed in the air. No words or pictures can fully describe the devastation. This has officially become my first impression of Haiti, replacing years of family pictures. I thought to myself, "This will be what I always remember of my country."
The next day, I was in St.-Marc, working with Emmanuel and Novelia at the Housing Works/FEBS store. Novelia and Emmanuel are both living with HIV and are clients of FEBS. On their trips to New York to visit Housing Works, they have become good friends of mine. Novelia informed me that over 27,000 people had migrated from Port-au-Prince to St.-Marc after the earthquake and that's he'd taken in 7 family members. While working at the store, I also got to talk to Emmanuel about his life after the earthquake.
Emmanuel was the first man in Haiti to publicly declare that he is gay and living with HIV. Diagnosed with HIV in 2007 after being tested at FEBS, Emmanuel experiences daily discrimination. He told me that people have pointed the blame at him, saying God punished the island because of "his sins." Such terrible accusations have taken a toll on him, but he remains proud of who he is. I truly admire Novelia and Emmanuel's strength, as I can never truly grasp the pain and sacrifices they've had to make in these difficult times.
The trip was short -- after just two days, it was time to return to the Dominican Republic, but I would get to have another day in Port-au-Prince on the way. I spent that time attempting to take it all in: the smell, the air, the roosters crowing and the mosquitoes (even), the people. I didn't want to leave. There was so much more to see and do and help to give. This wasn't the trip I envisioned when I was a child, but as unfortunate as the circumstances turned out, I realized that I wouldn't trade it for anything. In the end, this was exactly the Haiti that had always been described to me: economically poor, but strong in heritage and culture. I knew that my family would be proud of me for coming, and I couldn't wait to share my experience with them.
I felt guilty, too. About leaving, about returning to my home in Brooklyn, about taming my hair, which had grown larger and larger in the heat and humidity. I didn't have to worry about where my next meal would come from or where I would be showering, but my Haitian countrymen did.
When it was truly time to leave, I said goodbye to the family that has been taken care of Housing Works volunteers at the compound in Port-au-Prince. As I said goodbye to the mother of Edner Boucicaut, the volunteer who has been overseeing the PHAP+/Housing Works collaboration, I apologize to her for their situation and tell her that I will keep her and everyone in my prayers. With a hug she says, "Nou bon, nou geyen tout bagay nou beswe.": "We're good, we have everything we need."
I wanted to cry, but I didn't, maybe to honor her strength and the strength of all Haitians. Deep down, I believed that they were going to be fine. They have each other, clothing and food to eat. We forget that in life, it's just the little things.