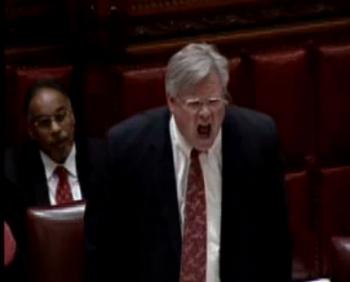 Because of Sen. Duane's passion last session, the 30 percent rent cap bill is one step closer to passing!
After a quick vote with no debate, the New York State Senate passed
the 30 percent rent cap legislation
today by a vote of 42-19. The bill
passed earlier this year
in the Assembly and is now headed to Governor Paterson's desk.
The passage is a tremendous victory for AIDS advocates who have been pushing for the bill since 2006.
This legislation, sponsored in the Senate by Sen. Tom Duane and in the Assembly by assemblymember Deborah Glick, would correct a major flaw in New York housing benefits law. All people who receive federal housing subsidies, such as Section 8, benefit from a 30 percent cap on their rent, so they don't have to decide between buying essentials like shampoo and toilet paper and paying rent.
However, the HIV/AIDS Services Administration (HASA), which provides housing assistance to poor New Yorkers living with AIDS, is a joint city/state program -- so HASA has not been obligated to cap rents at 30 percent of income.
"This is great news for poor people living with AIDS in New York State. Now we need to continue to pressure Governor Paterson to stand by his commitment and sign this legislation," said terri smith-caronia, Housing Works vice president for New York advocacy and public policy. By law, the governor has ten days to decide if he will sign the legislation.
In a conversation with AIDS advocates last December, Paterson agreed to sign the legislation, but has thus far refused to issue a public statement. The Governor's office did not respond to the Update's request for comment.
11,000 Could Benefit
Nearly 11,000 low-income New Yorkers living with HIV/AIDS are at risk of becoming homeless due to the absence of the protection of a 30 percent rent cap. HASA clients receiving rental subsidies pay between 50 to 85 percent of their disability income (SSI, SSDI, Veteran's Benefits) towards rent each month, which leads to high rates of arrears, evictions and homelessness.
"Paying over two-thirds of my disability check towards rent each month means real sacrifices. Not only do I walk everywhere because I can't afford subway fare, I walk in shoes that are worn through because I can't afford to replace them. I haven't bought new clothes in three years.I can't afford basic toiletries like toothpaste. I worry about getting to all my doctor's appointments and dealing with co-pays. And if this bill isn't signed into law soon, I worry about whether I can keep up with my rent and stay in my home," said New York City AIDS Housing Network leader Gerald DeYounge, who pays 68 percent of his SSDI check towards rent and was present for today's Senate vote.
Advertisement
Analysis by Shubert Botein Associates shows a cost
savings
associated with the legislation, because of money saved from arrears and evictions. However, the New York State Office of Temporary and Disability Assistance (OTDA) and city Human Resources Administration (HRA) opposed the legislation because of cost.
This bill was originally introduced in 2006, and came about after the State and City announced that they would no longer honor the federal law that caps rental contribution at no more than 30 percent of income for approximately 2,200 HASA clients living in federally subsidized housing. Some clients would see a 200 percent increase in rent virtually overnight.
With a few days to spare, Housing Works and co-counsel Matthew Brinckerhoff rushed to federal court and secured an injunction against the proposed policy, preventing the rental increases. Thereafter, with the injunction in place, the City and State agreed to abandon the proposed policy and honor the 30 percent federal rent cap. They continue to do so to this day. But the 30 percent cap only covered clients in federally funded housing, and that this essential protection should be extended to all HASA clients under New York State law as well. So Housing Works' Legal Department worked with State legislators to draft a new State law extending the 30 percent rent cap to all HASA clients, and not merely those in federally funded housing.
In a statement after today's vote Duane said, ""This long-overdue legislation will not only improve the health and well-being of some our most vulnerable New Yorkers living with HIV/AIDS, but it will also save money by keeping people in their homes and out of our City's shelters and hospitals. Moreover, it will bring HASA into line with every other rental assistance program in New York State."
See Tom Duane's dramatic speech before the bill passed in July: