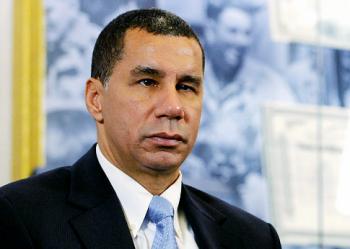 Stand by your word, Gov. Paterson!
Now that the 30 Percent Rent cap bill has passed both the New York State Assembly and Senate, the only thing standing in the way of affordable housing for as many as 11,000 New Yorkers with HIV/AIDS is the signature of Gov. David Paterson on the bill.
While Paterson told activists from New York City AIDS Housing Network that he would sign the legislation in December 2009, his lack of a written commitment and some statements by his deputies have left advocates concerned.
Kristin Proud, deputy secretary for human services, technology and operations, said in a meeting with Housing Works on April 8 that Paterson never voiced his support for the 30 Percent Rent Cap. When she was reminded of his December 2009 commitment, Proud's response was that he made that statement before the bill passed the Assembly. She would not formally state Paterson's position, and his press office has repeatedly refused requests to comment.
Advertisement
Gay City News
reported that Assemblymember Deborah Glick said,
Paterson promised twice
in December to support the bill.
"I was appalled that Deputy Secretary Proud seemed to back away from the Governor's commitment to passing the 30 Percent Rent cap," said Housing Works President and CEO Charles King, who attended the April meeting. "We need the governor to stay true to his word and sign the legislation immediately."
The bill has gone back to the Assembly -- because they passed the bill first -- which has 45 days to get it to the Governor's desk. Paterson then has 10 days from that point to sign it.
This legislation (A2565/S2664), sponsored by Sen. Tom Duane in the Senate and Glick in the Assembly, would correct a major flaw in New York housing benefits law. All people who receive federal housing subsidies, such as Section 8, benefit from a 30 percent cap on their rent, so they don't have to decide between buying essentials like shampoo and toilet paper and paying rent.
However, the HIV/AIDS Services Administration (HASA), which provides housing assistance to poor New Yorkers living with AIDS, is a joint city/state program -- so HASA has not been obligated to cap rents at 30 percent of income. Nearly 11,000 low-income New Yorkers living with HIV/AIDS are at risk of becoming homeless due to the absence of the protection of a 30 percent rent cap. HASA clients receiving rental subsidies pay between 50 to 85 percent of their disability income towards rent each month, which leads to high rates of arrears, evictions and homelessness.
Read more about the bill and its passage in the Senate.
How You Can Help
Call and remind Paterson of his commitment to passing this important bill! Call 518-474-8390, and tell Paterson's office (or leave a message) that "I urge Governor Paterson to keep his word and sign the 30 Percent Rent Cap for People with AIDS (S2664/A2565). This bill would ensure that people with AIDS, like all other New Yorkers in government-subsidized housing, don't have to pay more than 30 percent of their incomes towards rent."