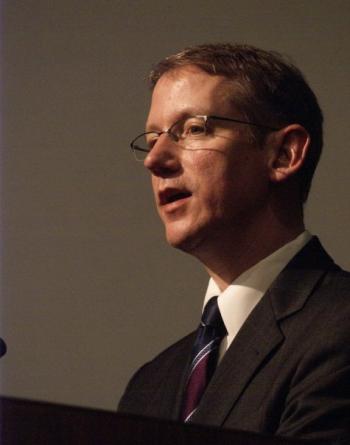 Crowley said he was listening when the community spoke. Only time will tell.
In continuing with a steady flow of just-enough-news-to-keep-the-advocates-happy, the White House released a
report
summarizing the findings from 14 National HIV/AIDS Strategy community forums and hundreds of online comments. The report is supposed be taken into consideration during the creation of the National HIV/AIDS Strategy. The White House released no new information about when the official National HIV/AIDS Strategy will be completed.
Advocates were once again underwhelmed by the lack of new information released about the actual National HIV/AIDS Strategy.
"It's great they're continuing to keep us updated. Hopefully next time we'll have more information to work with and see if community input is really being taken into effect," said Housing Works Vice President of Advocacy and Organizing Christine Campbell.
According to Office of National AIDS Policy Director Jeff Crowley, who spoke on the conference call, yet another summary of community feedback will be coming soon from Department of Health and Human Services, which held its own forums. He described it as "very different" from the ONAP report.
While today's report wasn't groundbreaking, ONAP Policy Director Greg Millett promised the real national strategy plan will have teeth. "The thing that distinguishes [this National HIV/AIDS Strategy] from other mechanisms is that this is coming straight from the White House and straight from the President," Millett said, in a half-hour conference call about the report's findings today.
The report was drawn from a total of 1,089 submissions, including 719 from the ONAP website. According to the report, 4,285 people attended the community discussions. Almost half of those people, approximately 1,875, were from the meeting in Atlanta at the CDC HIV Prevention conference.
The actual completed National HIV/AIDS Strategy will be created by a taskforce of government employees at a date to be announced.
In the White House report released today, the themes that emerged were:
Create a National Campaign to Increase Public Awareness and Prevention of HIV
Increase Prevention Efforts Among Youth
Routinize, Increase, and Improve Testing
Increase Access to Condoms
Eliminate the Ban on Federal Funding for Syringe Exchange
Increase Harm Reduction and Treatment Adherence Education
Improve and Expand Surveillance Data
Expand Support Services
Include Chronic Disease Management in Overall Health Care Delivery
Recognize and Treat Co-occurring Conditions
Increase the Number of HIV Care Providers and HIV/AIDS Education and Training
Expand Services to At-Risk Populations
Provide Culturally and Linguistically Appropriate Services and Interventions
Improve Availability of HIV-Related Services in Rural Areas and U.S. Territories
All of these objectives will not all appear in the National HIV/AIDS Strategy, according to Millett. "To be effective, the strategy must include a small number of high payoff items that will address the HIV/AIDS epidemic in the United States. Nevertheless, we intend for this community report to provide a baseline for the status of the domestic epidemic and serve as a planning tool and resource for Federal, State and local agencies," Millett wrote in a blog post.
ADAP Update
In addition, Crowley gave a nonanswer to an audience question by Dab Garner asking if Obama will approve $126 million in emergency funding to the AIDS Drug Assistance Program.
"We're aware and monitoring the growing challenge of ADAP," Crowley said. "As we see pressures arise at the state level, we're definitely monitoring the situation."
According to a report released by the National Association of State & Territorial AIDS Directors today, the number of people on ADAP waiting lists has risen to 859 people in 10 states.