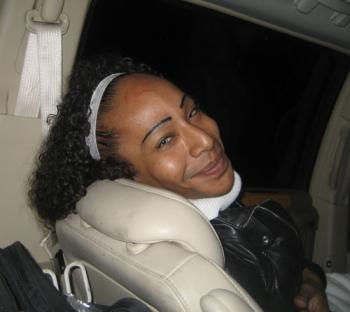 Forrmer sex worker Josie Valentin, in the outreach van. She is a peer outreach worker with CitiWide Harm Reduction.
Last Friday night, CitiWide Harm Reduction's peer outreach worker Josie Valentin handed out syringes, condoms and food to three friendly young transgender sex workers in the Bronx.
"I recognize them from when I used to work out here," Valentin said. She used to be a sex worker in this neighborhood during the seven years she was homeless. Now she comes back to her old spots as a peer outreach worker.
Valentin is part of a peer-delivered syringe exchange model that trains peer educators to do outreach and hand out needles. This peer program was piloted in 2006 and is regulated by New York State Department of Health. It allows organizations such as CitiWide to bypass waivers organizations would need to get otherwise. All of the 13 New York City organizations that do syringe exchange outreach have some form of peer outreach program.
According to Daliah Heller, assistant commissioner of the New York City Health Department's Bureau of Alcohol and Substance Abuse Prevention, peer-delivered syringe exchange has allowed programs to reach people that otherwise might be missed.
"This has allowed us to move beyond [limited] days and locations and expand the scope of our outreach," Heller said.
Peer outreach has reached critical mass: The New York City and New York State DOH, in conjunction with the Harm Reduction Coalition, is hosting a Peer-Delivered Syringe Exchange Conference, on Thursday, April 29. About 100 people are expected to attend, including about 30 peers. This is the first such conference in the country, and will include education and tips for outreach safety and dealing with law enforcement. It is also intended to foster camaraderie among peers.
"Peers are often the unsung heroes of programs," said Harm Reduction Coalition National Syringe Access Coordinator, Narelle Ellendon. "These are passionate people caring for their own communities who don't get the recognition and respect they would like."
Housing Works Syringe Exchange Coordinator Derek Wyche will be attending the conference, and praised its objectives.
"It's a good idea for peers to network with one another about how best they can serve their peers," he said. Wyche is currently ramping up Housing Works' syringe exchange outreach to methadone clinics, shelters and street outreach.
Harm Reduction in Action
This peer-to-peer program is just one form of outreach done by CitiWide Harm Reduction, which provides HIV prevention not just to sex workers, but at SROs, shooting galleries and other locations in the South Bronx and Harlem. CitiWide Harm Reduction is celebrating its 15th anniversary on July 8 at the Housing Works Bookstore Cafe.
Syringe exchange is one of the clearest successes in HIV and hepatitis C prevention. Although New York City currently spends $1.1 million on syringe exchange, that amount is facing cuts in Bloomberg's budget. However, CitiWide Executive Director Robert Cordero said he's hopeful that now that the federal ban on syringe exchange funding has been lifted, the Centers for Disease Control and Prevention will begin allocating money for syringe exchange programs.
"It's not just about syringes," Cordero said "It's about connecting people to care."
Last week, I joined a team of three outreach workers at CitiWide Harm Reduction, including Josie, driver Richard Caneles and outreach worker Elizabeth Lopez. On Friday nights outreach is primarily directed to transgender sex workers, although that is only nine percent of CitiWide's client population overall. To reach these women, the outreach workers have a strategy in play.
"I try not to ask at first, 'Do you need needles?' I start with 'Do you need condoms?,' " said Lopez, who is HIV-positive and has been doing outreach work since the 1980s. "If you can save one life that would be enough."
Deanna's Story
Some nights there are more people on the streets than others. In Hunt's Point, there are fewer sex workers then there once were—some have been pushed out by cops. At about 9:30pm, as we enter Harlem, on 127th Street and 3rd Avenue, Lopez spots Deanna, a regular client, a regal and warm black transgender woman who hugs me hello and goodbye. Deanna is grateful for CitiWide.
Advertisement
"I've seen them out here for a long time.They give me condoms. They give me food if I'm hungry. They give me information if I need it," Deanna said. "I've done this for three years, on and off. It's good to have condoms. We all can fall short. It's very good to know the support is there."
Deanna is HIV-positive, and CitiWide Harm Reduction was able to set her up with an apartment. Unfortunately, for people who don't have AIDS, there are fewer housing options available in New York City. People with AIDS in New York City are given housing through the HIV/AIDS Services Administration (HASA). However, for people who don't have symptomatic HIV/AIDS or aren't sick enough to qualify, there is a shortage of permanent housing.
Housing Works has been trying to right this injustice, by calling on New York State to change the definition of HIV. This fix would give HIV-positive people access to housing before they get sick.
Josie's Story
Valentin tells me she considered purposely contracting HIV just to have a place to stay but ultimately decided against it. "Seeing what other girls who have AIDS have to go through, I'm glad I'm not in that situation," she said.
Before finding CitiWide, Valentin felt desperate. A transgender native of Puerto Rico, when she came to New York she felt that sex work was the only job available to her.
"It's a cycle. The young transwomen learn what the old transwomen are doing. Now it's different. I see a lot of trans who aren't prostitutes," she said. "They're nurses, they're social workers, counselors. They make me feel like I can live differently. But then, everyone I met was prostitutes. You think 'She's a prostitute and she pays rent. And I can do it for that money.' But now I see more and more transgender people doing different things. It makes me feel a lot better."
Laws are starting to catch up with transgender people's access to employment. In New York City transgender discrimination is illegal in the workplace. Advocates are working to pass the Gender Expression Nondiscrimination Act, through the State Senate, which would guarantee the same protections statewide.
Recognizing the risks transgender women face contracting HIV, many AIDS service organizations have started programs targeting this population.
When Valentin came to Citiwide in 2005, she had been working as a sex worker for seven years, and then started going there to eat and take showers. That stability changed her life. Now she says she's stopped doing drugs, sex work and has a boyfriend and apartment.
"I'm proof that sometimes harm reduction does work," she said. "They never told me I had to stop getting high and accepted me as I was. At the same time they showed me what the drugs were doing to my body, and little by little, I stopped doing it. And one day I just stopped."
For more information about CitiWide Harm Reduction, go to citiwidehr.org
To attend the Peer-Delivered Syringe Exchange Conference, Thursday, April 29 at Julia de Burgos Latino Cultural Center 1680 Lexington Avenue (between 105th and 106th Street). If you have any questions, please contact Anne Siegler at 212-219-5525 or Narelle Ellendon at 212-213-6376 ext16.