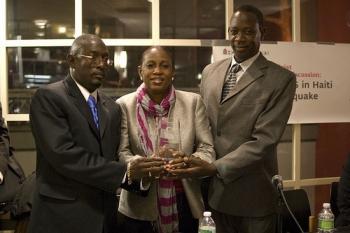 Louis, Boucicault and Accelus accept their award on behalf of PHAP+.
In a moving ceremony last night, Haitian AIDS activists from the grassroots coalition Plateforme Haitienne des Associations PVVIH (PHAP+) were honored with the
2010 Keith D. Cylar International AIDS Activist Award
for the organization's tireless work in the wake of the January 12 earthquake that devastated Haiti.
Receiving the award were Liony Accelus, President of REHPIVIIH; Erick Louis, General Coordinator for Greater Involvement Of People With AIDS; and Esther Boucicault, the president of PHAP+ and the Fondation Esther Boucicault Stanislas.
The 2010 Virginia Shubert Courage Award was given to Edner Boucicaut. While Boucicaut's official job is Chief Communications Officer for CECOSIDA, an organization that promotes stories about AIDS in the Haitian media, he has contributed countless hours to the work of PHAP+ and serves as an essential link between the group and international aid organizations.
Advertisement
The awards were bestowed at the "Keith D. Cylar Activist Awards and Panel: Addressing AIDS in Haiti After the Earthquake" held at the New School. At the panel it was also announced that the MAC AIDS Fund is contributing $125,000 to hire Haitian medical staff for PHAP+'s three clinics.
Read more about these clinics.
"We Will Win This Fight"
The Keith D. Cylar Awards are an annual event honoring AIDS activists. The awards are in honor of Housing Works co-founder Keith D. Cylar, who died in 2004. While in past years the award ceremony has taken the form of a gala, in the wake of the earthquake and Housing Works' commitment to people living with AIDS in Haiti, this year's awards were a more toned down affair. Some 75 people gathered at the New School to see the honored Haitians and learn what needs to be done to support Haitians with AIDS in the wake of the earthquake.
In addition to running three clinics for people with HIV/AIDS, the activists have been putting pressure on the United Nations and USAID to come up with a plan to address HIV/AIDS in Haiti post-earthquake. During the panel preceding the awards, moderator Charles King, Housing Works President and CEO, asked the awardees to describe the situation on the ground in Haiti. They told moving stories about where they were when the earthquake hit and their own personal fears. They also expressed worry that Haiti's AIDS crisis—which has improved in recent years— will get worse in the wake of the earthquake.
"Right now in Haiti there's nothing to do other than have sex," Boucicault said in Creole, through a translator. "To find food, you have to have sex. To find a place to sleep, you have to have sex. 300,000 people died in the earthquake, but there will be 300,000 babies born and there's the possibility that they will be born with HIV."
Accelus said he worried people living with HIV/AIDS are being excluded from the rebuilding process. The PHAP+ members were not allowed inside the United Nations during their donor meeting on Wednesday.
"They don't involve us enough. They see us as the enemy," Accelus said. "We want our place in the construction of Haiti. The battle will be long, but we're used to winning fights. We hope that with your help, we will win this fight."
Honoring AIDS Warriors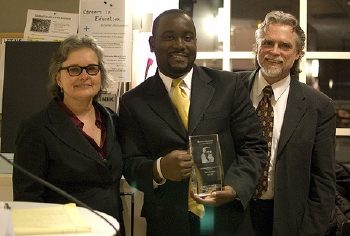 Shubert, Boucicaut and King with the Virgina Shubert Courage Award.
Dr. Vaty Poitevien presented the award to PHAP+. The Haitian-born medical director of Housing Works 13th St clinic, Poitevien lost her own parents in the earthquake. Esther Boucicault accepted the award (technically her second Keith D. Cylar Award, having been honored individually with the prize in 2008). "I thank Housing Works with the bottom of my heart," she said. "We have to keep pressuring the government."
Ginny Shubert presented Edner Boucicaut with her namesake honor and used an apt quote to describe Boucicaut's courage: "Aristotle, or maybe it was Keith [Cylar], said 'You become brave by doing brave acts.' " She then read out loud a post from Charles King's blog: "Today, I called Edner to coordinate some logistics. When he answered the phone, I asked him how he was doing. As he said, "Fine," I heard a crack in his voice. "No, you are not doing fine," I said. "I can hear it." He choked, and then he said, "It's just that it has started to rain. We have nothing, and now it is raining. It is just so hard to hold on.'"
Boucicaut, who is used to toiling behind the scenes without fanfare, said, "This is the first time my work has been acknowledged. But this is not just for me." He thanked many who have worked to make the clinics come to fruition, including Jobanny Ramirez Ramirez, who has shuttled dozens of volunteers from the airport in Santo Domingo to the clinics in Port-au-Prince.
The Cylar award winners are now going to Washington, D.C. where they will lobby government officials to create an AIDS plan for Haiti. On Tuesday in Washington, D.C. Senator Kirsten Gillibrand will be hosting a briefing on HIV/AIDS in Haiti after the earthquake, where they will be featured speakers. To attend the event, RSVP to campbell@housingworks.org or 202-408-0305.