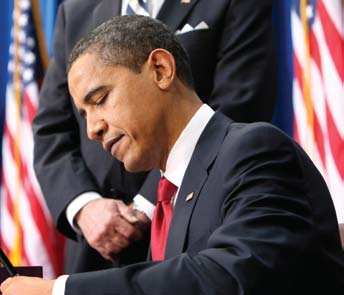 The election of Barack Obama ushered in a new era of political leadership. Despite a crumbling economy, two wars, and a tumultuous battle with conservatives to reform the nation's health care, the Obama administration has been able to bring about progressive change in the lives of many Americans, particularly the most vulnerable among us. Significant progress has also been made in the fight against the nation's HIV crisis.
Early in his tenure, President Obama appointed Jeff Crowley as Director of the Office of National AIDS Policy. Formerly a Senior Research Scholar at Georgetown University's Health Policy Institute and the former Deputy Executive Director of Programs at the National Association of People with AIDS, Crowley's appointment was an early indicator of Obama's commitment to address the domestic HIV crisis adequately. One of Crowley's top priorities is the design and implementation of a National AIDS Strategy. When enacted, it is hoped it will set specific, measurable goals to reduce infections, increase access to care, and reduce health disparities among those most affected, including men who have sex with men and African-Americans.
Increased funding for HIV-related resources was also included in Obama's 2010 budget, including an additional $53 million for HIV prevention programs at the CDC and reauthorization of the Ryan White CARE Act. These resources ensure that the nation's system of HIV treatment, testing, and other support services remains available. The CDC had not seen a funding increase in over nine years. In fact, due to inflation, the CDC's HIV prevention budget shrank 20% in real dollar terms during the Bush-Cheney administration.
Advertisement
In addition, the Obama administration rescinded a policy imposing a two-year lifetime cap on the use of Ryan White funding for housing. Thousands of low-income people living with AIDS would have faced evictions if this change had not been made. But while the President included a $5 million increase for Ryan White housing in his 2011 proposed budget, he also called for a much larger reduction in funding for persons with disabilities, known as Section 811.
The practice of increasing funding to one program and then decreasing a directly linked program has been seen elsewhere in this administration. Case in point: Obama's 2010 budget froze spending for global AIDS at 2009 levels, and the President's 2011 budget also essentially flat-funds global AIDS programs, including a $50 million cut from last year's funding for the Global Fund to Fight AIDS, Tuberculosis, and Malaria. While $180 million is added to global AIDS care, treatment, and prevention, $100 million of that is redirected into a new, undefined "Global Health Initiative Plus Fund." It is unclear whether this Fund will invest in the AIDS response.
In real dollars, $80 million in new funding for AIDS is actually a funding decrease, since inflation in Africa is running about 7 to 10%. No new funding for health care workers is promised, and there is no funding to correct the double standard in HIV treatment in Africa, where poor people start on outdated treatment regimens and must wait until they are sicker to get better drugs. These funding cuts are now being translated into long waiting lists for people to get lifesaving treatment.
Thankfully, the Obama Administration has turned an eye to older adults affected by HIV. In December 2009, the Centers for Medicare and Medicaid Services announced that preventive HIV screening tests for Medicare beneficiaries will be covered. This responds to trends showing increased rates of HIV among older adults.
Obama promised during his campaign to repeal a ban that prohibited federal funding of syringe exchange programs. These programs have proven to reduce new HIV infections and increase the likelihood of HIV testing, counseling, and substance use treatment among injection drug users. But Obama's 2010 budget proposal kept the ban in place. In July 2009, the House Appropriations Subcommittee voted to overturn the 22-year-old ban, and it was finally lifted when President Obama signed the budget. Also, in January of 2009, the U.S. HIV travel and immigration ban was finally lifted. This was a huge victory for HIV-positive and LGBT communities, allowing people with HIV to enter the U.S. freely.
The 2011 budget also includes the elimination of funding for "abstinence-only" sex education programs. These programs have been proven ineffective at reducing sexual activity in teens by government-funded studies and were ultimately a waste of taxpayer dollars. Additionally, such programming promoted sexist gender stereotypes, provided misinformation about contraception and HIV prevention, and demonstrated anti-gay bias.
Fulfilling another campaign promise, Obama signed the Matthew Shepard and James Byrd, Jr., Hate Crimes Prevention Act in October of 2009. The new law extends the federal hate crimes statute to include actual or perceived sexual orientation and gender identity. It delivers long overdue protections to lesbian, gay, bisexual, and transgender people.
More recently, in his first State of the Union address, Obama called for the repeal of the "Don't Ask, Don't Tell" policy, which has unjustly terminated the careers of many lesbian, gay, and bisexual service people. With the support of Defense Secretary Robert Gates and Joint Chiefs Chairman Mike Mullen, the 15-year-old policy may well be at the end of its road. A review is currently under way to strategize the transition to a military force in which gay Americans can serve without having to lie about their sexual orientation.
Perhaps the most notable accomplishment of the Obama administration is the recent passing of the health care reform bill, which is projected to expand insurance coverage to 32 million Americans who are currently uninsured. The bill, which constitutes the greatest expansion of federal health care guarantees since Medicare was first enacted in 1965, will limit increases to insurance premiums and require large employers to provide coverage to their employees. Moreover, the bill prohibits insurers from denying coverage based on gender or pre-existing conditions-a huge victory for people living with HIV.
President Obama has proven himself a progressive leader even when popular opinion may be resistant. Science-based HIV prevention now has a momentum not experienced in decades. With several bills currently in the pipeline, including a health care reform bill that would allow states to extend Medicaid benefits to thousands of low-income people with HIV, there is much to be optimistic about -- and much for which continued advocacy is vital.