Introduction
When thinking about HIV prevention, it is useful to consider a few statistics. More than a quarter of AIDS cases in the U.S. among people 13 and older are directly linked to the use of injection drugs. Among women, 40% of AIDS cases are due to injection drug use or sex with someone who contracted HIV through injecting. Injection drug users (IDUs) account for some 30% of all people with AIDS in the U.S. Once infected, IDUs have the highest illness and death rates and progress to AIDS faster than any other group. IDUs account for 70% of people with the hepatitis C virus (HCV), and a third of all people with HIV also have HCV. And much of this takes place among already at-risk groups. "African-Americans and Latinos face disproportionately high rates of HIV due to injection drug use," notes the Harm Reduction Coalition. "Pervasive stigma towards drug use among health care providers results in unequal treatment for people with a history of drug injection, leading to suboptimal care."
Advertisement
When thinking about HIV and about health in general, we must also consider social and economic gaps. One in five New Yorkers lives in poverty. In the U.S. as a whole, the richest 1% of the population controls more of the nation's wealth than the bottom 90% combined. Such inequality directly affects the general health and HIV risk factors of the poor. "We carry our history in our bodies" explained one doctor, reflecting on the effects of income and social issues on health. Economic policy is health policy. This is particularly true with regard to HIV and HCV.
The greater prevalence of HIV among women and drug users in African-American and Latino communities complicates an already difficult situation. To be at all effective, HIV prevention efforts must attempt to curb HIV stigma, sexism, homophobia, racism, and other social injustices, such as poor education and lack of housing. All of these factors fuel high-risk behavior, which increases the risk of HIV and HCV exposure. Social stigma, discrimination, the invisibility of drug users in public health policies, and "abstinence-only" approaches based on ideology rather than evidence all serve to limit access to HIV prevention services and quality health care. But there are options out there.
Syringe Exchange
The single most effective means of HIV prevention among IDUs is syringe exchange. This harm reduction approach offers tools to protect the health and well-being of drug users and their sexual partners, loved ones, and communities. Syringe exchange programs (SEPs) provide tools, resources, and education to assist people who inject drugs by helping them learn about and use safer injection and safer sex practices. They have had a tremendous impact on the HIV epidemic, and the annual incidence of new HIV infections among IDUs has dropped roughly 80% since the late 1980s.
Despite their remarkable effectiveness in reducing HIV, SEPs are not as widespread as they should be, and significant gaps and challenges remain. Stigma, community opposition, and severely limited funding sources, have worked to prevent SEPs from meeting the growing needs of their communities. National studies have found that areas with high rates of HIV infection often do not offer legal access to sterile syringes. Even in states where syringe exchange is openly available, regulations can be onerous. Jamie Favaro, Executive Director of the Washington Heights Corner Project, noted providers must jump through a number of hoops to get such programs off the ground: "A lot of work goes into getting a syringe exchange program started. And I found that through doing that, who I was as an activist and my work really changed." Many such programs are forced to confront a constant onslaught of questions and concerns by those who view drug use in terms of morality rather than public health.
Faith-Based Barriers
Compounding this, communities of faith have not consistently embraced HIV prevention among IDUs. Very few have stepped forward to support syringe exchange or commonsense HIV prevention. For example, on a recent trip to Africa, the Pope reiterated his longstanding opposition to condom use, even to fight HIV. Gay and bisexual men, IDUs, and other groups at high risk of HIV infection are often not represented among religious communities. Moralizing HIV infection and drug use has significantly restricted the dialogue around HIV and IDUs, with negative effects on public health policy and funding for SEPs.
While syringe exchange has long been recognized by the public health community as a valuable and effective tool in HIV prevention, communities of faith have historically been ambivalent about supporting it. "Religious traditions had a paradoxical impact on the social response to the epidemic: both a source of stigma and the basis of enormous concern and compassion," writes sociologist Susan M. Chambré. "Some religious leaders used AIDS as an object lesson illustrating moral decline. Others preached compassion and emphasized the obligation to care for the sick and dying." Generally speaking, opposition to syringe exchange has been rooted in the belief that supporting syringe exchange is an endorsement of drug use. Despite the fact that it has been shown that syringe exchange does not encourage or increase drug use, the condemnation of drug use has been a primary barrier to its acceptance.
Faith-Based Efforts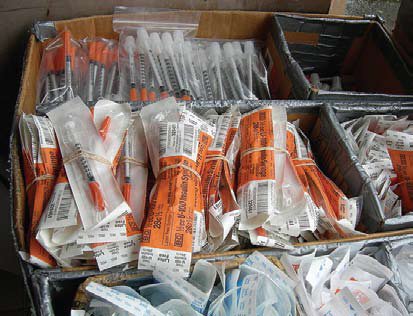 Yet there are examples of faith-based efforts to support these programs. For example, CitiWide Harm Reduction began operations in 1995 with the support of La Resurrection United Methodist Church, providing services in areas of Upper Manhattan and the Bronx that few service providers had reached out to. St. Ann's Corner of Harm Reduction in the Bronx was founded with a similar mission. Judson Memorial Church in Manhattan has long facilitated and supported harm reduction training and practices. Other religious groups, including the Episcopal Church, Presbyterian Church USA, The United Church of Christ, the Unitarian Universalist Association, and the Union for Reform Judaism have come out in support of harm reduction and SEPs. Some congregations have even blessed condoms and syringes in the hopes of curbing the spread of the virus. Others have facilitated harm reduction outreach.
The HIV work of religious groups has its roots in a holistic concern for preventive health care, respect for the dignity of those affected, and a fundamental belief that each person has an essential worth. Houses of worship first offered care and treatment for people with HIV and their families, and gradually shifted into sexual health efforts to address HIV and other STIs. Eventually, they began HIV prevention efforts for high risk-populations, including IDUs.
Churches in hard-hit communities have been compelled to confront their own theologies. For many years, traditional moralism had a negative impact on HIV prevention and care. Father Errol Harvey, formerly of Manhattan's St. Augustine Church, explained: "There is more awareness for the issue now. Not sure if the needle exchange issue is passé now. Many leaders in the black church are still learning. I would like to think that this has changed/is changing. To take a stand in endorsing needle exchange is a big jump."
Catholic Charities in San Francisco took over an HIV housing program that had run into financial troubles. The program provided housing, services, and stability for people in need. But they were unable to support harm reduction efforts such as providing condoms. The result was uneven, which typifies the Catholic Church's response. While many saw harm reduction in terms of permissiveness, others saw it as part of a theology of care, blessing syringes and condoms as part of comprehensive outreach.
Personal Responses
Reverend Stacey Latimer is the Founder/CEO of Love Alive International Inc., a faith-based nonprofit committed to empowering those affected by HIV and other heath problems that plague the black community. "HIV has become the teacher," he explains. "It has caused us to have to deal with issues we have not wanted to deal with including drug use. Our own theologies have paralyzed us. God has raised up nonprofits which have taught the church theology of human compassion. No one can one look at who they are as separate from our struggles." Given this, Latimer has been able to embrace harm reduction. "Drug users are a people who are a part of us. When one is suffering, when one is hurt, we are all hurt. Leaders don't want to talk about drug use because they don't want to talk about their own drug use. When I talk to you I have to talk about me. Help them see who they are and where there are holes in the fence that they are trying to build up and you do it through love."
"Needle exchange offered us a way to say that drug addicts are people and they have an illness that merits concern and love."
Father Harvey saw the AIDS battle as part of a larger struggle for social justice, and in a biblical context similar to leprosy. "How are we to treat people who have been afflicted by a terrible disease," he asks. "People moralize AIDS, and the church needed to step up and take leadership on this issue." So Harvey viewed harm reduction efforts within a similar humanist view. "Needle exchange offered us a way to say that drug addicts are people and they have an illness that merits concern and love. Needle exchange was a reality. Until we get people in [drug] treatment then this is a way to take care of them."
In 1993, Father Robert Arpin wrote a book of letters entitled Wonderfully, Fearfully Made, about his experience of living with HIV as an openly gay priest. "AIDS is a sickness, a disease -- not a moral judgment, not God's wrath," he wrote to his congregation: "Tell [those with AIDS] that they are loved, not by God, but by you. Because the only hands God has to touch them with are your hands. And the only heart God has to love them with is your heart." Arpin would die the following year, but not without planting a seed of tolerance that spread. When Geneva Bell's son died of AIDS in the early 1990s, she wrote about her experience in My Rose: An African American Mother's Story of AIDS. Jeremiah Wright of Trinity United Church of Christ in Chicago reflected on her experience: "[R]eading her story may awaken us to the true meaning of Jesus' words: 'Inasmuch as you have done it to the least of these my little ones you have done it unto me.' It is certainly my prayer that the latter will be the case." Many -- but not all -- faith communities have taken his words to heart.
Conclusion
As these stories attest, the response of faith communities to HIV and syringe exchange has been mixed and complicated. Bob Arpin noted that the Catholic Church was homophobic and tolerated him only because of his illness. As the current Pope's speech in Africa suggests, hard-line theology still often trumps evidence-based HIV prevention. Yet, on the ground, people from a wide range of perspectives have learned from their experience of coping with HIV. As this article was being completed, Catholic Charities New York announced that for the first time it would support SEPs in New York State. "I understand there will be questions, but this is common sense," said Sister Maureen Joyce, CEO of Catholic Charities. Many have turned away from hard-and-fast positions to support any program they can find, including syringe exchange, that will curb the epidemic. Yet, moralism dies hard, and continues to impede public health efforts. n
A long-time supporter of ACT UP, Benjamin Shepard is an assistant professor at New York City College of Technology. Erica Poellot is Development Manager at the Harm Reduction Coalition.