Catholics and Condoms: Why What the Pope Says Matters
Winter 2009/2010
Introduction
During his 2009 trip to Cameroon, a country with an HIV prevalence rate of over 5%, Pope Benedict XVI made a shocking assertion on condom use to prevent HIV. He told reporters, "You can't resolve it with the distribution of condoms. On the contrary, it increases the problem."
Advertisement
This false and dangerous assertion caused an immediate uproar from governments around the world. The German Health and Development Ministers issued a joint statement that expressed the "crucial role" condoms play in preventing the transmission of HIV. They stated simply, "Condoms save lives." French officials suggested that the Pope's remarks denouncing condom use "endanger public health policies and the imperative to protect human life."
The development minister of the Netherlands noted, "It is extremely harmful and very serious that this Pope is forbidding people from protecting themselves." He also suggested that the Pope was "out of touch with reality." The Spanish health ministry took it a step further. Beyond issuing a statement that characterized condoms as a "necessary element in prevention policies and an efficient barrier against the virus," it also sent one million condoms to Africa to fight the spread of HIV.
Belgium's minister of public health stated, "The Pope's statements could undo years of prevention and awareness and endanger many lives."
Belgium's response to the Pope's remarks tipped the scale, forcing the Vatican to respond. The minister of public health stated, "His statements could undo years of prevention and awareness and endanger many lives." The Belgian Parliament also issued a resolution calling Pope Benedict's remarks "unacceptable" and encouraging official protest by the Belgian government.
These responses did not go unnoticed. The Vatican issued a statement denouncing these critics, calling their words an attempt to "dissuade the Pope from expressing himself on certain themes of obvious moral relevance."
By and large, however, these critics are not out to silence the Pope; rather, they are trying to speak the truth about HIV prevention in order to save lives. It is one thing, after all, to disagree with condom use, but it is another thing entirely to spread misinformation about their efficacy in preventing the transmission of HIV.
Several bishops in Africa, including especially Bishop Kevin Dowling of South Africa, have been outspoken in their support of the use of condoms. Anecdotal evidence also suggests that many people who work with Catholic relief agencies distribute condoms to those at risk of infection.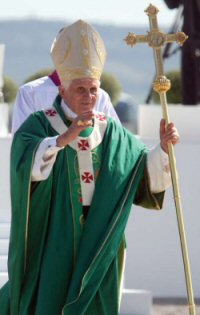 Pope Benedict's words -- and the Vatican's hard line against homosexuality -- further harm prevention efforts. When the Vatican says homosexual sex is "intrinsically disordered" and tells people with "deep-seated homosexual tendencies" not to have sex, it exacerbates the stigma and shame many people feel, resulting in secrecy and denial about their sexual lives. The Vatican's statements do not encourage honesty between sexual partners, nor with health professionals who can advise their patients about safer sex, the correct use of condoms, and HIV prevention. If we've learned anything about HIV prevention, it's that secrecy about sexual activity, sexual history, and sexual health endangers people's lives.
What Do Catholics Think?
Catholics around the world also disagree with the Pope's stance on condoms. According to a recent poll commissioned by Catholics for Choice, which interviewed Catholics in Ghana, Ireland, Mexico, the Philippines, and the United States, support for condom use among Catholics is overwhelming. When asked if "using condoms is pro-life because it helps save lives by preventing the spread of AIDS," 90% of Catholics in Mexico, 86% in Ireland, 79% in the U.S., 77% in the Philippines, and 59% in Ghana agreed.
When questioned about the church's responsibility to help prevent the spread of HIV in a health care context, 87% of Irish Catholics, 86% of Mexican Catholics, 73% of US Catholics, 65% of Filipino Catholics, and 60% of Ghanaian Catholics believe that "Catholic hospitals and clinics that the government funds should be required to include condoms as part of AIDS prevention."
While condoms are not a panacea for the spread of HIV, they are a critical part of the campaign to reduce the impact of the virus. Medical experts agree that the condom can be a life-saving device: It is highly effective in preventing HIV transmission if used correctly and consistently, and it is the best current method of HIV prevention for those who are sexually active and at risk.
Just as condom use is not the only method of HIV prevention, prevention is not a cure-all for the HIV epidemic. Only when prevention is combined with care, treatment, and education will the epidemic unlock its grip on so many societies.
So, if governments, bishops, medical experts, and rank-and-file Catholics disagree with the Pope's assertion on condoms, then do his words hold any weight? Unfortunately, they do. Quite a bit of weight, in fact, especially in the global South.
The Catholic hierarchy's position holds the most sway in the countries least able to deal economically and medically with HIV disease. Whereas Catholics in Ireland (79%), the U.S. (63%), and Mexico (60%) overwhelmingly agree that "the church's position on condoms is wrong and should be changed," in the Philippines (47%) and Ghana (37%), support for this change was not as high. These results are not surprising, especially in the Philippines, where the ultraconservative bishops conference has tremendous political influence.
These results show that in many countries outside Europe and North America the Catholic Church's teachings can profoundly influence people's behavior, even if following those teachings endangers their health. Ghana, which demonstrates the most support for the Vatican's position, has the highest HIV rate of all the countries surveyed.
The Church's Work in AIDS
It must be said that the institutional Catholic Church remains a key direct service provider to people with HIV. And though most Catholic relief agencies and organizations working on the ground do not provide condoms, these organizations do extensive work in terms of care and treatment both internationally and domestically. Catholic Relief Services, the U.S. bishops' development aid arm, for instance, operates 280 HIV and AIDS projects in 62 countries in Africa, Latin America, and Asia. In 2009 alone, these programs had an expenditure of $170 million. The Catholic Agency for Overseas Development operates in 60 countries, addressing issues of poverty, working to prevent the spread of HIV, and working to change the current global systems that negatively affect people living with or at risk of HIV. That organization provides educational programs aimed at risk reduction as well as holistic care for people with HIV. Caritas International is active in 107 countries providing food, counseling, medicine, employment, and education, as well as working to eliminate stigma. Caritas is also involved in advocacy to government entities and pharmaceutical companies to produce lifesaving child-friendly HIV treatment.
Domestically, Catholic agencies provide extensive services to people with HIV across the U.S. Catholic Charities' Children's Youth Organization provides permanent supportive housing as well as a medical residential care community for people with HIV in San Francisco. Catholic Charities' AIDS Services of Albany, New York, serves all individuals and communities affected by HIV in that region. It provides clients with access to the COBRA case management program and the Ryan White Part D Outreach program. Additionally, it runs a Project Safe Point syringe exchange and access program that provides access to drug treatment programs and HIV testing.
A Powerful Lobbyist
At the same time, however, the institutional church continually lobbies governments to exclude condom promotion from development aid, and the impact of the Vatican's stance on condom use is far reaching and perilous.
The bishops' efforts have not been limited to the global South. In 2008, the U.S. Conference of Catholic Bishops successfully used its lobbying power on Capitol Hill to remove family planning from the President's Emergency Plan for AIDS Relief (PEPFAR).
Provisions in the final PEPFAR bill not only allow faith-based groups to abstain from distributing condoms, but also to refrain from providing referrals to agencies that do. Catholic Relief Services is one of the top recipients of PEPFAR funding: $103 million in 2007. Through its far-reaching programs, the Catholic church has been able impose its myopic anti-condom stance on those countries most affected by the HIV epidemic.
Condoms4Life
In order to stem the national and international impact of the church's teaching on condoms, Catholics for Choice's Condoms4Life campaign provides a vocal counterpoint to the Vatican's stance on condom use. Using the core message "Good Catholics Use Condoms," the campaign supports Catholics and non-Catholics in using and promoting the use of these lifesaving and life-affirming devices and calls on the hierarchy to join others in the active prevention of the spread of HIV throughout the world.
The Catholic hierarchy proclaims its opposition to condom use in the name of the "pro-life" cause. Pope Benedict and the Catholic hierarchy are unable, however, or perhaps unwilling, to acknowledge that condom use is pro-life. From the World Health Organization to the United Nations, experts agree that condom use goes a long way to reducing the transmission of HIV. Not only the experts, but Catholics around the world, agree that condom use as a means to combat HIV is indeed pro-life.
Jon O'Brien is the President of Catholics for Choice.
---
This article was provided by ACRIA and GMHC. It is a part of the publication
Achieve
. Visit
ACRIA's website
and
GMHC's website
to find out more about their activities, publications and services.
---
Comment by: Anonymous
(la. ca.) Wed., Mar. 20, 2013 at 3:07 pm UTC
Jon O'Brien, I will had you to my Chaplet of Divine Mercy that you will receive illumination, discernment and mercy from Our Lord,regarding your views on contraception.
Comment by: Maria Laura
(Ireland) Thu., May. 6, 2010 at 2:44 pm UTC
I am Italian and even though I don't live there anymore I can just say that the Pope should be visiting an STD clinic before opening his mouth.
Teenagers who approch to sexuality, people of any age, homosexuals, transgener, etero and the like, we all are human beings but we also are sexual beings and have the rights to enjoy our sexuality to the full by being responsible towards ourselves and others.
It's a just a shame and a sign of regression.
Comment by: K. Taylor
(Atlanta, GA) Tue., May. 4, 2010 at 3:53 am UTC
Catholic with HIV, assuming what you say is true, I'm very sorry for your having contracted this awful disease. But your illness doesn't make condoms any less scientifically proven to be effective.
The other two of you, both your comments are appallingly and intentionally ignorant. NO ONE is encouraging promiscuity. They're encouraging protection. Would you withhold a kevlar vest from a police officer and then just campaign for people to stop shooting guns, claiming that kevlar "encourages shooting police"?
Campaign for abstinence all you want. But when you intentionally and knowingly deny people protection with this kind of epidemic going on, you are murdering people. No two ways about it.
Comment by: Bob
(Phoenix, AZ) Tue., May. 4, 2010 at 12:01 am UTC
Epidemiologist: Pope Is Right About Condoms
Says Issue Is a "Prisoner of Ideology"
PARIS, SEPT. 15, 2009 There is a lack of realism in debate about condoms, according to a French epidemiologist who maintains that Benedict XVI's assertion that condom use can actually aggravate the AIDS crisis is "simply realistic."
René Ecochard, director of the biostatistics department at Lyon's University Hospital Center, signed a document last April supporting his case.
Speaking this week with France's La Manche Libre, Ecochard explained that there is "a lack of realism" on the condom issue, which he called a "prisoner of ideology."
This ideology brought an uproar in the Western press when Benedict XVI said en route to Africa on March 17 that the "problem of AIDS cannot be overcome merely with money, necessary though it is. If there is no human dimension, if Africans do not help [by responsible behavior], the problem cannot be overcome by the distribution of prophylactics: on the contrary, they increase it."
Ecochard contended: It seems as though "opinion loses its points of reference when it addresses the issues of sexuality and the family."
The doctor acknowledged that part of the problem was "an error of understanding in public opinion."
He explained: "People thought that the Pope was speaking of the efficacy of the plastic, the condom, when in reality he was speaking of the campaigns to spread the condom. This is very different.
"As is true of every technological object of prevention, the condom has a quantified efficacy."
But therein is not the problem, Ecochard stated, "All epidemiologists agree today that the campaigns to distribute [condoms] in countries where the proportion of affected people is very high, do not work."
http://www.zenit.org/article-26873?l=english
Comment by: The Pope should be ashamed of himself
(Massachusetts) Mon., May. 3, 2010 at 11:38 pm UTC
Sexual intercourse is a natural, human part of life and a personal decision to be made by an individual. It is not up to anyone else to call judgement upon someone else for their actions and especially not up to anyone else to decide what means they have available to them for safety.
Condom use is a means of respecting oneself and one's partner and taking responsibility for one's health. Withholding condoms from people does not decrease sexual activity, it increases unsafe activity. Don't be ignorant and don't support imposing values on other people, especially those in developing countries. Research supports abstinence-based curricula actually increase the prevalence of unintended pregnancy and STIs (sexually transmitted infections - STD is an outdated term). I've never seen such uninformed comments in my life.
Comment by: Allison
(Illinois) Mon., May. 3, 2010 at 5:59 pm UTC
Condoms can break. Abstinence is the only way to prevent the spread of any sexually transmitted disease.
While condoms do help, they don't solve the problem. Abstinence does.
The Pope is right.
Comment by: Michael Kocian
(Houston) Mon., May. 3, 2010 at 4:54 pm UTC
Being a Catholic who has taken great pains to study the moral teachings of the Catholic Church, I must say that Pope Benedict XVI is correct. The Catholic Church teaches rightly that sex is holy when it's in a Sacramental marriage of man and woman. The use of condoms simply encourages unholy sex, where people desire their own selfish pleasures, using another individual for their own gratification. Even inside a marriage, the use of artificial contraception has engendered selfishness, treating the partner as an object, etc. The use of artificial contraception in all its forms is morally wrong, and leads people not into happiness, but into slavery to sinful lusts and behaviors. The Church is right on homosexual sex as being gravely immoral and unnatural. The Church teaches rightly to keep sex holy, between a man and his sacramentally married wife. This is the way God intended. Adherence to this proper teaching is very difficult for many. The crowd trying to decry this correct teaching, simply has their own personal agenda of moral relativism where sex should be anything anyone wants, and should be without consequence of disease or unwanted pregnancy. This is degrading to the human dignity and lowers our spiritual greatness. Then, when one gets disease, they don't want to hear that abstinence outside of marriage is correct, but they want to find ways to cure or prevent the disease while continuing the immoral lifestyle. These people do not have God guiding them, but are opposed to God's rightful teachings of morality as taught through Christ's one Catholic Church. Alternately, when one finds they are pregnant and did not want the child, they often choose to kill this innocent unborn child, so they can continue to live as they desire without that "consequence" of their lustful immoral activity.
Benedict is 100% correct on this. If everyone did what the Catholic Church teaches, there would be no AIDS epidemic, there would be no abortion.
Comment by: Catholic with HIV
(San Francisco CA) Mon., May. 3, 2010 at 4:49 pm UTC
I'm a Catholic, gay man living with HIV, and I agree 100% with the Pope on this one. It is the trivialization of our sexuality (through birth control, abortion, and the sexualization of the world's culture) that has enabled the rise of STDs in the past 50 years. Mr. O'Brien needs to read his catechism... you cannot be a Catholic and be pro-abortion. You cannot be a Catholic and be pro-birth control. You cannot be a Catholic and be pro-promiscuity, even if you try to wrap your promiscuity in a condom.
Add Your Comment:
(Please note: Your name and comment will be public, and may even show up in
Internet search results. Be careful when providing personal information! Before
adding your comment, please
read TheBody.com's Comment Policy
.)