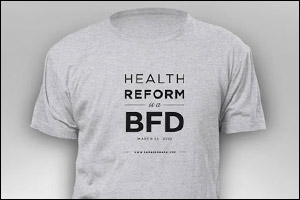 Donna Willis, 38, a single mother with three children, has lived with HIV for five years. She eagerly waited for the historic health-reform bill to be signed into legislation. "I have some coverage on my job, but I say a little prayer each month that I don't get kicked off my health insurance because of all of my meds," Willis says. Each month she struggles to piece together funds for medications and doctor's appointments. "I hope that there is something in health-care reform that will help me," she says.
When President Obama signed the Patient Protection and Affordable Care Act of 2010 into law this March, health advocates and people living with HIV/AIDS alike hoped that the final bill would provide sweeping improvements in health-care coverage for all. While the law does not specifically address the needs of people living with HIV/AIDS (PLWHA), many provisions will improve and expand care, meaning a significant impact on PLWHA, nearly 50 percent of whom are Black Americans (PDF).
What the New Health Plan Offers People With HIV/AIDS
Advertisement
Vanessa Johnson, executive vice president of the
National Association of People With AIDS
, understands Willis's worries firsthand. "Fortunately, I have a job that offers me health-care benefits, but 32 million people do not," she notes.
The new law (PDF) improves Medicaid and Medicare in ways that should bring more PLWHA into care, Johnson observes. "Currently, an adult under age 65 who is very poor but has no children and is not disabled is not eligible for Medicaid," she says. Beginning in 2014, however, Medicaid will cover people based solely on income, affording 16 million additional people, including PLWHA, access to care.
"A provision also ends discriminatory practices against people with chronic health needs, including HIV/AIDS," Johnson adds, noting that insurers will not be permitted to drop individuals from coverage because of a preexisting condition. This change begins in September 2010 for children and teens, and in 2014 for adults.
In addition, the statute offers dependents up to age 26 the opportunity to be covered by their parents' health insurance. According to amfAR, the Foundation for AIDS Research, one-third of all new HIV infections occur in those under age 30.
Health insurers will also be required to offer preventive and screening services, including HIV tests, without charging out-of-pocket fees or deductibles. Some experts believe that this move will help stem the virus's spread among Blacks, who account for 45 percent of all new HIV diagnoses (PDF) in the United States.
The lifetime limit on costs covered by public and private health-care insurance -- a figure that varies widely from person to person -- is also being removed, notes Jennifer Kates, vice president and director of global-health policy and HIV for the Kaiser Family Foundation.
Although such reforms will eventually improve Willis's access to medications, she is disappointed that some of the benefits of becoming Medicaid-eligible won't begin until 2014. "I thought that everything would happen this year," she admits.
Support in Reducing Medication Costs
Over time, the new legislation will eliminate the gap in Medicare Part D drug coverage, known as the doughnut hole. Currently, Medicaid Part D pays for up to $2,520 of medication costs. Individuals must bankroll out-of-pocket expenses totaling between $2,520 and $4,550. Above that, catastrophic coverage applies, and recipients must fund only up to 5 percent of their drug expenses.
Beginning in 2010, everyone with Medicare Part D coverage will receive a $250 rebate; in 2011, 50 percent discounts on brand-name medications will kick in during the gap; and in 2014, the law will reduce the out-of-pocket expenses that are required for Part D recipients to qualify for catastrophic coverage.
Many PLWHA welcome this change, since their average annual cost of medications ranges between $12,000 and $15,000. "There is a lot to learn about the new law. But I am glad help is on its way. It is going to save a lot of lives," Willis says.
The new law will also allow AIDS Drug Assistance Program (ADAP) funds to cover out-of-pocket drug expenses. Several states, however, are struggling to fund their ADAP programs. South Carolina, for example, has proposed cutting its entire HIV/AIDS budget, and given state budget woes, advocates doubt that it will be the last to do so.
Freelance health journalist Andrea King Collier is co-author of The Black Woman's Guide to Black Men's Health.